home >> Data Recovery >> Android Format Recovery

Best way to recover formatted android phone files and data

Android Format Recovery software to recover deleted photos videos music files folders after android reformat
You may accidentally reformat android phone SD card and lost photos, videos, songs, and other media data from android device. So how to recover formatted files after android phone SD card reformat? The best way to recover formatted pictures, movies, music files and folders from android mobile and tablet devices is to download an android format recovery software.
Android Format Recovery Software
Asoftech format recovery software offers a good Andorid data recovery solution to help restore deleted formatted or lost data from your Android phones and tablet such as Samsung Galaxy, HTC Android, Google Nexus, Motorola Atrix etc. If you have photos, video, or music files formatted from Android phones, it's recommended that you try this Andorid File Recovery app. It is very reliable, easy to use and promising.

Download Android Format Recovery Program
The android format recovery app supports android photo recovery, video recovery, and file recovery from android phone internal memory and memory card. No root is required, i.e. the data recovery works on android cellphones without root. The android file recovery software can be installed on Windows 10, Windows 8, Windows 7, Windows Vista, Windows XP, Windows 2000 computer. The android format recovery software is able to recover formatted data from all android phone memory, including internal storage and memory card, such as SDHC, Micro SD, SD mini, SDXC, Compact Flash CF card, MicroSDHC, SDXC, MicroSDXC, xD picture card, SD card, Memory Stick Pro, Duo, Pro-HG, XC, Micro(M2), MultiMedia card, MMC memory card. All Sandisk, kingston, fujifilm, Samsung, Sony, Lexar, PNY, PQI, Toshiba memory card and stick in android device are supported.
Supported android cellphones and tablet device
The android format recovery tool is able to recover any formatted files and folder from any android device: Samsung Acclaim, Samsung Behold 2, Samsung Captivate, Samsung Droid Charge Samsung Continuum, Samsung Epic 4G, Samsung Epic 4G Touch, Samsung Exhibit 2 4G, Samsung Fascinate, Samsung Galaxy, Samsung Galaxy Beam, Samsung Galaxy Chat, Samsung Galaxy Indulge, Samsung Galaxy S5, Samsung Galaxy S4, Samsung Galaxy S3, Samsung Galaxy S2, Samsung Galaxy S2 AT&T, Samsung Galaxy S2 Skyrocket, Samsung Galaxy S2 M250, Samsung Galaxy S Blaze, Samsung Galaxy 4G, Samsung Galaxy Ace, Samsung Galaxy Ace 2, Samsung Galaxy Ace 2X, Samsung Galaxy Attain 4G, Samsung Galaxy Fit, Samsung Galaxy Gio, Samsung Galaxy Note, Samsung Galaxy Note 2, Samsung Galaxy Note 3, Samsung Galaxy Note 3 Neo, Galaxy Note 4, Samsung Galaxy M, Samsung Galaxy K Zoom, Samsung Galaxy Mini, Samsung Galaxy Prevail, Samsung Galaxy Round, Samsung Prime, Samsung Galaxy S, Samsung Intercept, Samsung Infuse 4G, Samsung Mesmerize, Samsung Moment, Samsung Sidekick 4G, Samsung Stratosphere, Samsung Transform, Samsung Vibrant 4G, Samsung Vibrant, Sony Xperia Arc, Sony Xperia Ion, Sony Xperia Neo, Sony Xperia P, Sony Xperia Play, Sony Xperia Pro, Sony Xperia Ray, Sony Xperia S, Sony Xperia U, Sony Xperia X1, Sony Xperia X10, Sony Xperia X10 Mini, Sony Xperia X10 Mini Pro, Sony Xperia X8, Sony Xperia Z, Sony Xperia Z1, Sony Xperia ZL, Sony PSP Phone, ZTE Android Phones, ZTE V9, ZTE Racer, LG Ally, LG Enlighten, LG Esteem 4G, LG Eve, LG G Flex, LG G Pro 2, LG G3, LG G2, LG G2x, LG Genesis, LG Lucid 4G, LG Motion, LG MyTouch, LG MyTouch Q, LG Nitro HD, LG Optimus 3D, LG Optimus One, LG Optimus 2X, LG Optimus G Pro, LG Optimus GT540, LG Optimus Black, LG Optimus Q L55c, LG Optimus S, LG Optimus T, LG Optimus 4X HD, LG Optimus V, LG Phoenix P505, LG Revolution, LG Spectrum, LG Spectrum 2, LG Thrill 4G, LG Viper 4G LTE, LG Vortex, HTC Aria, HTC Desire, HTC Desire HD, HTC Desire Z, HTC Desire 816, HTC Desire 610, HTC Desire 310, HTC Droid DNA, HTC Droid Eris, HTC Droid Incredible, HTC Edge/Endeavor, HTC EVO 3D, HTC EVO 4G, HTV EVO 4G LTE, HTC Droid Incredible 2, HTC EVO Shift, HTC Explorer, HTC G1, HTC G2, HTC Hero, HTC Incredible S, HTC Inspire 4G, HTC Legend, HTC Merge, HTC myTouch 3G, HTC myTouch 4G, HTC One+, HTC One, HTC One Max, HTC One Mini, HTC One M8, HTC One M8 Max, HTC One M8 Mini 2, HTC One S, HTC One V, HTC One VX, HTC One X, HTC One X Plus, HTC Passion, HTC Rezound, HTC Sensation 4G, HTC Tattoo, HTC Thunderbolt, HTC Vivid, HTC Status, HTC Wildfire, Huawei Ascend D Quad, Huawaei Ascend D1, Huawei Ascend D2, Huawei Ascend P7, Huawei Ascend P1 S, Huawei Ascend Mate, Huawei 8100-9, Huawei Ideos X5, Huawei Impulse 4G, Huawei M860, Huawei Mercury, Huawei Prism, Huawei U8100, Huawei U8230, Huawei U9000, Google Phones, Nexus 5, Nexus 4, Galaxy Nexus, Nexus S, Nexus One, Motorola Asanti, Motorola Atrix, Motorola Atrix2, Motorola Backflip, Motorola Bravo, Motorola Electrify, Motorola Moto E, Motorola Moto G, Motorola Charm, Motorola Citrus, Motorola Cliq, Motorola Cliq 2, Motorola Cliq XT, Motorola Defy, Motorola Defy Pro, Motorola Devour, Motorola Dinara, Motorola Droid, Motorola Droid MAXX, Motorola Droid Mini, Motorola Droid 2, Motorola Droid 3, Motorola Droid 2 Global, Motorola Droid Bionic, Motorola Droid Pro, Motorola Droid RAZR, Motorola Droid RAZR MAXX, Motorola Moto X, Motorola Droid Ultra, Motorola Droid X, Motorola Droid X2, Motorola Flipout, Motorola i1, Motorola Milestone, Motorola Milestone 2, Motorola Photon, Motorola Photon Q 4G LTE, Motorola Pro+ MB632, Motorola Titanium, Motorola Triumph, Motorola Vanquish, Motorola XPRT, Motorola XT531, Motorola XT701, Motorola XT720, Motorola XT860, Motorola XT958, Sanyo Zio, Pantech, Pantech Breakout, Pantech Crossover, OPPO Find 7, OPPO Find 5, Micromax A73, Micromax General, Micromax A55, Micromax A78, Hisense HS-U2, Fujitsu Arrows, Dell Aero, Dell Streak 5, Dell Venue, Casio Commando G'Zone, Casio Commando G Shock, ASUS Padfone, ASUS Padfone, Acer A1, Acer BeTouch E400, Acer Liquid, Acer Liquid Express, Acer Liquid Glow.
3 Steps to Recover Formatted Files from Android Phone
First of all, do not use Android phone after reformat happens. Because new data could overwrite the space of deleted files, which will make deleted files unrecoverable.
Step1. Connect android phone to computer. Then in Computer, check whether the smart phone shows as a drive letter (e.g. drive E: ).
If it's not, take the memory card (SD Card, XD Card, MicroSD Card, CF Card, SDHC etc) from android mobile phone and then connect the memory card to computer with a card reader, the phone card will be shown as a drive letter in Computer.
Deleted files were saved on phone memory instead of memory card? Check out this method: how to enable android phone mass storage.
Step 2. Run android data recovery software asoftech data recovery, and then in Asoftech Data Recovery, select the drive letter represent the android device, then press "Next" to start scanning for recoverable photos, videos, and music files.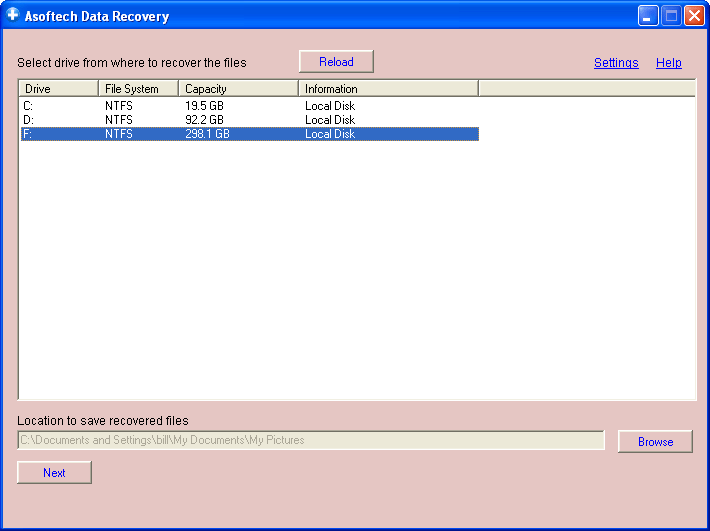 Step 3. You will see a list of recoverable files when scanning complete. Select those files you want to recover and press "Recover" button to save recovered files on computer.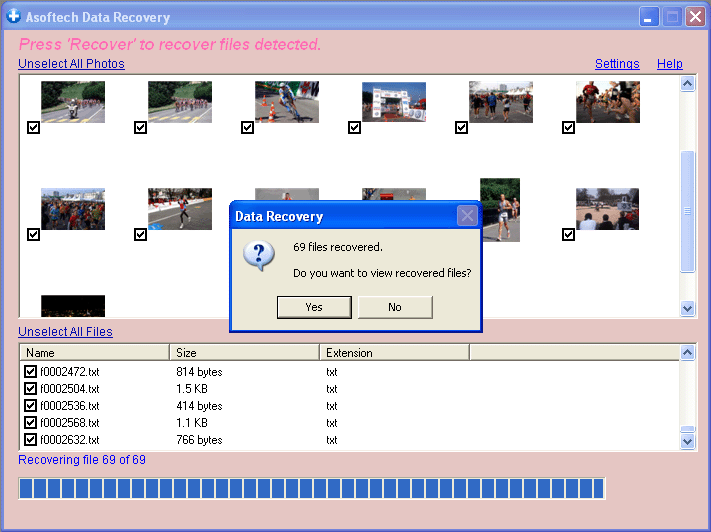 Download Android phone recovery software and recover deleted photos videos and music files from android smart phone now



Related articles:

How to recover deleted files from android phone
SD card data recovery
Recover files from computer hard disk
Android phone photo recovery
Recover photo videos from digital camera
You can perform android data recovery from android phone/tablet running android 7.0 Nougat, 6.0 Marshmallow, android 5.0 Lollipop, 4.4 Kitkat, 4.1 Jelly Bean, 4.0 Ice Cream Sandwich, 3.0 Honeycomb, 2.3 Gingerbread, both rooted and none rooted cellphones are supported.
The Android data recovery software and photo recovery software can recover deleted contacts, text messages, photos, videos, call logs, audio, whatsapp history, and documents from all android smartphones and tablets shipped by top telecom companies internationally, including AT&T, T-Mobile, Sprint, Verizon Wireless, Vodafone, America Movil, Telefonica, STC, Idea Cellular, Reliance, TIM, MTS, BSNL, Aircel, Smart, Megafone, Maxis, Inmarsat, Globalstar, Iridium, ACeS, Telstra, Australia Belgacom , Belgium Oi , Brazil BCE , Canada China Telecom , China TDC , Denmark Orange , France Deutsche Telekom , Germany Bharti Airtel , India Telekom Indonesia , Indonesia Telecom Italia , Italy Nippon Telegraph & Tel , Japan Zain , Kuwait Altice , Luxembourg Axiata Group , Malaysia América Móvil, Mexico VimpelCom , Netherlands Telenor , Norway PLDT , Philippines Ooredoo Telecom , Qatar MegaFon , Russia Saudi Telecom , Saudi Arabia SingTel , Singapore MTN Group , South Africa SK Telecom , South Korea Telefónica, Spain Teliasonera , Sweden Swisscom , Switzerland Chunghwa Telecom , Taiwan Advanced Info Service , Thailand Turkcell , Turkey Etisalat , United Arab Emirates Vodafone , United Kingdom Verizon Communications VZ, United States Cantv , Venezuela.
You can recover your deleted files worldwild as you can do it by yourself on your computer. So you do not need to go to data recovery centres, looking for data recovery services from specialists. You can performa data recovery and photo recovery worldwide, including countries Japan, USA, UK, Canada, Australia, New Zealand, India, Pakistan, Nigeria, Philippines, Germany, Bangladesh, Egypt, France, Italy, Thailand, Netherlands, Nepal, South Africa, Poland, Turkey, Iraq, Spain, Sweden, Kenya, Cameroon, Malaysia, Russia, Belgium, Israel, Austria, long island, Romania, Zimbabwe, Greece, Sierra Leone, Mexico, Denmark, Switzerland, Morocco, Norway, Ireland, Singapore, Ghana, Tanzania, Finland, Portugal, Liberia, Jordan, Algeria, Jamaica, Guinea, Uganda, Hong Kong, Czech Republic, Argentina, Yemen, Croatia, in cities such as chennai, bangalore, toronto, mississauga, delhi, kolkata, mumbai, pune, dubai, london, nottingham, hyderabad, Sheffield, Croydon, Barking, Bristol, Manchester, Watford, Luton, Dartford, Gatwick, Reading, Norwich, Chelmsford, Newhaven, Northampton, Southampton, Nottingham, Derby, Abingdon, Gloucester, Bury St Edmunds, Exeter, Los Angeles, Melbourne, Chicago, Houston, Perth, Philadelphia, Phoenix, San Francisco, Detroit, San Jose, Dallas, kenya, birmingham, finchley, vancouver, canada, montreal, ottawa, calgary, winnipeg, Australia, sydney, melboune, brisbane, auckland, hamilton, waikato, Atlanta, Boston, Riverside, Seattle, Minneapolis, Tampa, St. Louis, Baltimore, San Antonio, Delaware, Denver, Charlotte, Pittsburgh, Portland, West Midlands, Greater Bristol, Cardiff, Greater Glasgow, West Yorkshire, Bradford, Leeds, Liverpool, Greater Manchester, Nottingham-Derby, Portsmouth-Southampton, South Yorkshire (Sheffield), Newcastle-Sunderland, Paris, Randstad, Istanbul, Moscow, Saint Petersburg, Berlin, Madrid, Rome, Kiev, Bucharest, Minsk, Vienna, Hamburg, Budapest, Warsaw, Barcelona, Kharkiv, Munich, Milan, and states Alabama, Alaska, Arizona, Arkansas, California, Colorado, Connecticut, San Diego, Miami, Florida, Georgia, Hawaii, Idaho, Illinois, Indiana, Iowa, Kansas, Kentucky, Louisiana, Maine, Maryland, Massachusetts, Michigan, Minnesota, Mississippi, Missouri, Montana, Nebraska, Nevada, New Hampshire, New Jersey, New Mexico, New York, North Carolina, North Dakota, Ohio, Oklahoma, Oregon, Pennsylvania, Rhode Island, South Carolina, South Dakota, Tennessee, Texas, Utah, Vermont, Virginia, Washington, West Virginia, Wisconsin, Wyoming.