home >> Data Recovery >> How to recover deleted photo video files from Android Phone

Best way to recover deleted files from Android Phone

Android Data Recovery software to recover deleted photos videos music files folders from android phones
Android smart phone tablets wear has become more and more popular nowadays. Best selling android mobile phones including Samsung Galaxy S6, S5, S4, S3, mini, samsung Galaxy Nexus, Samsung Galaxy Notes, Samsung Epic, Motorola Droid, Sony Ericsson Xperia, Google Nexus, HTC EVO, and all other Android devices. As more and more people start to use android cellphone, it's quite commom that people accidentally deleted photo, video, music files, or folders from android phone and want to undelete files from android phones. So is it possible to recover deleted photos videos and music files from Android cell phones?
Well, by following correct steps it's highly possible to restore deleted files from android phones. In this articles, we will discuss common situations where files could be deleted from android smartphone and ways to recover data from android devices.
Common mistakes which may delete files on Android phone internal storage and Memory Card
Human always make mistakes, so delete wrong pictures or wrong files, or press format button wrongly are the top 2 reasons for data loss on Android device. Besides that, people may reset cellphone to factory settings without data backup, or didn't know that photos, videos and music files are deleted when reset the Android phones. There are also other reasons like memory card corrupted, virus attack, phone or memory card failure, for exmaple, mobile phone or SD card not recognized on computer, cell phone or memory card card asks for format when opened on computer.
Android Data Recovery Software
Asoftech data recovery software offers a good Android recovery solution to help restore deleted, formatted or lost pictures, videos and music files from your Android phones such as Samsung Galaxy S6, S5 Mini SM-G800H SM-G800F, Note Edge SM-N915G, Galaxy Note 4 SM-N910G, Samsung Galaxy S5 SM-G900H SM-G900F SM-G900R4 SM-G900V, Galaxy Note 3 Neo SM-N7500 SM-N7502 SM-N7505, Galaxy S Duos 2 (GT-S7582), Express 2 (SM-G3815), Grand 2 (SM-G7100), Samsung Galaxy Note 3 SM-N9000 SM-N9002 SM-N9005, Galaxy S4 Mini (GT-I9190), Galaxy S4 Mini (I9195, LTE), Galaxy S4 Mini (I9192, dual-SIM), S4 Active (GT-I9295), S4 Zoom (SM-C1010), Galaxy Ace 3 (GT-S7270), Samsung Galaxy S4 (GT-I9500) GT-I9505 (LTE) GT-I9506 (LTE+), Galaxy S II Plus (GT-I9105), Galaxy S III Mini (GT-I8190), HTC One M9, HTC One mini 2, HTC One (M8), HTC One Max, HTC One Mini, HTC One, HTC J Butterfly, HTC Desire X, HTC Desire V, HTC Evo View 4G, Droid Incredible 4G LTE, LG Optimus L3 E400, L7 P700, Optimus 4X HD P880, LG Nexus 4 E960, LG Optimus L5 E610, LG Optimus 3D P920, LG F60 (D390N), LG L90 (D405), LG Optimus black P970, LG Optimus 2X P990, LG Optimus One P500, LG Optimus GT540, LG Optimus 7 E900, LG Optimus L5 II E460, G Flex 2 H955, LG G3 D855, LG G3 S D722, LG L70 (D320), LG L50 (D213), LG L30 (D120), LG L20 (D100), LG G2 Mini, LG G-Flex D955, LG G2 D802, LG Nexus 5 D821, Sony Xperia Z3 Tablet Compact, Xperia Z2 Tablet, Xperia Tablet Z, Xperia Tablet S, Xperia E3, Xperia Z3 Compact, Xperia Z3, Xperia C3, Xperia T3, Xperia ZL2, Xperia Z2a, Xperia M2, Xperia A2, Xperia Z2, Xperia T2 Ultra, Xperia E1, Xperia Z1 Compact, Xperia Z1/Z1s, Xperia Z Ultra, Xperia M, Xperia C, Xperia L, Motorola Moto G, Moto Turbo, Motorola Moto E, Moto X Pro, Motorola DROID MAXX, Motorola DROID Turbo, Motorola DROID Ultra, Motorola DROID Mini, Google Nexus, Motorola Atrix, Huawei Y635, Y360, C199S, Honor Holly, Honor 4 Play, Ascend G7, Ascend Mate 7, Ascend P7 Sapphire Edition, Honor 3C Play, Honor 6, lenovo yoga, flex 2, alps, micromax canvas silver 5, canvas 4, canvas knight, Yu yureka, yuphoria, Yufit, yureka plus android phone etc.

If you have photos, video, or music files deleted from Android phones, it's recommended that you have a try of this Android File Recovery free app. It is very fast, easy to use and promising.

Download Android Data Recovery Program
The android data recovery app supports android photo recovery, video recovery, and file recovery from android phone internal storage and memory card, such as SD card, CompactFlash CF card, microSd card, SDHC, SDXC, xD picture card, MMC, memory stick, flash drive, etc. No root required, i.e. the data recovery works on android cellphones without root. You can use android data recovery freeware to undeleted recovers photos (JPG, PNG, GIF, JPEG, BMP, TIF, TIFF, RAW Image, etc), videos (MP4, AVI, 3GP, AVCHD, H264, MPG, MPEG, MOV, WMV, ASF, VOB, M2TS, etc), and music (MP3, WMA, OGG, M4A) files. The android data recovery software can also be used to unformat android phone SD card and get back formatted pics videos and other media data. The android file recovery software supports Windows 8, Windows 7, Windows Vista, Windows XP, Windows 2000.
3 Steps to Recover Files from Android Phone
First of all, do not use Android phone when files are deleted from the phone. Because new data could overwrite the space of deleted files, which will make deleted files unrecoverable.
Step1. Connect android phone to computer. Then in Computer, check whether the smart phone shows as a drive letter (e.g. drive E: ).
If it's not, take the memory card from android mobile phone and then connect the memory card to computer with a card reader, the phone card will be shown as a drive letter in Computer.
Deleted files were saved on phone memory instead of memory card? Check out this method: how to enable android phone mass storage.
Step 2. Run android data recovery software asoftech data recovery, and then in Asoftech Data Recovery, select the drive letter represent the android device, then press "Next" to start scanning for recoverable photos, videos, and music files.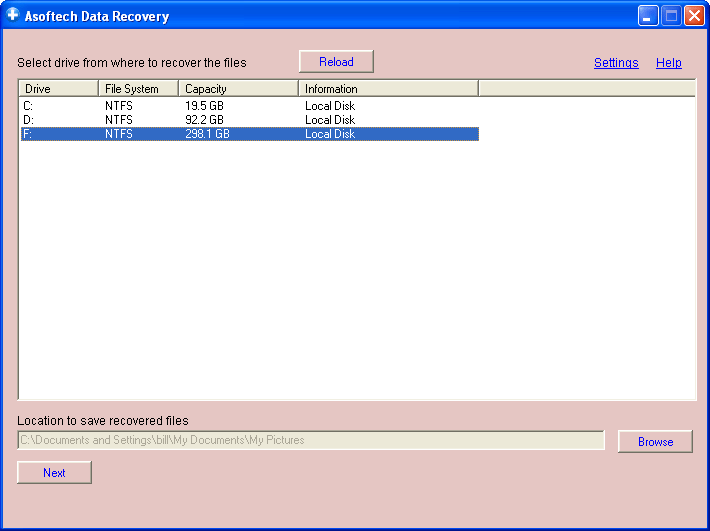 Step 3. You will see a list of recoverable files when scanning complete. Select those files you want to recover and press "Recover" button to save recovered files on computer.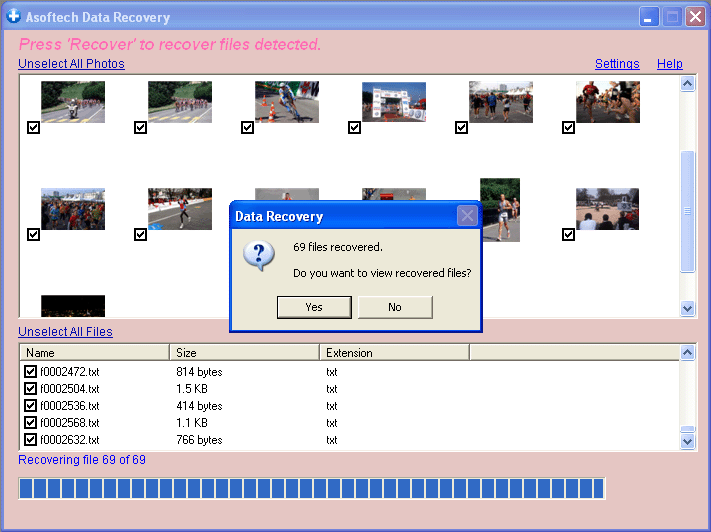 Download Android phone recovery software and recover deleted photos videos and music files from android smart phone now



Related data recovery tutorial:

Recover lost files from SD card

Mobile phone data recovery

Recover photo video files from Samsung Galaxy phones