Type and press keys automatically using Shortcut Keys
Auto Typing software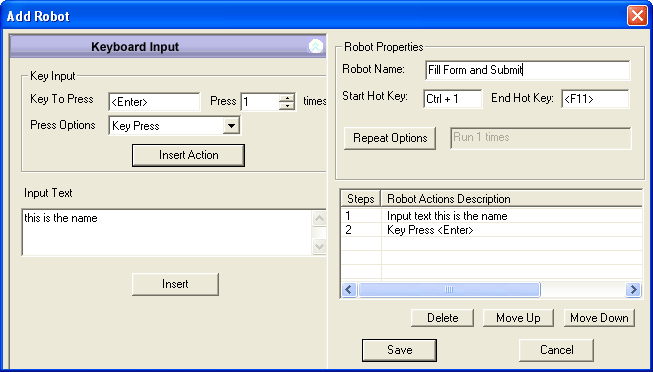 Asoftech Auto Typer can be used to type Text and press Keyboard keys with a configurable Hot Key or Shortcut Key. An example Usage of Auto Typer may be to fill a form which requires some sets of texts. User can set the texts to be inputed, and then set Tab Key to be pressed, and then again some other texts to be inputed, and then set Enter Key to be pressed. All these can be done in Auto Typer. User can then save these actions as a robot, and assign a shortcut key to it. When shortcut key is pressed, the form will be filled immediately.
The program allows user to add one or mutiple robots, where each robot may serve for different purpose. With Auto Typer Asoftech, texts will be filled faster and more accurate. It can be used for your work to improve productivity.
Schedule feature enables tasks to be run at a pre-defined time, so that texts will be filled and keys can be pressed even when you are not around.
Download Link 1 | Download Link 2
---
Key Features
Input text to text input box, forms, edit box, etc
Press any keyboard keys
Save text inputs and keys press as a robot
Enable shortcut keys to start/stop robot (i.e. sequence of text inputs and key pressed)
Easily edit actions (text inputs and keys press) in a robot
Multiple robots can be saved so that user can schedule them differently
Schedule robot to run at a pre-defined time.
Easily edit or remove saved robots
Impprove productivity and accuracy
Awards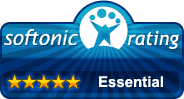 Get Auto Typer Asoftech With Only $14.95 Now

Auto Typer Asoftech's usual price is $29.95, now it is selling at a promotion price of $14.95. Grab your piece before this offer ends.
Your subscription includes:
Full version of Auto Typer Asoftech

1 year free tech support

30 day money back guarantee




Buy Auto Typer

Limited Offer !
Usual Price $29.95
Special Promotion Price
$14.95
Save 50% Today!


How to use Auto Typer Asoftech
Download and install Auto Typer Asoftech
Launch Auto Typer with Shortcut on Desktop or from Programs Menu.
Auto Typer main window shows a list of robots (a robot is series of texts input and keys press).
Click 'Add Robot' to add series of texts input and keys press
In 'Add Robot' dialog, you can specify the texts to be inputed, keys to be pressed, start and stop keyboard shotcuts.
Click 'Save' to save robot. Now you can press start keyboard shotcuts to start the auto typing.

more help