home >> Data Recovery >> Recycle Bin data recoery


Recover deleted photos videos data after emptying Recycle Bin

How can I recover photo video files deleted or emptied from Recycle Bin in Windows 8/7/Vista/XP Computer
As computer users, we understand that deleted photos videos documents such as Microsoft Word docx files, Powerpoint Presentation ppt files, Microsoft Excel files, pdf data, and folders will go to Recycle Bin, and we can restore deleted file from Recycle Bin. But what happens after emptying the Recycle Bin, or deleted the file from Recycle Bin, or files just didn't go to Recycle Bin when they were deleted. Are those files recoverable?
How Recycle Bin works?
When we delete a file from in Windows 8/7/Vista/XP PC hard disk, windows operating system will send it to Recycle Bin. But if you deleted a file from external drive like USB drive, external hard disk, the file will be deleted directly, because Recycle Bin sits on local hard drive, not external drive. Also, Recycle Bin has a limited size. If file size is too large, or Recycle Bin does not have enough space to store the file sent to Recycle Bin, the file will be deleted directly.
How to get back files and folders deleted from Recycle Bin?
The good news is that all files and folders deleted (even you deleted them from Recycle Bin) are still in the hard disk. Windows only marks the space as free so that new files can be saved to those space. So you still have chance to recover those files if they are not overwritten by new files. The bad news is that when you save new file, Windows may store them to the space of deleted files. Once overwritten, deleted files will not be able to be recovered any more. So it's very important to not use computer after files are deleted.
You should also refrain from any further activity on that computer. Do NOT shut down, close or reboot your PC. This may cause applications or Windows itself to save data by creating new files, potentially overwriting your lost data and again making it more difficult to recover pictures. You should also NOT open or close any applications or programs as this may cause files to be updated and saved to the disk. You should recover your files as soon as possible to avoid permanent loss of your data.
The quickest and easiest way to recover lost files and folders is to use a specialist file recovery software package. There are a number of products available, a good one is Asoftech Data Recovery. I will use it as example to explain steps to recover files. The file recovery tool supports Windows 8, Windows 7, Windows Vista, Windows XP, Windows 2000 desktop and laptop computers, such as Dell Precision, Dell Optiplex, Gateway, Acer Aspire, Dell XPS, HP Spectre One, Samsung ATIV, Vizio Touch PC, Lenovo ThinkCentre Edge, Dell Latitude, Razer Blade, Acer chromebook, Asus VivoBook, Microsoft Surface, Samsung Chromebook, Toshiba Satellite, Asus Transformer Book, Acer Aspire, Asus Ultrabook, Lenovo IdeaPad Yoga, HP AMD, HP Pavilion, Sony Vaio, HP Envy.
Step1. Download the free trial and install it to your computer.

You can download the software from
http://www.asoftech.com/adr/

I have to remind you that you do not install Asoftech Data Recovery to the same partition where you lost file for avoiding overwriting the deleted files.
Step2. Select the drive you deleted files from, and start scan the drive

When you open Asoftech Data Recovery, you will see a list of drives, select the one where your files are deleted, then press next. Asoftech Data Recovery will start scan the drive for recoverable files.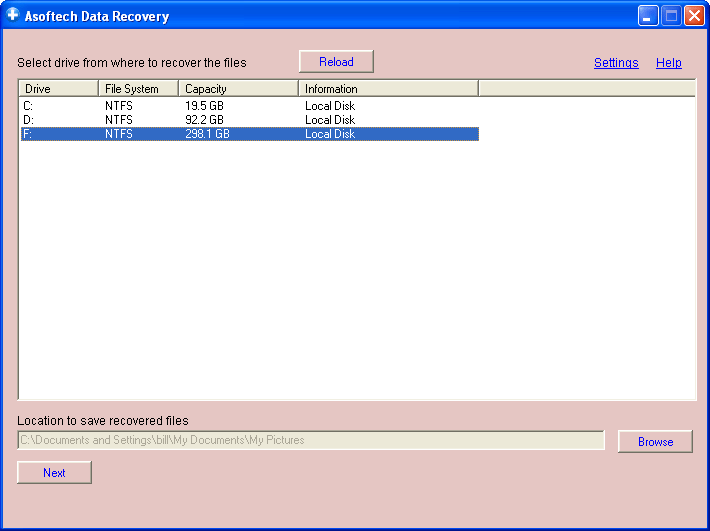 Step3. Choose your target files

Here you can see all recoverable files on the hard disk. You can choose files you want to recover. Then press 'Recover' button to start recovering the files.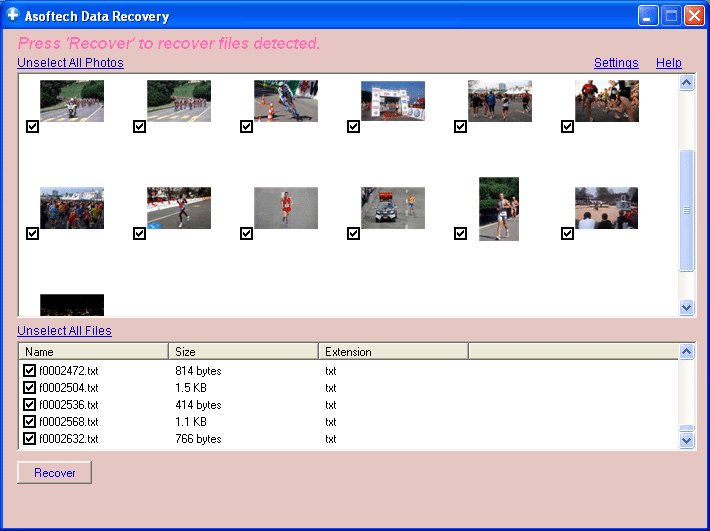 That's it, now all items you deleted but not in Recycle Bin can also be recovered. Don't hesitate, have a try now.
More Resources:
More info about Asoftech Data Recovery:
http://www.asoftech.com/adr/index.html
Download Asoftech Data Recovery:
http://www.asoftech.com/trial/adr.exe