Type and Click Automatically with configurable Shortcut
Auto Clicker and Auto Typer 2 in 1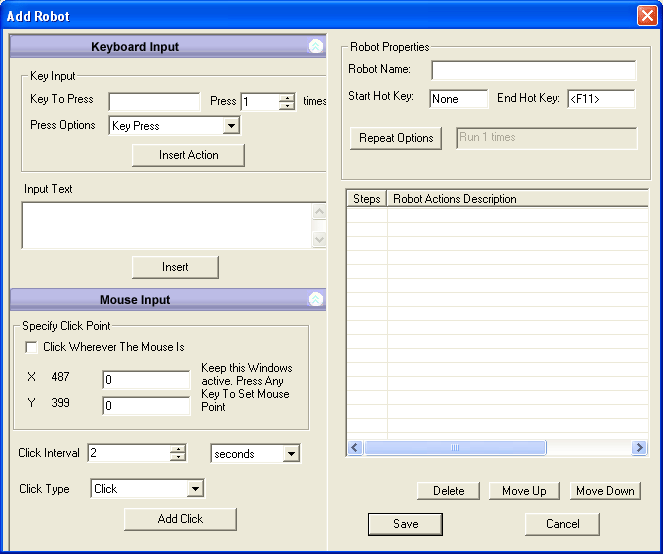 Auto Clicker and Auto Typer 2 in 1 can help whenever you have to do repetitive tasks on computer such as typing something or clicking mouse. Built in Auto Typer can be used to type Text and press Keyboard keys with a configurable Hot Key or Shortcut Key. Built in Auto Clicker can be used to simulate mouse clicks at the press of a configurable hot key.
One unique feature of this 2 in 1 program is that it allows user to mix clicks and typing, and then user can save this sequence of inputs as a robot, and assign a hot key (i.e. shortcut key) to the robot. So at the press of the hot key, the clicking and typing will be started automatically. The program enables user to create and save mutiple robots, where each robot may serve for different purpose.
Schedule feature enables tasks to be run at a pre-defined time, so that auto clicking and auto typing can happen even when user is not in front of the computer.
Download Link 1 | Download Link 2
---
Key Features
Various click types supported: left click, right click, double click, click-hold, mouse up
Full control of delay or interval between clicks
Drag and drop are supported*
User can work at the same time of clicking
Input text to text input box, forms, edit box, etc
Press any keyboard keys
Save text inputs and keys press as a robot
Enable shortcut keys to start/stop robot (i.e. sequence of text inputs and key pressed)
Easily edit actions (text inputs and keys press) in a robot
Multiple clicks and typing enabled in one robot (a robot is series of clicks and typing)
Multiple robots can be saved so that user can schedule them to run at different time
Schedule robot to run at a pre-defined time.
User can specify number of times to run robot, or run until stop shortcut key is pressed
Easily edit or remove saved robots
Impprove productivity and accuracy
*For drag, or drag and drop, first add 'click-hold' at drag point, then add 'release' at target, or drop point.

Awards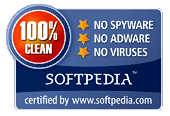 Get Auto Click and Auto Typer 2 in 1 With Only $24.95 Now

Auto Clicker and Auto Typer 2 in 1's usual price is $59.90, now it is selling at a promotion price of $24.95. Grab your piece before this offer ends.
Your subscription includes:
Full version of Auto Clicker and Auto Typer 2 in 1

1 year free tech support

30 day money back guarantee




Auto Clicker and Auto Typer

Limited Offer !
Usual Price $59.90
Special Promotion Price
$24.95
Save 34.95 Today!


How to use Auto Typer Asoftech
Download and install Auto Clicker and Auto Typer 2 in 1
Launch Auto Clicker and Auto Typer 2 in 1 with Shortcut on Desktop or from Programs Menu.
Program main window shows a list of robots (a robot is series of text input and key press).
Click 'Add Robot' to add series of text input and key press
In 'Add Robot' dialog, you can specify the position, interval and type of clicks, the text to input, key to press, start and stop keyboard shotcuts.
Click 'Save' to save robot. Now you can press start keyboard shotcut to start the auto clicking and typing.

more help