home >> Photo Recovery >> Tutorial: Memory card photo recovery

Memory card photo recovery: Recover Lost Photos from Memory Card

How to recover deleted formatted photos video files from memory card
People use memory card a lot nowadays. It is quite often to see people accidentally deleted photos from memory card, or formatted the memory card unintentally, and wants to get back lost pictures. Even users did nothing wrong, photos may lost due to corrupted memory card or memory card error. So is it possible to retrieve deleted photos? If yes, how to recover lost photos from memory card?
Dont worry, memory card photo recovery is not as difficult as you thought. You can do it by yourself without paying data recovery lab expensive fees. Read on for how to recover lost pictures.
First of all, stop using the Memory Card.
When the photos are deleted, or memory card is formatted, the photos actually data are still stored on the memory card, just that they are not inaccessible, because system has lost the entry point, and the space is marked free to use.
So when you use memory card, it is likely that data will be saved to the space where lost photos located. This will make the photos not recoverable. That's why it is very important not to use the memory card after photos are lost. Even if the memory card is used, stop using it now.
Secondly, download a good photo recovery software.
The easiest way to recover lost photos is to use a photo recovery software.
The card recovery software should easy to use so that users can just pick it up and use it. The recovery software should be able to support memory card type. Memory Card type means CompactFlash CF card, Memory Stick Duo, Memory Stick Pro, Memory Stick Pro Duo, miniSD, MultiMediaCard MMC, SD Card, xD Picture Card, memory stick, MicroSD card etc. It should support the file type of lost photos. The photo file type means JPG, JPEG, BMP, GIF, PNG.
One tip is to download free trial of asoftech photo recovery software and do a scan of memory card for free. This will tells whether photos are recoverable before users spent money to purchase the software.
If you need to recover not only deleted images, but also lost videos, documents, pdf files, Microsoft Word docx files, Excel, Powerpoint presentation ppt files, and folders from memory card, pen drive, memory stick or other usb drive, you can use memory card data recovery software. download for free from



Both card photo recovery softwae and file recovery supports all types of memory card including SD card, SDHC, SDXC, xD card, microSD, microSDHC, MicroSDXC, Compact Flash CF card, MMC, memory stick, Secure Digital card, USB flash drive, etc for mobile phones, digital cameras, DSLR, video camera, removable USB drive, flash drive, thumb drive, android phone, smartphone. The card recovery programs support Sandisk Ultra, Extreme, Pixtor, Extreme Pro, Ultra PLUS, PNY Pro Elite, Samsung, Polaroid, Transcend, lowepro, Sony, Canon, Kingston, Nikon, Dynex, Olympus, Patriot, Energizer, Eye-Fi, Sunpak, DigiPower, GoPro, HP, Lexar, Trax, VisionTek. Both card recovery tool support memory card from 1GB, 2GB, 4GB, 8GB, 16GB, 32GB, 64GB, 128GB, 256GB, etc. Both card recovery program supports Windows 8, windows 7, Windows Vista, Windows XP, Windows 2000.
Lastly, operate the software to recover lost photos.
Here I will take Asoftech Photo Recovery as an example to show the whole recovry process. It's really very simple in fact.
Step 1: Connect the memory card to computer. Then in Windows Explorer (My Computer), you should see memory card shown as a drive letter (for example, E: ).
Step 2: Download and install Asoftech Photo Recovery. Then in Asoftech Photo Recovery, select memory card drive letter, then press "Start" button.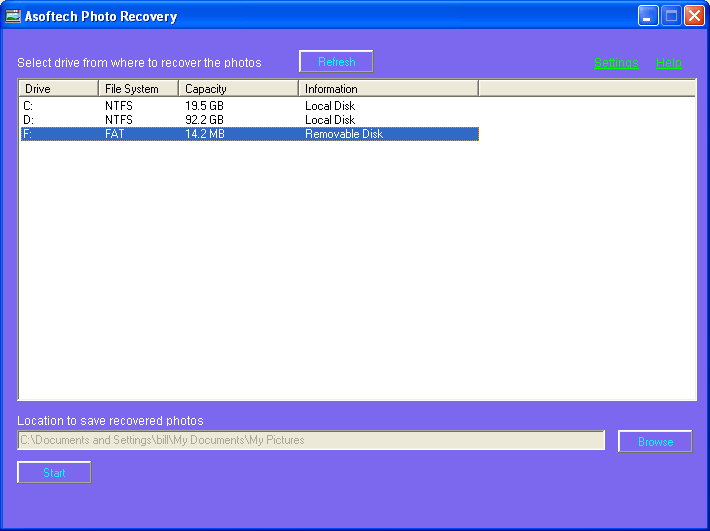 Step 3: Asoftech Photo Recovery will start scanning for lost photos. After a while you will see a list of recover photos. You can recognize them by thumbnail of photos. Now click "Recover" button to recover all lost photos.