home >> Data Recovery >> Digital Camera Data Recovery Software to Recover Deleted Files from Camera

Use Digital Camera Data Recovery Software to Recover Deleted Files from Camera

How to Recover Deleted Formatted Photos Video Files from Digital Camera
Digital cameras (digicams) are perfect electronic devices for photography and videography. People often use digital cameras to take digital images and shoot nice videos. Popular digital cameras include Compact Digital Cameras, Digital SLR cameras (SDLR) such as Canon EOS, Nikon D4S, D4, D3S, D800, D800E, D810, D810A, Df, D750, D700, D610, D600, D7100, D5500, D5300, D5200, D5100, D7000, D3300, D3200, D3100, DSC, Flip cameras, Rugged compacts, Bridge cameras, Mirrorless interchangeable-lens cameras, Modular cameras, Digital single-lens reflex cameras, Digital Single Lens Translucent (DSLT) cameras, Digital rangefinder, Action camera like GoPro, Sony ActionCam, camera drone, now digital cameras have been incorporated into android phones/tablet, iPhone, iPad, Windows phones and other mobile phones, webcam, IP camera, CCTV, etc.
However, since digital cameras use memory card to save photos and video data, in many cases files on digital camera may be deleted. - Accidentally deleted videos on Video Camera and want to recover deleted files.

- Format the Sony DSC camera SD card and lost important data, need to perform digital camera data recovery.

- Camera memory card suddently show memory card unformatted error and need to recover data before format the digital camera memory card.

- Memory card error shows on digital camera and need to restore all files.

- Deleted all images when only wanted to delete one of them, how to undelete photos from digital camera.

- Erased digital camera memory card and lost all pics, videos, how to unerase camera memory card and get back lost camera files.
What to do when digital camera are lost? First of all, do not panic.

At the same time, stop using digital camera, do not use it to take more photos, switch off camera, and then take out memory card, keep it at a safe place. This is because that space of deleted or formatted files are now marked as free, so when new photos or videos are saved, they could use those space, and this will cause the data overwritten, which will make them unrecoverable.
So how to recover deleted photo video files from digital camera? We will need a profession digital camera data recovery software to scan the memory card of digital camera and get back missing photos and video files. Download digital camera data recovery software for free from link below:

Download camera data recovery software
Digital camera data recovery program can perform camera photo recovery, camera video recovery, and camera file recovery easily. You can use digital camera recovery program to undelete photos videos audios files, or unformat digital camera memory card (SD card, memory stick, SDHC, xD, SDXC, microSD, microSDHC, CompatFlash CF card, miniSD, MMC) and retrieve back missing camera data. The camera recovery freeware is able to get back photo video files that disppeared from SanDisk, Kingston, KingMax, Sony, Lexar, PNY, PQI, Toshiba, Panasonic FujiFilm, Samsung, Canon, Qmemory, Transcend, Apacer, PRETEC, HITACHI Olympus, SimpleTech, Viking, OCZ Flash Media, ATP, Delkin Devices, A-Data etc.
The digital camera recovery software can restore lost image and video data from all popular DSC and DSLR digital cameras, includes all Nikon Coolpix cameras, Canon EOS 350D, 20D, REBEL, 300D, Sony CYBERSHOT, Canon EOS DIGITAL REBEL XT, Canon PowerShot S2 IS, FinePix S7000, FinePix S5500, Sony DSC-H1, Kodak DX6490 ZOOM DIGITAL CAMERA, Panasonic DMC-FZ20, Olympus C750UZ, Fujifilm FinePix S5000, Canon PowerShot S1 IS, Nikon D100, Sony cybershot DSC-F828, Kodak, Casio, Panasonic, Samsung, Pentax, Fuji, Konica-Minolta, HP, Agfa, NEC, Imation, Sanyo, Epson, IBM, Goldstar, LG, SHARP, Lexar, Mitsubishi, Kyocera, JVC, Leica, Phillips, Toshiba, SanDisk, Chinon, Ricoh, Hitachi, Kinon, Verbatim, Vivitar, Yashica, Argus, Lumix, Polaroid, Sigma digital cameras, etc. Windows 8.1 Windows 8, Windows 7, Windows Vista, Windows XP, Windows 2000 are supported.
The camera card recovery program is able to get back lost photos such as jpg, png, jpeg, bmp, tif, tiff, RAW Image Formats Nikon NEF, Canon CRW and CR2, Kodak DCR, Konica Minolta MRW, Fuji RAF, Sigma X3F, Sony SRF, Samsung DNG, Pentax PEF, Olympus ORF, Leica DNG, Panasonic RAW and more, videos such as mov, avi, mp4, mpeg, mpg, asf, 3gp, mts, audio files such as wav, mp3, AMR.
Steps to recover data from digital camera
Step 1. Connect the digital camera to computer, and then check whether it shows as a drive letter (e.g. E:) in Computer.

If not, you need to take out the memory card (SD Card, XD Card, MicroSD Card, CF Card, SDHC etc) from camera and then use a card reader to connect the memory card to computer.
Step 2. Run Asoftech Data Recovery software, and then select digital camera drive letter in Asoftech Data Recovery, and then press button "Next" to start scan the camera memory card.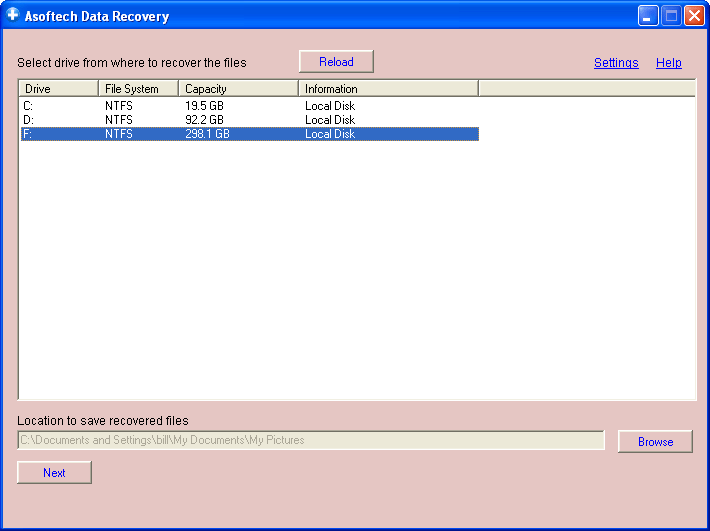 Step 3. You will see lost files shown one by one. Select those you want to recover, and click "Recover" to save them.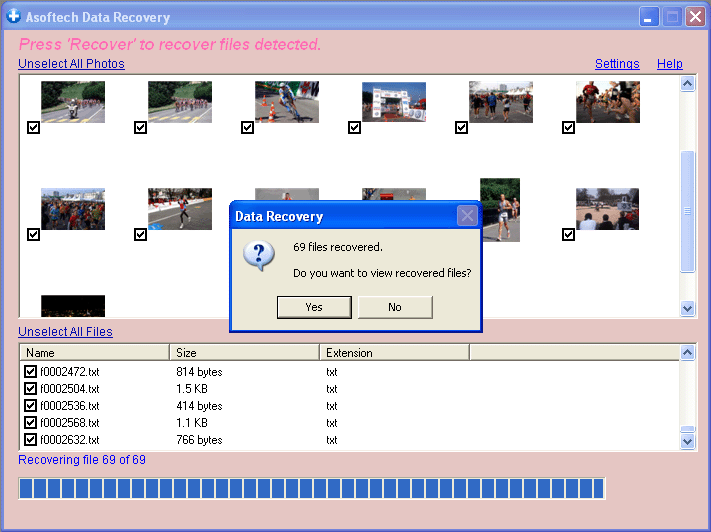 Download digital camera data recovery software and recover lost deleted formatted files from camera memory card:



Other related data recovery solution:

How to recover data from SD card

Recover deleted photos from android phones