home >> Photo Recovery >> Tutorial: How to Recover Deleted Photos From Camera

Camera photo recovery software to recover photos from camera

How to recover deleted formatted photos from digital camera: Nikon Coolpix, Canon Powershot, Sony Cybershot, Fujifilm Finepix, etc
Digital photography produces nice photos that's why more and more people like it. However, any photographer may experience this: accidentally deleted pictures from digital camera, or hit format button by mistake and formatted digtal camera memory card, hence lost all photos. So a common question is that am I able to recover deleted or formatted photos from digital camera? The answer is that it is possible to recover deleted or formatted photos off digital camera sd card. All you need to do is download a free digital camera photo recovery software and use the software to scan digital camera memory card (secure digital card SD card, SDHC, SDXC, Compact Flash CF card, multimedia card MMC, MicroSD card, xD card, MicroSDHC card, MicroSDXC card, SD mini) and recover lost deleted or formatted photos from digital camera or camcorder.
What happens when photos are deleted or digital camera memory card is formatted?
When you deleted the photos from digital camera memory card, the photo itself is not deleted, instead, system will only mark the space as free so that when new picture is taken, the space can be used to save the new picture.
When you format digital camera sd card, the photos are not erased either, instead, the whole memory card is marked as free so that new pictures can be saved there.
So you can unerase the camera memory card and restore lost data. Also, it is very important to NOT take any more pictures after the incident. Because new pictures may overwrite the space of deleted photos, which will make them unrecoverable.
Solution
Digital Camera does not have a build-in Recycle Bin (mainly because of limited storage size). So there is no way to recover photos from Recycle Bin as what we did on computers. Photos deleted from digital camera also does not go to computer Recycle Bin even you deleted them when camera is connected to computer.
However, the good news is that photos are recoverable with camera photo recovery software, which scans the digital camera memory card and undelete photos or recover formatted photos. The photo recovery software supports almost all DSC and DSLR digitals cameras including Nikon Coolpix, Canon Powershot, Canon EOS, Sony Cybershot, Fujifilm Finepix, Olympus, Kodak, Casio, Panasonic, Samsung, Pentax, Fuji, Konica-Minolta, HP, Agfa, NEC, Imation, Sanyo, Epson, IBM, Goldstar, LG, SHARP, Lexar, Mitsubishi, Kyocera, JVC, Leica, Phillips, Toshiba, SanDisk, Chinon, Ricoh, Hitachi, Kinon, Verbatim, Vivitar, Yashica, Argus, Lumix, Polaroid, Sigma digital cameras, etc. You need to install the digital camera image recovery tool on Windows 8, Windows 7, Windows Vista, Windows XP, Windows 2000, and then connect digital camera flash card to computer with a card reader. The camera recovery program is able to get back lost photos such as jpg, png, jpeg, bmp, tif, tiff, RAW Image Formats Nikon NEF, Canon CRW and CR2, Kodak DCR, Konica Minolta MRW, Fuji RAF, Sigma X3F, Sony SRF, Samsung DNG, Pentax PEF, Olympus ORF, Leica DNG, Panasonic RAW and more.
Below is a step-by-step tutorial for how to recover deleted or formatted photos from digital camera memory card.
Step 1: Take out the memory card from digital camera, and put it to a card reader either on the computer or use an external USB card reader. Then in "My Computer", note the drive letter assigned to digital camera's memory card (usually G: or H:).

Step 2: Download and install photo recovery software from here
Step 3: Start Asoftech Photo Recovery. Select camera memory card's drive. click Start button. Now scanning process will start to search for lost photos.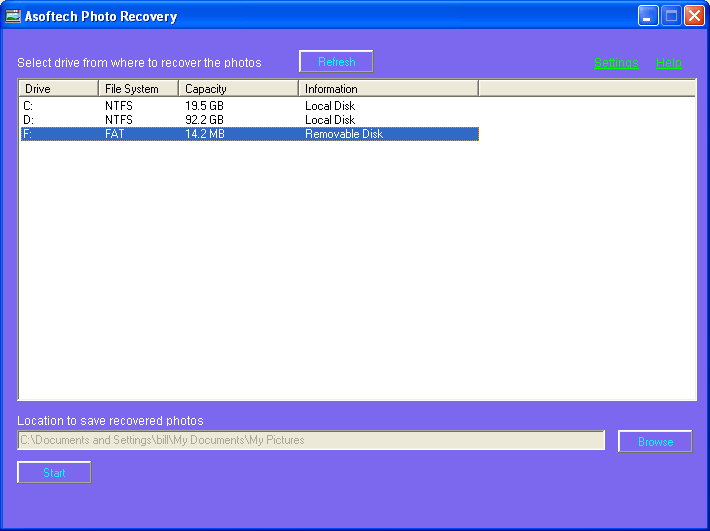 Step 4: After a while you will see a list of recoverable photos. Press Recover to perform full recovery.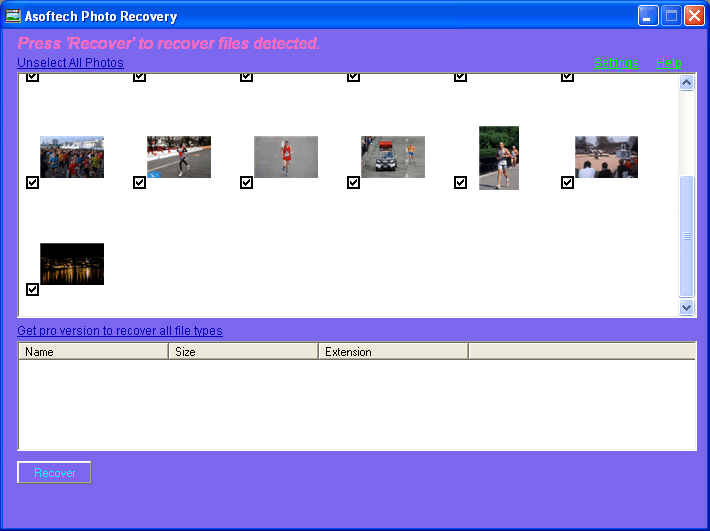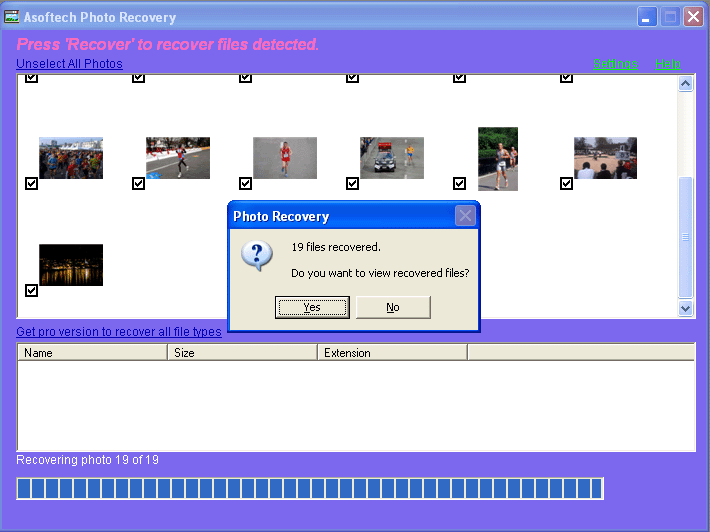 That's it. Easy enough, isn't it?
More Resources:
More info about Asoftech Photo Recovery:
http://www.asoftech.com/apr/index.html
Download Asoftech Photo Recovery:
http://www.asoftech.com/trial/apr.exe