home >> Data Recovery >> Samsung Android Phone Photo Video Music Recovery

Samsung Phone Photo Video Music Recovery

How to Recover deleted Photo Video Music Files from Samsung Galaxy CellPhone S6, S5, S4, S3, Note 2, S2, Galaxy Tab, Nexus Memory Card or MicroSD Card
Problem:
I've been using my Samsung Galaxy mobile phone to capture fantastic moments during my holiday in the past few days, but I accidentally press delete-all which causes all my photos, videos even music deleted from my andoid phone. Is it possible to restore my deleted photos, videos, and music files?

Solution:
When photos, videos, or other files are deleted from cell phones, the data itself is NOT erased from phone memory, they are just invisiable or hidden to user, you can recover deleted photo video files from phone with cellphone recovery software.
In What Situation Pics Videos are Deleted
1. Pressed format button wrongly and then all photos, videos, and music files are deleted
2. Reset mobile phone to factory settings and all files are deleted on cell phone.
3. Clicked delete button on the mobile phone and all photos videos are gone.
4. Memory card (SD card, CF card, XD card, or microSD card etc) on cell phone are corrupted for no reason and all photo and video files are deleted.
5. Formatted the mass memory card on the samsung phone and didn't backup files.
6. Card error "memory card is not formatted, do you want to format it now?"
7. Photos and videos in mobile phone become inaccessible due to phone water damaged or broken.
How to recover photo video files from samsung phone
The best way to get back deleted photos, videos, music files from samsung smart phone is to use samsung recovery program. A popular samsung phone recovery software is Asoftech Data Recovery. the cell phone recovery software recovers photos, videos, and music files from all types of samsung phone, including Samsung Galaxy Note, Samsung Galaxy S6, S5, S2, Galaxy S3, Galaxy S4, Samsung Rex, Samsung Metro phone, Samsung SGH series, SAMSUNG GALAXY GT-19100, Samsung Gear Fit, Samsung Note 4, Note 3, Note 2, etc. The phone recovery program can also recover files from HTC phones (Desire My Touch Mobile, Hero, Pure, Wildfire, Thunderbolt etc), Nokia phones (5800, N97, E7-00, C6-01, X3-00 etc), BlackBerry phones (Bold, Curve, Storm, Tour, Pearl etc), Motorola phones (Droid X, Touch Screen, DEFY, MT, etc), Sony Ericsson phones (Xperia X10i, U1i Satio etc), LG phones (Optimus, Voyager, Cookie, Accolade, Xenon etc).
Use link below to download phone data recovery software Asoftech Data Recovery and recover your files now.

Recover Files from Samsung Phone
Steps to perform Samsung Phone Recovery
Step1. Connect cell phone to computer. Then in Computer, you should see cell phone shown as a drive letter (for example, E: ).
If not, you will need to take the memory card (SD Card, XD Card, MicroSD Card, CF Card, SDHC etc) from cell phone and then connect the card to computer with a card reader (either the card reader slot on your computer or a usb card reader), you then should see the memory card shown as a drive letter in Computer.
Deleted files were saved on phone memory instead of memory card? Check out this method: how to enable android phone mass storage.
Step 2. Run phone data recovery software asoftech data recovery, and then select the phone memory drive in Asoftech Data Recovery, then press "Next" to start looking for deleted photos, videos, and music files.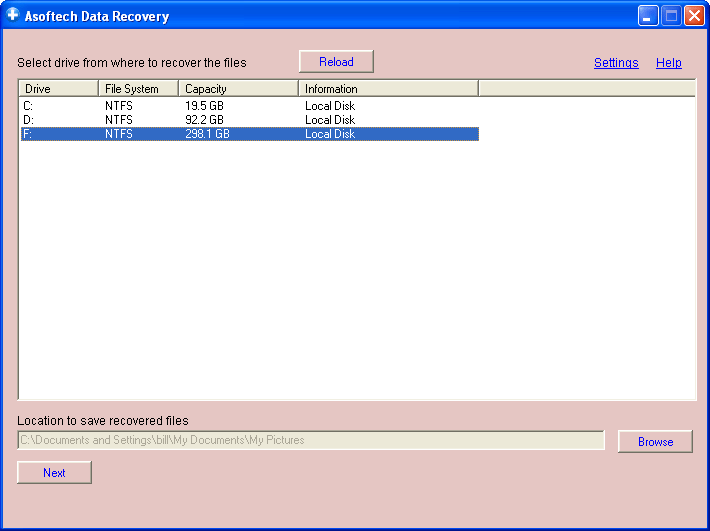 Step 3. You will see a list of recoverable files when search completed. Select the files you want to recover and click "Recover" button to save recovered files on computer.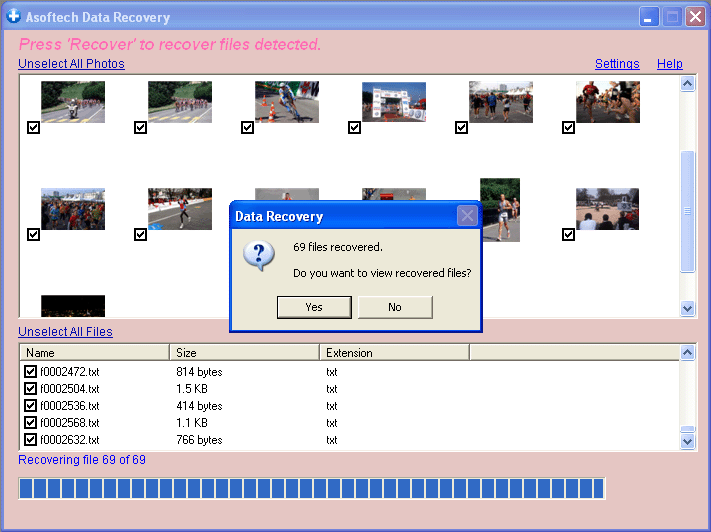 Download samsung phone recovery software and recover deleted photos videos and music files now



The samsung photo video recovery software has been tested on data recovery from Samsung Galaxy series of phones, including the Galaxy S, S II, S III, S IV, SV, M, Y, W, Note, Note II, Discover, Admire, Ace, Exhibit, Express, Pocket, Mini, Premier, Axiom, Rugby, Chat, Gear Fit, and Exhilarat android phones.