home >> Data Recovery >> Samsung Android Phone Photo Video Music Recovery

Samsung Phone Photo Video Music Recovery

Recover deleted files from Samsung Galaxy S6 Edge, S6 Active, S6, S5, Note Edge, Note 4, Galaxy Tab, Nexus android phone Memory Card
Samsung Galaxy phone data loss problem:
I've been using my Samsung Galaxy S6 android phone to capture fantastic moments during my holiday in past few days, however, I accidentally press delete-all button which deletes all photos, videos on the cellphone. Is it possible to restore deleted photos videos and music files on Samsung galaxy mobile phone?

Samsung galaxy data recovery solution:
When photos videos and other files are deleted from phones, the raw data of those deleted files is NOT erased from cell phone memory storage, those files are just invisiable and hidden to user. To get back those deleted android phone files, an easy way is to use a android data recovery software.
What may cause Samsung cellphone files to be deleted
1. Formatted samsung phone memory card by mistake and lost all photos, videos, and music files.
2. Reset mobile phone to factory settings and all phone files are deleted.
3. Pressed delete on mobile phone and deleted all photos videos.
4. Memory card SD card, CF card, XD card, microSD, SDHC SDXC card in cell phone are corrupted and all photo and video files are corrupted.
5. Formatted memory card on samsung galaxy phone without backup.
6. Memory card or SD card error such as "memory card is not formatted, do you want to format it now?"
7. Photos and videos in mobile phone become inaccessible due to phone water damaged or broken.
8. Pictures, videos, songs in photo gallery or album were deleted without user's awareness.
How to recover photo video files from samsung galaxy phones
The best way to get back deleted photos, videos, music files from samsung smart phone is to use samsung galaxy recovery program. A popular samsung phone recovery software is Asoftech Data Recovery. the cell phone recovery software recovers photos (JPG, PNG, GIF, JPEG, BMP, TIF, TIFF, RAW Image, etc), videos (MP4, AVI, 3GP, AVCHD, H264, MPG, MPEG, MOV, WMV, ASF, VOB, M2TS, etc), and music (MP3, WMA, OGG, M4A) files, contacts, messages, notes, android app data from all types of samsung phone, including Samsung Galaxy S6 Edge+ SM-G318, Trend 2 Lite, V Plus, A8, Samsung Galaxy Note 5, J5, Xcover 3, Samsung Galaxy Note Edge, Samsung Galaxy S6 Edge, S6 Active, Samsung Galaxy S6, Samsung Galaxy S5, S4, S3, S2, Samsung Galaxy A7, E7, Z1, J1, A5, A3, Young 2, Alpha, Core Prime, Pocket 2, Mega 2, Ace 4, Samsung Galaxy Young 2, Samsung Galaxy S Duos 3, S5 mini, K Zoom, Note 3 Neo, Grand Neo (GT-I9060), Samsung Rex, Samsung Metro phone, Samsung SGH series, SAMSUNG GALAXY GT-19100, Samsung Gear Fit, Samsung Galaxy Note 4, Note 3, Note 2, etc. The phone recovery program can also recover files from HTC phones (Desire My Touch Mobile, Hero, Pure, Wildfire, Thunderbolt etc), Nokia phones (5800, N97, E7-00, C6-01, X3-00 etc), BlackBerry phones (Bold, Curve, Storm, Tour, Pearl etc), Motorola phones (Droid X, Touch Screen, DEFY, MT, etc), Sony Ericsson phones (Xperia X10i, U1i Satio etc), LG phones (Optimus, Voyager, Cookie, Accolade, Xenon etc).
Download samsung galaxy phone data recovery software for free to recover your lost photo video files from Samsung Galaxy phones now.

Samsung Galaxy Phone Data Recovery
Steps to perform Samsung Phone Recovery
Step1. Connect cell phone to computer. Then in Computer, you should see cell phone shown as a drive letter (for example, E: ).
If not, you will need to take the memory card (SD Card, XD Card, MicroSD Card, CF Card, SDHC etc) from cell phone and then connect the card to computer with a card reader (either the card reader slot on your computer or a usb card reader), you then should see the memory card shown as a drive letter in Computer.
Deleted files were saved on phone memory instead of memory card? Check out this method: how to enable android phone mass storage.
Step 2. Run phone data recovery software asoftech data recovery, and then select the phone memory drive in Asoftech Data Recovery, then press "Next" to start looking for deleted photos, videos, and music files.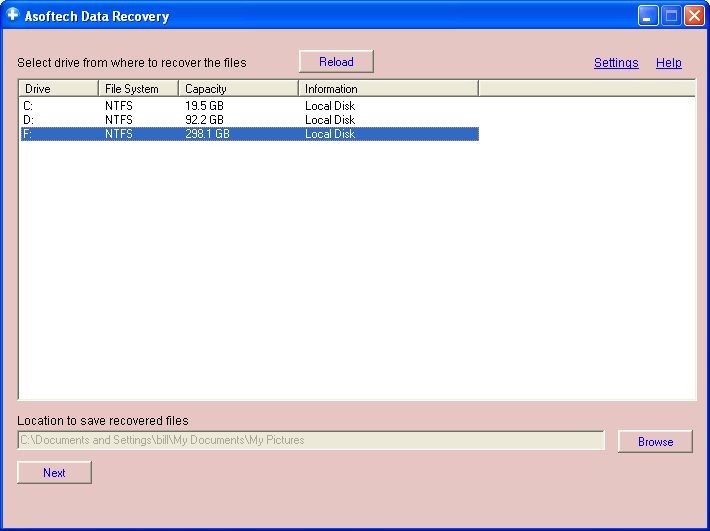 Step 3. You will see a list of recoverable files when search completed. Select the files you want to recover and click "Recover" button to save recovered files on computer.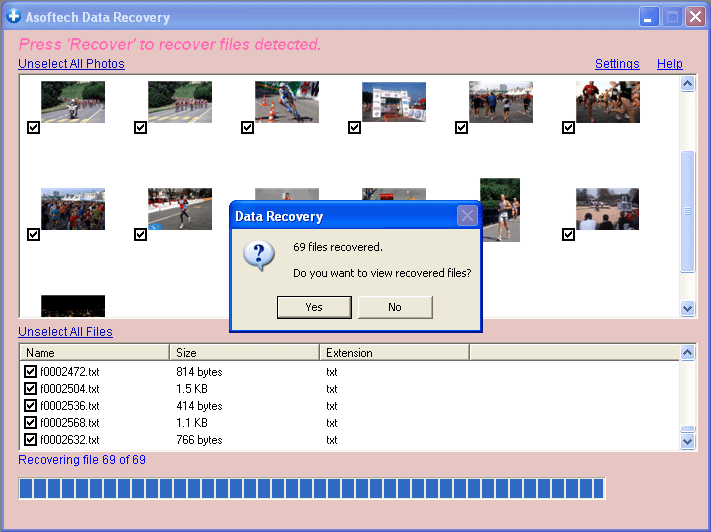 Download samsung phone recovery software and recover deleted photos videos and music files now



Other useful Samsung data recovery solution

Recover photo video files from samsung digital camera

Samsung memory card recovery

Undelete files from Samsung computer

Samsung hard drive data recovery
The samsung photo video recovery software has been tested on data recovery from Samsung Galaxy series of phones, including the Galaxy S, S II, S III, S IV, SV, M, Y, W, Note, Note II, Discover, Admire, Ace, Exhibit, Express, Pocket, Mini, Premier, Axiom, Rugby, Chat, Gear Fit, and Exhilarat android phones.
List of Samsung devices tested:


Manufacturer

Device Model

Product Name

Messages&Contacts&Photos&Videos&Audio&Document

Unrooted Android phones

Any Rooted Android version

Unrooted Android versions

Yes/No

SAMSUNG

SM-G9009D

Galaxy S5

4.4.2

v
v

SAMSUNG

SGH-I317

AT&T Galaxy Note 2

4.0.3, 4.1.1, 4.1.2, 4.3

v
v

SAMSUNG

SGH-I897

Captivate Galaxy S

2.1, 2.1-update1, 2.2, 2.2.0, 2.3.3, 2.3.4, 2.3.5

v
v

SAMSUNG

SCH-I939

Galax S3

4.1.1, 4.1.2, 4.3

v
v

SAMSUNG

GT-S5830

Galaxy Ace

2.2.1, 2.3.3, 2.3.4, 2.3.5, 2.3.6, 2.3.7, 4.0.3, 4.0.4

v
v

SAMSUNG

GT-S5830B

Galaxy Ace

2.2.1, 2.3.4

v
v

SAMSUNG

GT-S5830D

Galaxy Ace

2.3.4

v
v

SAMSUNG

GT-S5830I

Galaxy Ace

2.3, 2.3.6, 4.1.1

v
v

SAMSUNG

GT-S5830T

Galaxy Ace

2.3.4

v
v

SAMSUNG

EK-GC100

Galaxy Camera

4.1.1, 4.1.2

v
v

SAMSUNG

GT-I8262

Galaxy Core

4.0.3, 4.1.2

v
v

SAMSUNG

SGH-T759

Galaxy Exhibit

2.2.0, 2.3.3

v
v

SAMSUNG

GT-S5670

Galaxy Fit

2.2.1, 2.3.4, 2.3.5, 2.3.6

v
v

SAMSUNG

GT-I9082

GALAXY Grand DUOS

4.0.3, 4.1.2, 4.2.2

v
v

SAMSUNG

GT-S5570

Galaxy Mini

2.2.1, 2.3.3, 2.3.4, 2.3.5, 2.3.6, 2.3.7, 4.0.4

v
v

SAMSUNG

GT-I9220

Galaxy Note

2.3.5, 2.3.6, 4.0, 4.0.4, 4.1.2

v
v

SAMSUNG

GT-N7000

Galaxy Note

2.3.5, 2.3.6, 4.0.3, 4.0.4, 4.1.1, 4.1.2

v
v

SAMSUNG

GT-N8000

Galaxy Note 10.1

4.0.3, 4.0.4, 4.1.1, 4.1.2

v
v

SAMSUNG

GT-N8010

Galaxy Note 10.1

4.0.3, 4.0.4, 4.1.1, 4.1.2

v
v

SAMSUNG

GT-N8013

Galaxy Note 10.1

4.0.4, 4.1.1, 4.1.2

v
v

SAMSUNG

GT-N8020

Galaxy Note 10.1

4.1, 4.1.1, 4.1.2

v
v

SAMSUNG

GT-N7100

Galaxy Note 2

2.3, 4.0, 4.0.3, 4.1.1, 4.1.2, 4.3

v
v

SAMSUNG

GT-N7105

Galaxy Note 2

4.0.3, 4.1.1, 4.1.2, 4.3

v
v

SAMSUNG

GT-N5100

Galaxy Note 8.0

4.0.3, 4.1.2, 4.2.2

v
v

SAMSUNG

GT-N5110

Galaxy Note 8.0

4.0.3, 4.1.2, 4.2.2

v
v

SAMSUNG

GT-N5120

Galaxy Note 8.0

4.1.2, 4.2.2

v
v

SAMSUNG

YP-GB70

Galaxy Player

2.3.6

v
v

SAMSUNG

GT-I9001

Galaxy Plus

2.2.0, 2.3.3, 2.3.4, 2.3.5, 2.3.6

v
v

SAMSUNG

SCH-S720C

Galaxy Proclaim

2.3.6, 4.0.3

v
v

SAMSUNG

GT-I9000

Galaxy S

2.1, 2.1-update1, 2.2, 2.2.0, 2.2.1, 2.3.3, 2.3.4, 2.3.5, 2.3.6, 4.2.2

v
v

SAMSUNG

SCH-I909

Galaxy S

2.2.0, 2.2.2, 2.3

v
v

SAMSUNG

SHW-M110S

Galaxy S

2.1, 2.2, 2.2.0, 2.2.1, 2.3.3, 2.3.4, 2.3.5, 2.3.6

v
v

SAMSUNG

SGH-I927

Galaxy S Glide

4.0.4

v
v

SAMSUNG

SHV-E110S

Galaxy S II LTE

2.3.5, 2.3.6, 4.0.4, 4.1.2

v
v

SAMSUNG

SHV-E120L

Galaxy S II LTE HD

2.3.6, 4.0.4, 4.1.2

v
v

SAMSUNG

SCH-R940

Galaxy S Lightray

2.3, 2.3.6

v
v

SAMSUNG

SGH-T959

Galaxy S Vibrant

2.1, 2.1-update1, 2.2

v
v

SAMSUNG

GT-I9100

Galaxy S2 (S II)

2.3.3, 2.3.4, 2.3.5, 2.3.6, 4.0.3, 4.0.4, 4.1.2, 4.2.2

v
v

SAMSUNG

SGH-I777

Galaxy S2 AT&T

2.3.4, 2.3.6, 4.0.3, 4.0.4, 4.1.2

v
v

SAMSUNG

SPH-D710

Galaxy S2 Epic 4G Touch

2.3, 2.3.6, 4.0.3, 4.0.4, 4.1.2, 4.2.2, 4.3

v
v

SAMSUNG

GT-I9300

Galaxy S3 (S III)

4.0.3, 4.0.4, 4.1.1, 4.1.2, 4.2.1, 4.2.2, 4.3, 4.3.1

v
v

SAMSUNG

SCH-I535

Galaxy S3 (S III)

4.0.3, 4.0.4, 4.1.1, 4.1.2, 4.3

v
v

SAMSUNG

GT-I9305

Galaxy S3 LTE

4.0.3, 4.1.1, 4.1.2, 4.3

v
v

SAMSUNG

SCH-L710

Galaxy S3 CDMA

4.0.3, 4.1.1, 4.1.2, 4.3

v
v

SAMSUNG

GT-I9500

Galaxy S4

4.0.3, 4.0.4, 4.2.2, 4.3

v
v

SAMSUNG

GT-I9505

Galaxy S4

4.0.3, 4.2.2, 4.3

v
v

SAMSUNG

SGH-I337

Galaxy S4 AT&T

4.0.3, 4.2.2, 4.3

v
v

SAMSUNG

SPH-L720

Galaxy S4 Sprint

4.0.3, 4.2.2, 4.3

v
v

SAMSUNG

SGH-M919

Galaxy S4 T-Mobile US

4.0.3, 4.2.2, 4.3

v
v

SAMSUNG

SCH-R970

Galaxy S4 U.S. Cellular

4.0.3, 4.2.2, 4.3

v
v

SAMSUNG

SCH-I545

Galaxy S4 Verizon

4.0.3, 4.2.2, 4.3

v
v

SAMSUNG

GT-I9003

Galaxy SL

2.2.1, 2.3.4, 2.3.5, 2.3.6, 4.3.1

v
v

SAMSUNG

GT-P1000

Galaxy Tab

2.2, 2.2.0, 2.2.1, 2.3, 2.3.3, 2.3.6

v
v

SAMSUNG

GT-P7500

Galaxy Tab

3.1, 4.0, 4.0.4

v
v

SAMSUNG

GT-P7510

Galaxy Tab 10.1

4.0.4, 4.2.2

v
v

SAMSUNG

GT-P5100

Galaxy Tab 2 10.1

4.0.3, 4.0.4, 4.1.1, 4.1.2, 4.2.2

v
v

SAMSUNG

GT-P6800

Galaxy Tab 7.7

3.2, 4.0.3, 4.0.4, 4.1.2

v
v

SAMSUNG

GT-P6810

Galaxy Tab 7.7

4.0.4

v
v

SAMSUNG

GT-P6200

Galaxy Tab Plus

3.2, 4.0.4, 4.1.2

v
v

SAMSUNG

GT-P6210

Galaxy Tab Plus

4.0.4, 4.1.2

v
v

SAMSUNG

GT-S7562

GALAXY Trend Duos

4.0.3, 4.0.4

v
v

SAMSUNG

GT-I8552

Galaxy Win

4.0.3, 4.1.2

v
v

SAMSUNG

GT-S5360

Galaxy Y

2.3.5, 2.3.6, 4.0.3

v
v

SAMSUNG

GT-S6310

Galaxy Young

4.0.3, 4.1.2

v
v

SAMSUNG

GT-S6312

Galaxy Young

4.1.2

v
v

SAMSUNG

SC-02B

i9100 docomo

2.2, 2.3.3, 2.3.6

v
v

SAMSUNG

SGH-I997

Infuse 4G

2.2.1, 2.3.3, 2.3.6

v
v

SAMSUNG

GT-N7102

Note 2

4.1.1, 4.1.2

v
v

SAMSUNG

SGH-T889

T-Mobile Galaxy Note 2

4.0.3, 4.1.1, 4.1.2, 4.3, 4.3.1

v
v

SAMSUNG

SCH-I605

Verizon Galaxy Note 2

4.0.3, 4.1.1, 4.1.2, 4.3

v
v

SAMSUNG

SM-N900

Note 3

4.3

v
v

SAMSUNG

SM-N9002

Note 3

4.3

v
v

SAMSUNG

SM-N9005

Note 3

4.3

v
v

SAMSUNG

SM-N9006

Note 3

4.3

v
v

SAMSUNG

SM-N9008

Note 3

4.3

v
v

SAMSUNG

SM-N9009

Note 3

4.3

v
v

SAMSUNG

SM-N900A

Note 3

4.3

v
v

SAMSUNG

SM-N900D

Note 3

4.3

v
v

SAMSUNG

SM-N900T

Note 3

4.3

v
v

SAMSUNG

SM-N900V

Note 3

4.3

v
v

SAMSUNG

SM-N9505

Note 3

4.3

v
v

SAMSUNG

B7510

4.0.3

v
v

SAMSUNG

EPIC 4G

4.0.3

v
v

SAMSUNG

GALAXY NEXUS

4.0.1, 4.0.2, 4.0.3, 4.0.4, 4.1.1, 4.1.2, 4.2.1, 4.2.2, 4.3

v
v

SAMSUNG

GT-I8160

2.3.6, 4.0.3, 4.1.2

v
v

SAMSUNG

GT-I8160P

4.0.3, 4.1.2

v
v

SAMSUNG

GT-I8190

4.0.3, 4.1.1, 4.1.2

v
v

SAMSUNG

GT-I8190L

4.0.3, 4.1.1, 4.1.2

v
v

SAMSUNG

GT-I8190N

4.0.3, 4.1.2

v
v

SAMSUNG

GT-I8190T

4.1.2

v
v

SAMSUNG

GT-I8258

4.0.4

v
v

SAMSUNG

GT-I8260

4.0.3, 4.1.2

v
v

SAMSUNG

GT-I8260L

4.1.2

v
v

SAMSUNG

GT-I8262B

4.1.2

v
v

SAMSUNG

GT-I8262D

4.1.2

v
v

SAMSUNG

GT-I8268

4.1.2

v
v

SAMSUNG

GT-I8530

4.0.3, 4.1.2

v
v

SAMSUNG

GT-I8550L

4.1.2

v
v

SAMSUNG

GT-I8552B

4.1.2

v
v

SAMSUNG

GT-I8558

4.2.2

v
v

SAMSUNG

GT-I8730

4.0.3, 4.1.2

v
v

SAMSUNG

GT-I8730T

4.0.3, 4.1.2

v
v

SAMSUNG

GT-I9070

2.3.6, 4.0.3, 4.1.2

v
v

SAMSUNG

GT-I9070P

2.3.6, 4.1.2

v
v

SAMSUNG

GT-I9080L

4.1.2, 4.2.2

v
v

SAMSUNG

GT-I9082I

4.1.2

v
v

SAMSUNG

GT-I9082L

4.0.3, 4.1.2, 4.2.2

v
v

SAMSUNG

GT-I9100G

2.3.4, 2.3.5, 2.3.6, 4.0.3, 4.0.4, 4.1.2

v
v

SAMSUNG

GT-I9100M

2.3.3, 4.0.3, 4.1.2

v
v

SAMSUNG

GT-I9100P

2.3.4, 2.3.5, 2.3.6, 4.0.3, 4.0.4, 4.1.2

v
v

SAMSUNG

GT-I9100T

2.3.3, 2.3.5, 2.3.6, 4.0.3, 4.0.4, 4.1.2

v
v

SAMSUNG

GT-I9103

4.0.4

v
v

SAMSUNG

GT-I9105

4.0.3, 4.1.2, 4.2.2

v
v

SAMSUNG

GT-I9105P

4.0.3, 4.1.2, 4.2.2

v
v

SAMSUNG

GT-I9108

2.3.4, 4.0.4, 4.1.2

v
v

SAMSUNG

GT-I9128E

4.2.2

v
v

SAMSUNG

GT-I9128I

4.2.2

v
v

SAMSUNG

GT-I9150

4.2.2

v
v

SAMSUNG

GT-I9152

4.0.3, 4.2.2

v
v

SAMSUNG

GT-I9158

4.0.3, 4.2.2

v
v

SAMSUNG

GT-I9190

4.0.3, 4.2.2

v
v

SAMSUNG

GT-I9192

4.0.3, 4.2.2

v
v

SAMSUNG

GT-I9195

4.0.3, 4.2.2

v
v

SAMSUNG

GT-I9195L

4.2.2

v
v

SAMSUNG

GT-I9195T

4.2.2

v
v

SAMSUNG

GT-I9197

4.2.2

v
v

SAMSUNG

GT-I9200

4.0.3, 4.2.2

v
v

SAMSUNG

GT-I9205

4.0.3, 4.2.2

v
v

SAMSUNG

GT-I9210T

2.3.6, 4.0.4

v
v

SAMSUNG

GT-I9228

4.1.2

v
v

SAMSUNG

GT-I9260

4.0.3, 4.1.1, 4.1.2

v
v

SAMSUNG

GT-I9268

4.1.2

v
v

SAMSUNG

GT-I9295

4.2.2

v
v

SAMSUNG

GT-I9300T

4.0.3, 4.0.4, 4.1.1, 4.1.2, 4.3

v
v

SAMSUNG

GT-I9305N

4.1.1, 4.1.2

v
v

SAMSUNG

GT-I9305T

4.1.1, 4.1.2

v
v

SAMSUNG

GT-I9308

4.0.4, 4.1.2, 4.3

v
v

SAMSUNG

GT-I9502

4.0.3, 4.2.2, 4.3

v
v

SAMSUNG

GT-I9505G

4.3

v
v

SAMSUNG

GT-I9505X

4.2.2

v
v

SAMSUNG

GT-I9506

4.0.3, 4.2.2, 4.3

v
v

SAMSUNG

GT-I9507

4.2.2

v
v

SAMSUNG

GT-N7000B

4.0.4, 4.1.2

v
v

SAMSUNG

GT-N7005

4.0.4

v
v

SAMSUNG

GT-N7105T

4.0.3, 4.1.1, 4.1.2, 4.3

v
v

SAMSUNG

GT-N7108

4.1.1, 4.1.2

v
v

SAMSUNG

GT-N7108D

4.2.2

v
v

SAMSUNG

GT-N8005

4.1.2

v
v

SAMSUNG

GT-P3100

4.0.3, 4.0.4, 4.1.1, 4.1.2, 4.2.2, 4.3.1

v
v

SAMSUNG

GT-P3100B

4.1.1

v
v

SAMSUNG

GT-P3105

4.1.2

v
v

SAMSUNG

GT-P3110

4.0.3, 4.0.4, 4.1.1, 4.1.2, 4.2.2

v
v

SAMSUNG

GT-P3113

4.0.3, 4.0.4, 4.1.1, 4.2.2

v
v

SAMSUNG

GT-P5110

4.0.3, 4.0.4, 4.1.1, 4.1.2, 4.2.2

v
v

SAMSUNG

GT-P5113

4.0.3, 4.0.4, 4.1.1, 4.2.2

v
v

SAMSUNG

GT-P5210

4.2.2

v
v

SAMSUNG

GT-P6200L

4.0.4, 4.1.2, Unknow version

v
v

SAMSUNG

GT-P7300

3.1, 3.2, 4.0.4

v
v

SAMSUNG

GT-P7310

3.1, 3.2, 4.0.4

v
v

SAMSUNG

GT-P7320

4.0.4

v
v

SAMSUNG

GT-P7500R

4.0.4

v
v

SAMSUNG

GT-S5280

4.1.2

v
v

SAMSUNG

GT-S5282

4.1.2

v
v

SAMSUNG

GT-S5283B

4.1.2

v
v

SAMSUNG

GT-S5301

4.0.3, 4.0.4

v
v

SAMSUNG

GT-S5301B

4.0.4

v
v

SAMSUNG

GT-S5301L

4.0.4

v
v

SAMSUNG

GT-S5303

4.0.3, 4.0.4

v
v

SAMSUNG

GT-S5303B

4.0.3, 4.0.4

v
v

SAMSUNG

GT-S5310

4.1.2

v
v

SAMSUNG

GT-S5310B

4.1.2

v
v

SAMSUNG

GT-S5310L

4.1.2

v
v

SAMSUNG

GT-S5312

4.1.2

v
v

SAMSUNG

GT-S5312B

4.1.2

v
v

SAMSUNG

GT-S5312L

4.1.2

v
v

SAMSUNG

GT-S5690

4.0.3

v
v

SAMSUNG

GT-S6010

4.0.4, 4.1.2

v
v

SAMSUNG

GT-S6010L

4.1.2

v
v

SAMSUNG

GT-S6012

4.0.4

v
v

SAMSUNG

GT-S6012B

4.1.2

v
v

SAMSUNG

GT-S6102

2.3.6, 4.0.3

v
v

SAMSUNG

GT-S6310L

4.1.2

v
v

SAMSUNG

GT-S6310N

4.0.3, 4.1.2

v
v

SAMSUNG

GT-S6310T

4.1.2

v
v

SAMSUNG

GT-S6313T

4.1.2

v
v

SAMSUNG

GT-S6790N

4.1.2

v
v

SAMSUNG

GT-S6810

4.1.2

v
v

SAMSUNG

GT-S6810B

4.1.2

v
v

SAMSUNG

GT-S6810E

4.1.2

v
v

SAMSUNG

GT-S6810L

4.1.2

v
v

SAMSUNG

GT-S6810M

4.1.2

v
v

SAMSUNG

GT-S6810P

4.0.3, 4.1.2

v
v

SAMSUNG

GT-S6812

4.1.2

v
v

SAMSUNG

GT-S6812B

4.1.2

v
v

SAMSUNG

GT-S6812I

4.1.2

v
v

SAMSUNG

GT-S7270

4.2.2

v
v

SAMSUNG

GT-S7270L

4.0.3, 4.2.2

v
v

SAMSUNG

GT-S7272

4.0.3, 4.2.2

v
v

SAMSUNG

GT-S7273T

4.0.3, 4.2.2

v
v

SAMSUNG

GT-S7275R

4.0.3, 4.2.2

v
v

SAMSUNG

GT-S7275T

4.2.2

v
v

SAMSUNG

GT-S7390

4.1.2

v
v

SAMSUNG

GT-S7392

4.1.2

v
v

SAMSUNG

GT-S7392L

4.1.2

v
v

SAMSUNG

GT-S7500

2.3.6, 4.2.2

v
v

SAMSUNG

GT-S7560

4.0.3, 4.0.4

v
v

SAMSUNG

GT-S7560M

4.0.4

v
v

SAMSUNG

GT-S7562I

4.0.4

v
v

SAMSUNG

GT-S7562L

4.0.4

v
v

SAMSUNG

GT-S7568

4.0.4

v
v

SAMSUNG

GT-S7572

4.1.2

v
v

SAMSUNG

GT-S7580

4.0.3, 4.2.2

v
v

SAMSUNG

GT-S7582

4.0.3, 4.2.2

v
v

SAMSUNG

GT-S7710

4.1.2

v
v

SAMSUNG

GT-S7710L

4.1.2

v
v

SAMSUNG

HENRY

4.0.3

v
v

SAMSUNG

I500

4.0.3

v
v

SAMSUNG

I5500

4.0.3

v
v

SAMSUNG

I5508

4.0.3

v
v

SAMSUNG

I5510

4.0.3

v
v

SAMSUNG

I559

4.0.3

v
v

SAMSUNG

I5700

4.0.3

v
v

SAMSUNG

I5801

4.0.3

v
v

SAMSUNG

I897

4.0.3

v
v

SAMSUNG

I9000

4.0.3

v
v

SAMSUNG

I9003

4.0.3

v
v

SAMSUNG

I9008

4.0.3

v
v

SAMSUNG

I997

4.0.3

v
v

SAMSUNG

M267X 287X SERIES

4.0.3

v
v

SAMSUNG

M900

4.0.3

v
v

SAMSUNG

NEXUS S

2.3.3, 2.3.4, 2.3.6, 4.0.3, 4.0.4, 4.1.1, 4.1.2

v
v

SAMSUNG

S5570

4.0.3

v
v

SAMSUNG

S5660

4.0.3

v
v

SAMSUNG

S5670

4.0.3

v
v

SAMSUNG

S5830

4.0.3

v
v

SAMSUNG

SAMS4-BK

4.0.3

v
v

SAMSUNG

M3 PORTABLE

4.0.3

v
v

SAMSUNG

S2 PORTABLE

4.0.3

v
v

SAMSUNG

WIRELESS COMBO

4.0.3

v
v

SAMSUNG

SC-02C

2.3.3, 4.0.3

v
v

SAMSUNG

SC-02E

4.1.1

v
v

SAMSUNG

SC-03E

4.1.1

v
v

SAMSUNG

SC-04E

4.2.2

v
v

SAMSUNG

SCH-I200

4.1.2

v
v

SAMSUNG

SCH-I405

2.3.5, 2.3.6, 4.0.3

v
v

SAMSUNG

SCH-I435

4.0.3, 4.2.2

v
v

SAMSUNG

SCH-I545L

4.0.3, 4.2.2, 4.3

v
v

SAMSUNG

SCH-I705

4.1.2

v
v

SAMSUNG

SCH-I739

4.1.2

v
v

SAMSUNG

SCH-I815

4.0.4

v
v

SAMSUNG

SCH-I829

4.1.2

v
v

SAMSUNG

SCH-I869

4.1.2

v
v

SAMSUNG

SCH-I879

4.1.2

v
v

SAMSUNG

SCH-I939D

4.1.2

v
v

SAMSUNG

SCH-I959

4.0.3, 4.2.2, 4.3

v
v

SAMSUNG

SCH-N719

4.1.2

v
v

SAMSUNG

SCH-P709

4.2.2

v
v

SAMSUNG

SCH-R530C

4.0.4, 4.1.2, 4.3

v
v

SAMSUNG

SCH-R530M

4.1.2

v
v

SAMSUNG

SCH-R530U

4.0.4, 4.1.1, 4.1.2, 4.3

v
v

SAMSUNG

SCH-R530X

4.3

v
v

SAMSUNG

SCH-R720

2.3.4, 2.3.6, 4.0.3

v
v

SAMSUNG

SCH-R740C

4.0.4

v
v

SAMSUNG

SCH-R760

2.3.6, 4.0.4

v
v

SAMSUNG

SCH-R760X

4.1.2

v
v

SAMSUNG

SCH-R830

4.1.2

v
v

SAMSUNG

SCH-R830C

4.1.2

v
v

SAMSUNG

SCH-R890

4.2.2

v
v

SAMSUNG

SCH-R950

4.0.3, 4.1.1, 4.1.2, 4.3

v
v

SAMSUNG

SCH-R960

4.2.2

v
v

SAMSUNG

SCH-R970C

4.0.3, 4.2.2, 4.3

v
v

SAMSUNG

SCH-R970X

4.0.3, 4.2.2, 4.3

v
v

SAMSUNG

SCH-S738C

4.0.4

v
v

SAMSUNG

SCH-S960L

4.1.2

v
v

SAMSUNG

SCH-S968C

4.1.2

v
v

SAMSUNG

SCH-W2013

4.0.4

v
v

SAMSUNG

SCX-3200 SERIES

4.0.3

v
v

SAMSUNG

SCX-4200 SERIES

4.0.3

v
v

SAMSUNG

SCX-4623 SERIES

4.0.3

v
v

SAMSUNG

SCX-470X SERIES

4.0.3

v
v

SAMSUNG

SGH-I257M

4.2.2

v
v

SAMSUNG

SGH-I317M

4.0.3, 4.1.1, 4.1.2, 4.3

v
v

SAMSUNG

SGH-I337M

4.0.3, 4.2.2, 4.3

v
v

SAMSUNG

SGH-I337Z

4.2.2

v
v

SAMSUNG

SGH-I407

4.1.2

v
v

SAMSUNG

SGH-I437

4.1.2

v
v

SAMSUNG

SGH-I437P

4.1.2

v
v

SAMSUNG

SGH-I467

4.1.2

v
v

SAMSUNG

SGH-I527

4.2.2

v
v

SAMSUNG

SGH-I527M

4.2.2

v
v

SAMSUNG

SGH-I537

4.2.2, 4.3

v
v

SAMSUNG

SGH-I547

4.1.2

v
v

SAMSUNG

SGH-I547C

4.1.2

v
v

SAMSUNG

SGH-I577

2.3.6, 4.0.4

v
v

SAMSUNG

SGH-I717

2.3.6, 4.0.4, 4.1.2

v
v

SAMSUNG

SGH-I717M

4.0.4

v
v

SAMSUNG

SGH-I727

2.3.5, 2.3.6, 4.0.3, 4.0.4, 4.1.2

v
v

SAMSUNG

SGH-I727R

2.3.5, 4.0.4, 4.1.2

v
v

SAMSUNG

SGH-I747

4.0.4, 4.1.1, 4.1.2, 4.3

v
v

SAMSUNG

SGH-I747M

4.0.3, 4.0.4, 4.1.1, 4.1.2, 4.3

v
v

SAMSUNG

SGH-I757M

4.0.3, 4.0.4

v
v

SAMSUNG

SGH-I957R

4.0.4

v
v

SAMSUNG

SGH-I997R

2.3.3

v
v

SAMSUNG

SGH-M

4.0.3

v
v

SAMSUNG

SGH-M819N

4.2.2

v
v

SAMSUNG

SGH-M9

4.0.3

v
v

SAMSUNG

SGH-M91

4.0.3

v
v

SAMSUNG

SGH-M919N

4.0.3, 4.2.2, 4.3

v
v

SAMSUNG

SGH-M919V

4.0.3, 4.2.2, 4.3

v
v

SAMSUNG

SGH-S730G

4.0.4

v
v

SAMSUNG

SGH-S730M

4.0.4

v
v

SAMSUNG

SGH-S959G

2.3.6

v
v

SAMSUNG

SGH-S970G

4.0.3, 4.2.2

v
v

SAMSUNG

SGH-T499

2.2.2

v
v

SAMSUNG

SGH-T599

4.0.3, 4.1.2

v
v

SAMSUNG

SGH-T599N

4.0.3, 4.1.2

v
v

SAMSUNG

SGH-T599V

4.1.2

v
v

SAMSUNG

SGH-T699

4.0.4, 4.1.2

v
v

SAMSUNG

SGH-T769

2.3.6, 4.0.4

v
v

SAMSUNG

SGH-T859

4.0.4

v
v

SAMSUNG

SGH-T889V

4.1.1, 4.1.2, 4.3

v
v

SAMSUNG

SGH-T959V

2.2.1, 2.3.6, 4.0.3

v
v

SAMSUNG

SGH-T959W

2.3.6

v
v

SAMSUNG

SGH-T989

2.3.6, 4.0.3, 4.0.4, 4.1.2, 4.3.1

v
v

SAMSUNG

SGH-T989D

2.3.5, 4.0.3, 4.0.4, 4.1.2

v
v

SAMSUNG

SGH-T999

4.0.3, 4.1.1, 4.1.2, 4.3

v
v

SAMSUNG

SGH-T999L

4.1.2, 4.3

v
v

SAMSUNG

SGH-T999N

4.1.2

v
v

SAMSUNG

SGH-T999V

4.0.3, 4.1.1, 4.1.2, 4.3

v
v

SAMSUNG

SHV-E120K

4.0.4, 4.1.2

v
v

SAMSUNG

SHV-E120S

2.3.6, 4.0.4, 4.1.2

v
v

SAMSUNG

SHV-E150S

4.0.4

v
v

SAMSUNG

SHV-E160L

2.3.6, 4.0.3, 4.0.4, 4.1.2

v
v

SAMSUNG

SHV-E160S

2.3.6, 4.0.4, 4.1.2

v
v

SAMSUNG

SHV-E170K

4.1.2, Unknow version

v
v

SAMSUNG

SHV-E210K

4.0.3, 4.0.4, 4.1.1, 4.1.2, 4.3

v
v

SAMSUNG

SHV-E210L

4.0.4, 4.1.1, 4.1.2, 4.3

v
v

SAMSUNG

SHV-E210S

4.0.3, 4.0.4, 4.1.1, 4.1.2, 4.3

v
v

SAMSUNG

SHV-E220S

4.0.3, 4.1.2

v
v

SAMSUNG

SHV-E230K

4.1.2

v
v

SAMSUNG

SHV-E250K

4.0.3, 4.1.1, 4.1.2, 4.3

v
v

SAMSUNG

SHV-E250L

4.0.3, 4.1.1, 4.1.2, 4.3

v
v

SAMSUNG

SHV-E250S

4.0.3, 4.1.1, 4.1.2, 4.3

v
v

SAMSUNG

SHV-E270K

4.1.2

v
v

SAMSUNG

SHV-E270L

4.1.2

v
v

SAMSUNG

SHV-E270S

4.1.2

v
v

SAMSUNG

SHV-E275K

4.1.2

v
v

SAMSUNG

SHV-E275S

4.1.2

v
v

SAMSUNG

SHV-E300K

4.0.3, 4.2.2, 4.3

v
v

SAMSUNG

SHV-E300L

4.0.3, 4.2.2, 4.3

v
v

SAMSUNG

SHV-E300S

4.0.3, 4.2.2, 4.3

v
v

SAMSUNG

SHV-E310K

4.2.2

v
v

SAMSUNG

SHV-E310L

4.0.3

v
v

SAMSUNG

SHV-E310S

4.0.3, 4.2.2

v
v

SAMSUNG

SHV-E330K

4.2.2, 4.3

v
v

SAMSUNG

SHV-E330L

4.2.2

v
v

SAMSUNG

SHV-E330S

4.0.3, 4.2.2

v
v

SAMSUNG

SHV-E370K

4.2.2

v
v

SAMSUNG

SHV-E400S

4.2.2

v
v

SAMSUNG

SHW-M250K

2.3.3, 2.3.4, 2.3.5, 2.3.6, 4.0.3, 4.0.4, 4.1.2

v
v

SAMSUNG

SHW-M250L

2.3.3, 2.3.4, 2.3.5, 2.3.6, 4.0.3, 4.0.4, 4.1.2

v
v

SAMSUNG

SHW-M250S

2.3.3, 2.3.4, 2.3.5, 2.3.6, 4.0.3, 4.0.4, 4.1.2

v
v

SAMSUNG

SHW-M380S

4.0.4

v
v

SAMSUNG

SHW-M380W

4.0.3, 4.0.4

v
v

SAMSUNG

SHW-M480K

4.1.2

v
v

SAMSUNG

SHW-M480S

4.1.2

v
v

SAMSUNG

SHW-M480W

4.1.2

v
v

SAMSUNG

SHW-M500W

4.1.2

v
v

SAMSUNG

SM-C101

4.2.2

v
v

SAMSUNG

SM-C105

4.2.2

v
v

SAMSUNG

SM-C105A

4.2.2

v
v

SAMSUNG

SM-C105L

4.2.2

v
v

SAMSUNG

SM-C105S

4.2.2

v
v

SAMSUNG

SM-G350

4.2.2

v
v

SAMSUNG

SM-G730A

4.2.2

v
v

SAMSUNG

SM-G730V

4.2.2

v
v

SAMSUNG

SM-G730W8

4.2.2

v
v

SAMSUNG

SM-P601

4.3

v
v

SAMSUNG

SM-T210

4.1.2

v
v

SAMSUNG

SM-T2105

4.1.2

v
v

SAMSUNG

SM-T210R

4.0.3, 4.1.2

v
v

SAMSUNG

SM-T211

4.1.2

v
v

SAMSUNG

SM-T217A

4.2.2

v
v

SAMSUNG

SM-T217S

4.0.3, 4.2.2

v
v

SAMSUNG

SM-T310

4.0.3, 4.2.2

v
v

SAMSUNG

SM-T311

4.0.3, 4.2.2

v
v

SAMSUNG

SM-T315

4.2.2

v
v

SAMSUNG

SM-V700

4.2.2

v
v

SAMSUNG

SPH-D710BST

4.0.3, 4.0.4, 4.1.2

v
v

SAMSUNG

SPH-D710VMUB

4.0.3, 4.0.4, 4.1.2

v
v

SAMSUNG

SPH-L300

4.1.2

v
v

SAMSUNG

SPH-L520

4.2.2

v
v

SAMSUNG

SPH-L600

4.0.3, 4.2.2

v
v

SAMSUNG

SPH-L710

4.0.3, 4.0.4, 4.1.1, 4.1.2, 4.3

v
v

SAMSUNG

SPH-L720T

4.0.3, 4.3

v
v

SAMSUNG

SPH-L900

4.0.3, 4.1.2, 4.3

v
v

SAMSUNG

SPH-M830

4.0.3, 4.1.2

v
v

SAMSUNG

SPH-M840

4.0.3, 4.1.2

v
v

SAMSUNG

SPH-M950

4.1.2

v
v

SAMSUNG

T959

4.0.3

v
v

SAMSUNG

YP-GP1

4.0.4

v
v