home >> Data Recovery >> Samsung Camera Data Recovery


Samsung digital camera photo video data recovery software to restore photo videos

How to recover deleted formatted photos videos on Samsung digital cameras phones tablets
I have a samsung nx300 camera and I took quite a lot of nice photos with the camera, however, my friend accidentally pressed deleted-all and deleted all the photos when she wanted to delete one photo. How can I restore deleted photos from samsung digital camera?
I saw similar questions asked a lot on Internet. There are many reasons which may causes photo or video loss on samsung digital camera or samsung camera phone:
- Accidentally deleted photos or videos from samsung camera or SD card
- Formatted samsung digital camera memory card and lost photos and videos
- Memory card error happens and not able to read the memory card on computer
- Samsung camera crashed and not able to turn on and hence not able to retrieve files on camera
- Corrupted camera card or virus causes memory card or files turns into shortcut
As most of the samsung digial camera users, you may wonder how to retrieve back lost deleted formatted photos videos from samsung camera and camcorder. well, to increase the chance of samsung camera photo recovery, video recovery, and data recovery, first thing to do is to stop using the samsung digital camera.
You will also need a Samsung digital camera data recovery program, download from link below:

Download Samsung digital camera data recovery software
The samsung camera data recovery program is able to recover lost, deleted, formatted photos, videos, and other media files from all samsung digital camera and camera phone internal memory and memory card(SD, XD, MicroSD, SDHC, CF card). It supports photo recovery (jpg recovery, png recovery, gif recovery, tiff recovery, bmp recovery, raw data recovery), video recovery (mp4 recovery, avi recovery, mov recovery, avchd recovery, etc). Tested samsung cameras includs Samsung NX300, EX2F, NX20, WB850F, DV300F, NX200, MV800, Samsung Galaxy NX, Samsung Galaxy Camera, NX2000, NX1000, WB150F, NX10, EX1(TL500), PL150(TL210), ST1000, Samsung Smart Camera WB800F, DV150F, WB250F, Samsung Galaxy Camera Version 4G LTE, NX210, MV900F, SMX-F70, SMX-F50, SMX-K45, HMX-S16, H106, HMX-H300, HMX-T10, HMX-M20, W200, HMX-F80, HMX-QF20, HMX-Q10, HMX-F90, ES90, ES80, ES75, PL120, PL210, PL90, PL170, PL200, PL20, ST550, ST500, ST80, ST100, ST600, ST95, ST65, ST6500, ST30, ST700, ST93, ST96, ST77, ST66, ST200F, ST150F, WB2000, WB210, WB700, WB750, WB150, WB850F, WB800F, WB 30F, DV900F, DV150F, NX11, CES10, CES11, CES12, CES13, IFA09, IFA11, IFA12 PMA09, PMA10, Photokina2010 etc.
How can I recover deleted files from Samsung digital camera/camera phone/tablets
Step 1. Take out the memory card (SD Card, XD Card, MicroSD Card, CF Card, SDHC etc) from camera or phone and then use a card reader (either usb card reader or card reader slot on computer) to connect the memory card to computer, it shows as a drive letter (e.g. E:) in Computer.

If you recover photos from internal memory of Samsung camera phone/tablets, you may refer to this guide.
Step 2. Run Samsung Camera Data Recovery software, and then select camera drive letter in the Data Recovery program, and then click "Next" to scan the camera.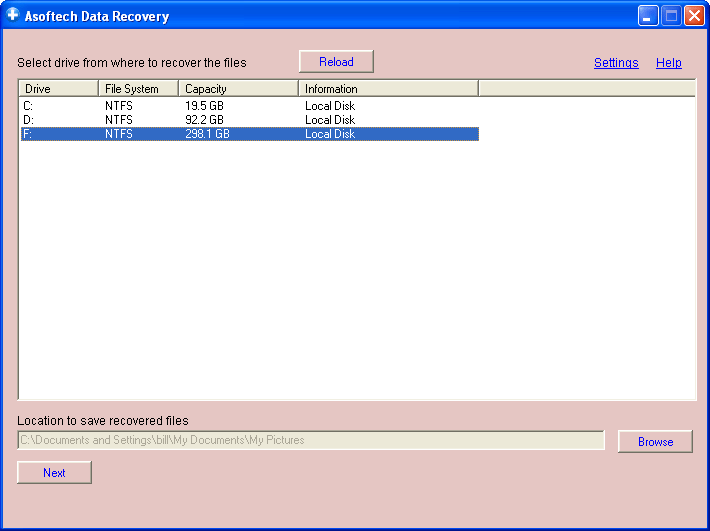 Step 3. You will see recoverable files shown. Select those you want to recover, and click "Recover" button to save them.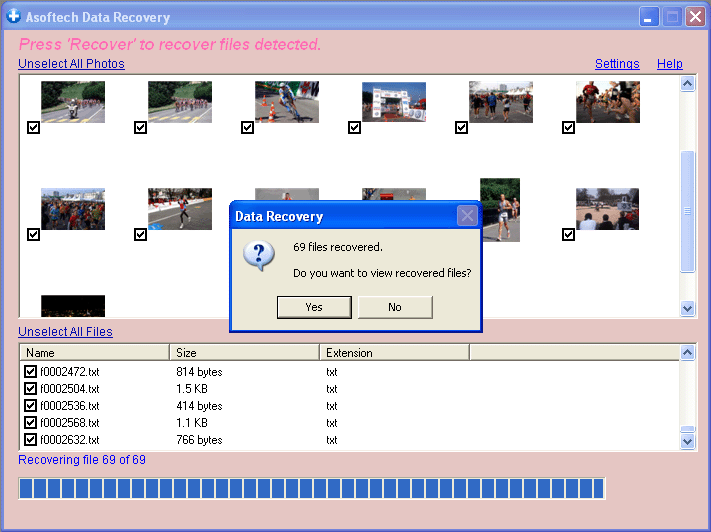 Download Samsung Camera Recovery Software Asoftech data recovery and recover lost files from cameras now