home >> Data Recovery >> Recover deleted Android photos

Android photo recovery software to recover deleted Android photos

How to recover deleted photos from android phone SD Card & tablet device
You may heard a lot about google android system. It is currently one of the most used mobile phone operation system used in the mobile phones. Almost all mobile phone except apple iPhone are using android OS, so these phones are called android phones. Popular samsung galaxy S3, Note 2, HTC one, Google Nexus, Sony Xperia phones are all android Phones.
Another group of android devices are android tablet which also uses android operation system. Android tablet like Google Nexus 7, 10, Samsung Galaxy Note 8, Asus Transformer Pad Infinity TF 700 have given users very good experience for owning a tablet.
While we enjoy the fun of android phone and android tablet, it often give us headache like memory card error, memory card in RAW format, we may by mistake deleted photos from android phones or android tablet devices, or we may accidenta hit format and lost all photos on android phones.
It is a big demand to recover deleted photos from android phone SD card. So is it possible to recover deleted photos from android phone? Read on to find out.
Is android phone photo recovery possible?
Let's take a deep look at what happens to photos actual data when photos are deleted from android devices. The android system does not wipe the those actual data. Surprise? then how are photos deleted. There's a file table in Android which stores information where each files is locations physically. The photo file entry is deleted there! Same thing happens when android memory card is formatted, or memory card error happens.
This gives us the chance to recover deleted photos from android mobile phone and tablet. We can collect all the data and then join them to form the actual file. Can we do them by ourselves? Well, you can, but you need some android photo recovery tool. The android recovery tool will help us read teh binary data and then join them to restrore deleted photos on adroid. A good tool is called Asoftech Photo Recovery which is very user friendly, and supports all Android devices including Samsung Galaxy, HTC one, sony xperia, LG Optimus, Google Nexus, Motorola Atrix, etc.

Download free trial of android photo recovery software from link below:

Download Android Photo Recover Program
How to recover deleted photos from Android Device
Since we depends on the actual data to recover deleted photos on android, and those space are free for new files, it is importnat to not use Android phone after photos are deleted. New files could overwrite the data of deleted files, which makes android photo recovery not possible.
Step1. Connect android device to computer with a usb cable. Then in Computer, see whether it shows as a drive letter (e.g. drive E: ).

If not, you need to take out memory card (SD Card, XD Card, MicroSD Card, CF Card, SDHC etc) from android device and then insert it to a card reader slot if there's one on your computer, or use a usb card reader.
Deleted files were saved on phone memory instead of memory card? Check out this method: how to enable android phone mass storage.
Step 2. Run android photo recovery software asoftech photo recovery, and then in Asoftech Photo Recovery, select android device memory card drive letter (e.g. E:), then hit "Start" button to scan for recoverable photos.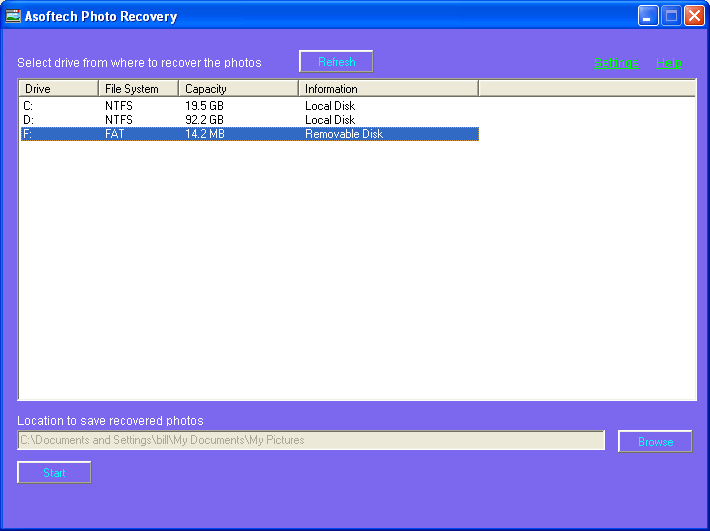 Step 3. You will see list of thumbnails of photos when scan completes. Select those you want and hit "Recover" button to save photos.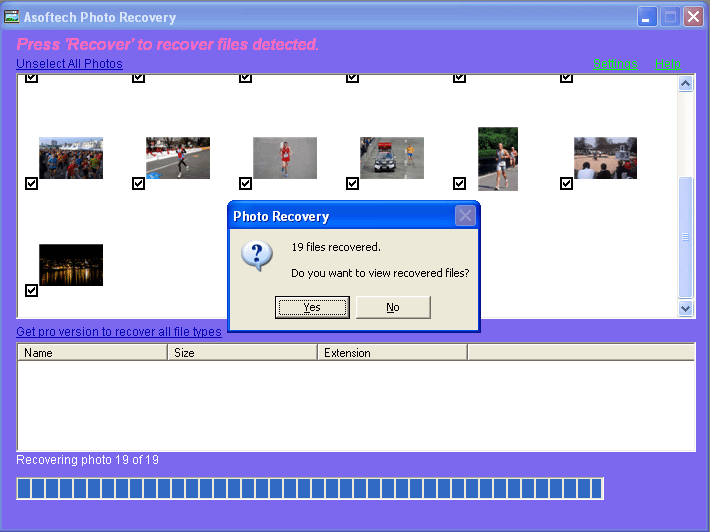 Download Free Trial Android phone photo recovery software and recover lost, deleted, or formatted photos from android smart phone before it's too late.