home >> Video converter >> Quitcktime to mpeg

QT to mpeg file converter

how to convert quicktime movie to mpeg
The QuickTime movie file format, often abbreviated to QuickTime file, is a special file format that contains multiple tracks for storing different kinds of media. A QuickTime movie file uses a file extension .mov, .mp4, .3gp. QuickTime files can be well supported by Apple products, MacBook, MacBook Air, MacBook Pro, iMac, Mac Pro, Mac Mini, os x sierra, OS X El Capitan, OS X Yosemite, iPhone 7, iPhone 7 plus, iPhone 6 plus, iPhone 6, iPhone 5S, iPhone 5C, iPhone 5, iPhone 4S, iPhone 4, iPhone 3GS, iPhone 3, ipad air 3, iPad mini 4, iPad air 2, iPad mini 3, iPad mini 2, new iPad, iPad 2, iPod touch, iPod nano, iPod shuffle, iPod classic, apple tv, Apple Watch iWatch. Some digital camcorders and Android phones may also record videos in quicktime mov or mp4 format. On the other hand, MPEG is one of the most popular formats for video. MPEG files have a high level of compression, yet retain very good quality, so converting large files to MPEG significantly reduces the size of the files. So now you know what to do if you have a great film collection and want to save it, but don't have sufficient hard disk space available. Just convert your favorite movies to MPEG first.
MPEG1 is a standard for lossy compression of video and audio. It is designed to compress VHS-quality raw digital video and CD audio down to 1.5 Mbit/s (26:1 and 6:1 compression ratios respectively) without excessive quality loss, making video CDs, digital cable/satellite TV and digital audio broadcasting (DAB) possible.

MPEG2 is widely used as the format of digital television signals that are broadcast by terrestrial, cable, and direct broadcast satellite TV systems. It also specifies the format of movies and other programs that are distributed on DVD and similar discs. As such, TV stations, TV receivers, DVD players, and other equipment are often designed to this standard.
The best way to convert quicktime movies to mpeg format is to download a professional video converter freeware. Download video format converter software for free from link below:

Download qt to mpeg video converter
The video converter tool works on Windows 10/8.1/8/7/Vista/XP computers and you can fix unsupported videos problem for your media player. Now you can convert quicktime videos to mpeg format, and then you can play the video on your DVD player or other media player, You may also edit video on your media editor software.
How to convert quicktime movies to mpeg format
Step 1: Import video files to video converter software

In video converter software, press "Add files" on top tool bar, or simply drag and drop to import movies, TV series, or downloaded videos or audio media into video converter program. Then set up "Output folder" at the bottom of the program main window, make sure there are enough free space at your designated path.
Step 2: Select mpeg format as output profile

After adding media files, go to the output format box. There are many built-in profiles for popular devices, and common video formats. Select common video->mpeg format.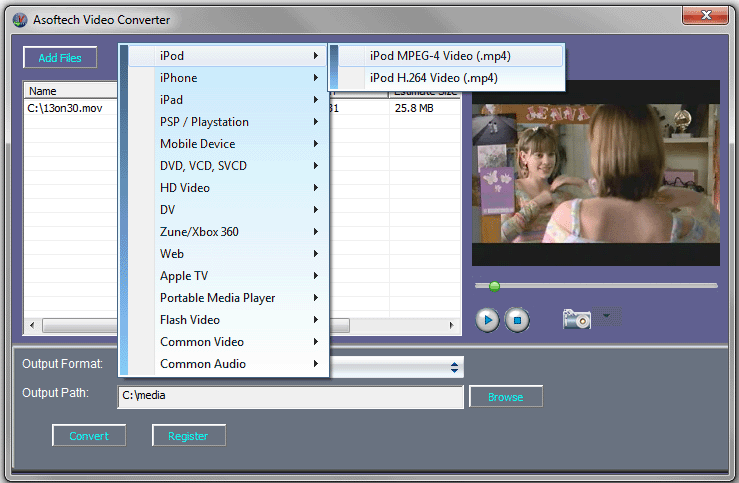 Step 3. Convert quicktime video to mpeg formats

Click to select the video or audio files to be converted, and click "Convert" button to start converting. You will see the converting progress dialog.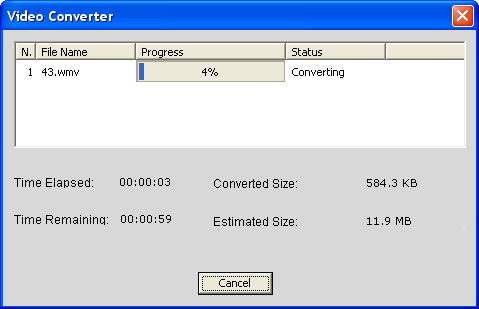 Download video converter tool to convert media files from qt format to mpeg format.



Other video conversion tutorial

Convert videos between different formats

Convert videos for iTuns

MP4 video converter software