home >> Video converter >> avi to mp3

Convert avi video to mp3 song

avi to mp3 converter software to convert avi video to mp3 audio
You can extract audio tracks from AVI video files easily with avi to mp3 converter. Avi video format are not well supported on portable mp3 players, iPod, iPad, iPhone, android phones. So to play audio tracks on your portable media player, the best way is to convert avi video to mp3 songs.
The best way to convert avi video to mp3 song is to use a avi to mp3 converter freeware. Download avi video to mp3 file converter for free online:

Download video to mp3 Converter
Avi to mp3 convertercan convert avi video files to mp3 audio formats to save disk space because mp3 audio are much smaller than avi audio. After video conversion, you can play mp3 audio files on portable media devices and mp3 player such as iPod classic, iPod nano, iPod touch, iPod shuffle, SanDisk Sansa Clip+, Creative Zen, Lonve, Sony NWZE385 NWZE384 NWZW273 Walkman, AGPtEK Music Player, Kubik Evo, SanDisk Clip Sport, G.G.Martinsen, FiiO X1, Diver, Samsung Galaxy Player, Philips GoGear Connect, SanDisk Sansa Fuze+ MP3, Zune HD, Samsung Muse, android phones.
The avi to mp3 converter tool works on Windows 8.1/8/7/Vista/XP/10 computers and you can extract audios/musics from video files easily. It can also convert video files to any other audio formats, such as AVI to WMA, AVI to WAV, AVI to FLAC.
Easy steps to convert avi video to mp3 audio
Step 1: Import avi video files to mp3 converter software

In video converter software, press "Add files" on top tool bar, or simply drag and drop to import movies, TV series, or downloaded videos or audio media into video converter program. Then set up "Output folder" at the bottom of the program main window, make sure there are enough free space at your designated path.
Step 2: Select mp3 format as output profile

After adding media files, go to the output format box. There are many built-in profiles for popular devices. Select mp3 format.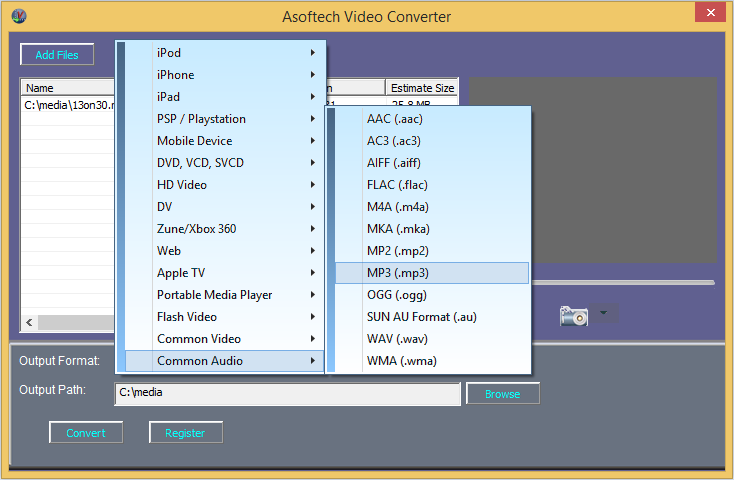 Step 3. Convert video to device supported formats

Click to select the video files to be converted, and click "Convert" button to start converting. You will see the converting progress dialog.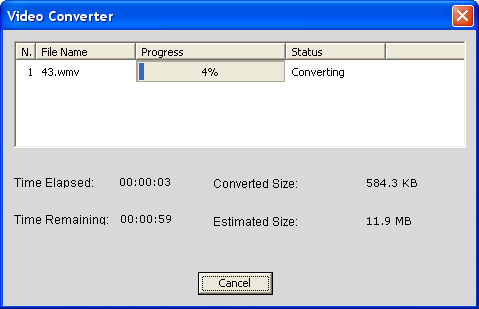 Step 4: Import converted media to your device

After the conversion is completed. You can add output mp3 songs to your device.
Download avi to mp3 converter tool to convert video media files to audio format.



Other Input File Formats Supported:
Video

Windows Media (AVI, WMV, ASF, DVR-MS, MS-DVR)
MOV/MP4 File (MOV, MP4, 3GP, 3G2, M4V, QT, 3GP2, 3GPP, MPEG4)
Real Media (RM, RMVB, RV)
Rash Video (FLV, F4V)
Matroska Video (MKV, WEBM)
AviSynth Scripts (AVS)
High Definitiion Video (M2TS, MTS, TOD)
MPEG-1 Video (M1V, MPE, MPG, MPV, DAT, MPEG, MPEG1)
MPEG-2 Video (M2V, MPE, MPG, MPV, VOB, MPEG, MPEG2, M2P, MOD)
MPEG Transport Stream Video (TS, TP, M2T, TRP)
Divx Video (DIVX)
OGG Media (OGM, OGV, OGG)
DVD-VR Video (VRO)
Nullsoft Stream Video (NSV)
IOS Image (ISO)
Other Video Formats: DV, AMS

Audio

MP3 (MP3), WAV (WAV), WMA (WMA), Flac (FLAC), AC3 (AC3), AAC (AAC), M4A (M4A, M4R), OGG (OGG), AMR (AMR)
Other Audio Formats: AU, AIF, AIFF, AIFC, ADTS, ALAW, AMR, APC, APE, CAF, DTS, GSD, GSM, MKA, MLP, MMF, MP1, MP2, MPEG3, MPC, MP+, M2A, NUT, OMA, QCP, RA, RR and more.
Convert AVI to other supported formats by free AVI to MP3 Converter:
| | |
| --- | --- |
| Apple Products | MP3 Audio (*.mp3), AIFF Audio (*.aiff), APPLE Loseless Audio (*.m4a), MPEG-4 Audio (*.m4a) |
| Sony Products | MP3 Audio (*.mp3), MPEG-4 Audio (*.m4a), WMA Audio (*.wma) |
| Microsoft Products | MP3 Audio (*.mp3), MPEG-4 Audio (*.m4a), WAVE Audio (*.wav), WMA Audio (*.wma) |
| Mobile Phone | MP3 Audio(*.mp3), WMA Audio(*.wma) |
| Lossless Formats | Monkey's Audio(*.ape), Free Lossless Audio(*.flac), WAVE Audio(*.wav) |
| Common Formats | MP2 Audio (*.mp2), MP3 Audio (*.mp3), OGG Vorbis Audio (*.ogg), AAC Audio (*.aac), AC3 Audio (*.ac3), AIFF Audio (*.aiff), Apple Losseless Audio (*m4a), Monkey's Audio (*ape), SUN AU Audio (*au), Digital Surround Audio (*dts), Free Lossless Audio (*flac), MPEG-4 Audio (*m4a), WAVE Audio (*wav) |
Other file converter tutorial

MP4 video converter

Convert videos between different formats

Convert video for Android phones