home >> Data Recovery >> Samsung Galaxy photo Video Recovery

Android photo recovery software for Samsung Galaxy photo video recovery

How to recover deleted photo video files from Samsung Galaxy android phone and tablet
Update on 4 Apr 2017: This samsung galaxy data recovery solution can recover deleted files from latest samsung galaxy phones, namely Samsung Galaxy S8, S8+, Note 8, Note 5, Samsung Galaxy A7 (2017), SM-A7200 SM-A720F SM-A720FD SM-A720M SM-A720Y, Samsung Galaxy A5 (2017) SM-A5200 SM-A520F SM-A520FD SM-A520M SM-A520Y, Samsung Galaxy A3 (2017) SM-A3200 SM-A320F SM-A320M SM-A320Y, Samsung Galaxy J1 mini Prime SM-J106F (LTE), Samsung Galaxy J2 Prime, Samsung Galaxy Grand Prime+, Samsung Galaxy C9 Pro, Samsung Galaxy A8 (2016), Samsung Galaxy On5 (2016), Samsung Galaxy On7 (2016), Samsung Galaxy J7 Prime, Samsung Galaxy J5 Prime, Samsung Galaxy Note 7, Samsung Galaxy S7 Active, Samsung Galaxy J3 Pro SM-J310F, Samsung Galaxy Tab A 10.1 (2016) SM-T585, Samsung Galaxy C5 SM-C5000, Samsung Galaxy C7 SM-C7000, Samsung Galaxy J5 (2016) SM-J5109 SM-J510F SM-J510FN SM-J510H SM-J510G SM-J510M SM-J510Y, Samsung Galaxy J7 (2016) SM-J7109 SM-J710F SM-J710FN SM-J710H SM-J710M, Samsung Galaxy J3 SM-J3109x SM-J320F SM-J320P, Samsung Galaxy Tab A 7.0 SM-T280 (Wi-Fi), SM-T285 (LTE/Wi-Fi), Samsung Galaxy A9 Pro (2016) SM-A9100, Samsung Galaxy J1 Mini SM-J105B SM-J105DS (Dual-SIM), Samsung Galaxy S7 Edge SM-G935F, SM-G935FD, SM-G9350, SM-G935A, SM-G935V, SM-G935R, SM-G935S, SM-G935K, SM-G935W8, SC-02H, Samsung Galaxy S7, SM-G930F, SM-G930FD, SM-G9300, SM-G930A SM-G930V SM-G930R SM-G930S SM-G930K SM-G930W8, etc.
I accidentally deleted all photos from my samsung galaxy S8, I wanted to delete one pictures, but I hit "deleted all" by mistake. Is there a way to recover deleted photos from samsung galaxy S3 mobile phone?

My Samsung galaxy Note 2 shows memory card error and I am not able to access all my photos and video files on the galaxy phone, how can I restore lost photos and videos from my galaxy notes 2?

I have deleted data on a samsung mtp derive. Is it possible to recover it? How to retrieve deleted videos off samsung tablet mtp and ptp?

Well, even if you have formatted the samsung galaxy mobile phone and tablet, you are able to recover lost, deleted, or formatted photos videos, and other media files from samsung galaxy mobile phone and samsung tablet.
This is because that when photos videos are deleted, or when memory card error happens and files are lost, or when you format the memory card in Samsung galaxy phone and tablet, all photo videos actual data remains there on Samsung galaxy smartphone and tablet. Only the files entries in file table, which works like a talbe of contents of a book, are deleted. This makes the space of deleted photos and videos availble for new files.
So it is important to not write any new files to the mobile phone or tablet after files are lost. You should stop using the Samsung galaxy phone/tablet immediately after files are deleted, this will prevent overwriting and increase the chance of Samsung galaxy photo video recovery.
Now you need to use a samsung galaxy photo recovery recovery freeware. You can download Samsung galaxy data recovery software for free from:

download samsung file recovery tool
The samsung galaxy data recovery software can undelete pictures png jpg gif tif tiff jpeg bmp and other raw image data, movies MVB AVI MOV WMV FLV 3GP ASF MKV MPEG mpeg4 mp4 HD videos, music songs mp3, aac, wav, ac3, messages, contacts, and other andorid app data from Samsung galaxy phone internal storage and memory card, SD card, SDHC, microSD, SD mini, SDXC, CompactFlash CF card, xD card. Samsung galaxy data recovery program can perform Samsung galaxy photo recovery, Samsung galaxy video recovery, samsung galaxy file recovery from both rooted and none rooted samsung galaxy phones, including Samsung Galaxy J5, Samsung Galaxy S6 Active SM–G890A, S6 SM-G920, S6 Edge SM-G925, Samsung Galaxy A8, Samsung Galaxy Note 5, SM-N9200, SM-N920C, SM-N920T, SM-920A, SM-920I, SM-N9208, Samsung Galaxy Trend 2 Lite, V Plus, Samsung Galaxy S6 Edge+, SM-G318, Samsung Galaxy J1 SM-J100H, Samsung Galaxy A7 SM-A700F, Samsung Galaxy E7 SM-E700H, Z1, Samsung Galaxy A5 SM-A500F, Samsung Galaxy A3 SM-A300F, Samsung Galaxy Note Edge SM-N915G, Samsung Galaxy Note 4 SM-N910G, Samsung Galaxy Young 2 SM-G130H, Samsung Galaxy Alpha SM-G850, Samsung Galaxy Grand Prime SM-G530H, Samsung Galaxy Core Prime SM-G360BT, Samsung Galaxy Pocket 2 SM-G110B, Samsung Galaxy Mega 2 SM-G7508, Samsung Galaxy Ace 4 SM-G313F (LTE), Samsung Galaxy S Duos 3, Samsung Galaxy Core 2, Samsung Galaxy Core SM-G386F (LTE), SM-G920F, S5 SM-G900H SM-G900F SM-G900R4 SM-G900V, alpha, S5 mini SM-G800H SM-G800F, S4 Mini (GT-I9190), Galaxy S4 Mini (I9195, LTE), Galaxy S4 Mini (I9192, dual-SIM), S4 Active (GT-I9295), Xcover 3, S4 Zoom (SM-C1010), Galaxy S4 (GT-I9500), GT-I9505 (LTE), GT-I9506 (LTE+), Xcover 2 (GT-S7710), Galaxy S5 Mini SM-G800H SM-G800F, Galaxy S5 SM-G900H SM-G900F SM-G900R4 SM-G900V, Young 2 SM-G130H, Pocket 2 SM-G110B, Star 2, Core 2, Galaxy K Zoom SM-C115, Win Pro (SM-G3812), Trend Plus (GT-S7580), Star Pro (GT-S7260) GT-S7262 (dual-SIM), Express 2 (SM-G3815), Round (SM-G9105), Trend Lite (GT-S7390) GT-S7392 (dual-SIM), Fame Lite (GT-S6790), Core Plus (SM-G3500) SM-G3502 (dual-SIM), Light (SGH-T399), Galaxy S4 Active (GT-I9295), S4 Zoom (SM-C1010), Pocket Neo (GT-S5310), Galaxy Star (GT-S5280) GT-S5282 (dual-SIM) GT-S5283 (triple-SIM), Galaxy Core (GT-S8262) GT-i8262D, Galaxy Y Plus (GT-S5303), Galaxy Win (GT-I8550), Galaxy Grand Quattro (GT-I8552, dual-SIM), Samsung Galaxy S7, Samsung Galaxy S7 Edge, Samsung Galaxy J1 Mini SM-J105B SM-J105DS (Dual-SIM), Samsung Galaxy J1 (2016) SM-J120F, Samsung Galaxy A9 (2016) SM-A9000, Samsung Galaxy A7 (2016), SM-A7100, SM-A710F, SM-A710M, SM-A710Y, Samsung Galaxy A5 (2016), SM-A5100, SM-A510F, SM-A510FD, SM-A510M, SM-A510Y, Samsung Galaxy A3 (2016), SM-A310F, SM-A310M, Samsung Galaxy View, Samsung Galaxy On7, Samsung Galaxy J1 Ace, Samsung Galaxy Active Neo SC-01H, Samsung Galaxy On5, Samsung Z3, Samsung Galaxy J2, and all other android phones and tablet devices.
How to recover deleted photos videos from Samsung galaxy mobile phones
Make sure you change the settings in android device: settings -> Wireless & Wifi -> USB Tools -> Connec USB mass storage to PC. You can then connect the samsung galaxy phone to computer with a usb cable, make sure that it shows as drive letter (e.g. E:) in Computer.
If not, you need to remove the SD card from Samsung galaxy phone and then connect the samsung galaxy phone to computer with usb card reader, or insert it to cart reader slot on computer.
Deleted files were saved on phone memory instead of memory card? Check out this method: Android phone internal memory data recovery.
Step 1. Run Samsung data recovery software Asoftech data recovery, and then select the samsung galaxy phone memory card drive letter, and hit "Next" to scan for deleted photos and video files.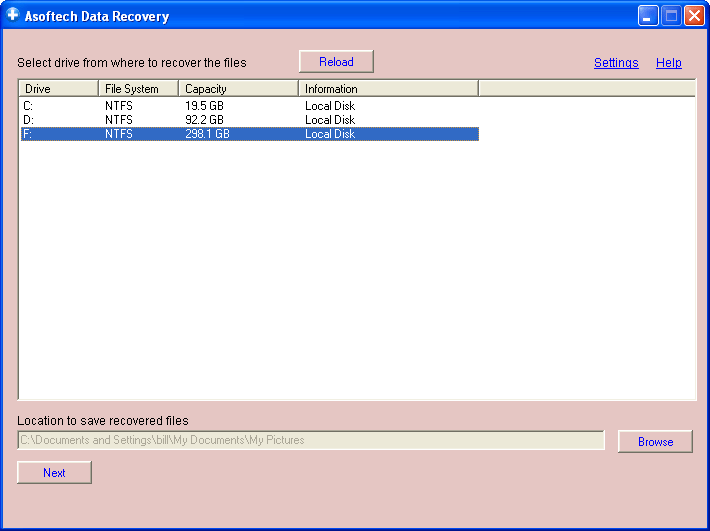 Step 2. When you see deleted photos and videos shown, select the ones you want to recover, and hit "Recover" to recover deleted files from Samsung galaxy phone.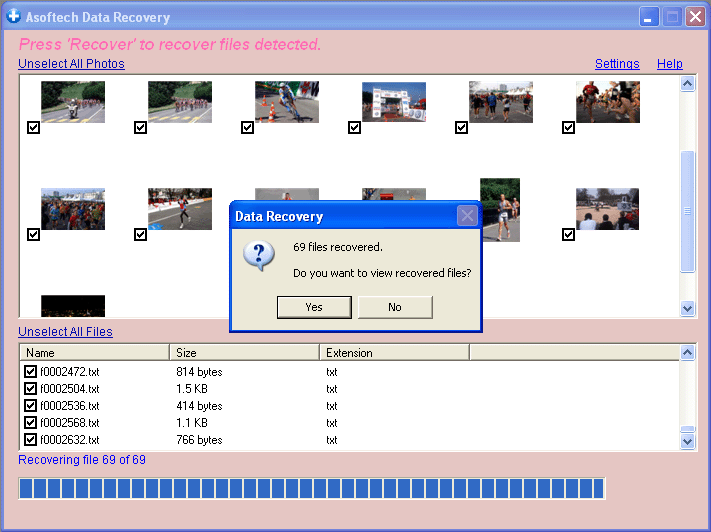 Easy? Download Samsung galaxy file recovery software to recover deleted photos videos from samsung galaxy cellphone now.



Other useful data recovery tutorial

Recover deleted media from samsung digital camera

Restore lost files from Samsung SD card

Recover data from Samsung computer

Undelete files from Samsung hard disk
You can perform android data recovery from android phone/tablet running android 7.0 Nougat, 6.0 Marshmallow, android 5.0 Lollipop, 4.4 Kitkat, 4.1 Jelly Bean, 4.0 Ice Cream Sandwich, 3.0 Honeycomb, 2.3 Gingerbread, both rooted and none rooted cellphones are supported.
The Android data recovery software and photo recovery software can recover deleted contacts, text messages, photos, videos, call logs, audio, whatsapp history, and documents from all android smartphones and tablets shipped by top telecom companies internationally, including AT&T, T-Mobile, Sprint, Verizon Wireless, Vodafone, America Movil, Telefonica, STC, Idea Cellular, Reliance, TIM, MTS, BSNL, Aircel, Smart, Megafone, Maxis, Inmarsat, Globalstar, Iridium, ACeS, Telstra, Australia Belgacom , Belgium Oi , Brazil BCE , Canada China Telecom , China TDC , Denmark Orange , France Deutsche Telekom , Germany Bharti Airtel , India Telekom Indonesia , Indonesia Telecom Italia , Italy Nippon Telegraph & Tel , Japan Zain , Kuwait Altice , Luxembourg Axiata Group , Malaysia América Móvil, Mexico VimpelCom , Netherlands Telenor , Norway PLDT , Philippines Ooredoo Telecom , Qatar MegaFon , Russia Saudi Telecom , Saudi Arabia SingTel , Singapore MTN Group , South Africa SK Telecom , South Korea Telefónica, Spain Teliasonera , Sweden Swisscom , Switzerland Chunghwa Telecom , Taiwan Advanced Info Service , Thailand Turkcell , Turkey Etisalat , United Arab Emirates Vodafone , United Kingdom Verizon Communications VZ, United States Cantv , Venezuela.
You can recover your deleted files worldwild as you can do it by yourself on your computer. So you do not need to go to data recovery centres, looking for data recovery services from specialists. You can performa data recovery and photo recovery worldwide, including countries Japan, USA, UK, Canada, Australia, New Zealand, India, Pakistan, Nigeria, Philippines, Germany, Bangladesh, Egypt, France, Italy, Thailand, Netherlands, Nepal, South Africa, Poland, Turkey, Iraq, Spain, Sweden, Kenya, Cameroon, Malaysia, Russia, Belgium, Israel, Austria, long island, Romania, Zimbabwe, Greece, Sierra Leone, Mexico, Denmark, Switzerland, Morocco, Norway, Ireland, Singapore, Ghana, Tanzania, Finland, Portugal, Liberia, Jordan, Algeria, Jamaica, Guinea, Uganda, Hong Kong, Czech Republic, Argentina, Yemen, Croatia, in cities such as chennai, bangalore, toronto, mississauga, delhi, kolkata, mumbai, pune, dubai, london, nottingham, hyderabad, Sheffield, Croydon, Barking, Bristol, Manchester, Watford, Luton, Dartford, Gatwick, Reading, Norwich, Chelmsford, Newhaven, Northampton, Southampton, Nottingham, Derby, Abingdon, Gloucester, Bury St Edmunds, Exeter, Los Angeles, Melbourne, Chicago, Houston, Perth, Philadelphia, Phoenix, San Francisco, Detroit, San Jose, Dallas, kenya, birmingham, finchley, vancouver, canada, montreal, ottawa, calgary, winnipeg, Australia, sydney, melboune, brisbane, auckland, hamilton, waikato, Atlanta, Boston, Riverside, Seattle, Minneapolis, Tampa, St. Louis, Baltimore, San Antonio, Delaware, Denver, Charlotte, Pittsburgh, Portland, West Midlands, Greater Bristol, Cardiff, Greater Glasgow, West Yorkshire, Bradford, Leeds, Liverpool, Greater Manchester, Nottingham-Derby, Portsmouth-Southampton, South Yorkshire (Sheffield), Newcastle-Sunderland, Paris, Randstad, Istanbul, Moscow, Saint Petersburg, Berlin, Madrid, Rome, Kiev, Bucharest, Minsk, Vienna, Hamburg, Budapest, Warsaw, Barcelona, Kharkiv, Munich, Milan, and states Alabama, Alaska, Arizona, Arkansas, California, Colorado, Connecticut, San Diego, Miami, Florida, Georgia, Hawaii, Idaho, Illinois, Indiana, Iowa, Kansas, Kentucky, Louisiana, Maine, Maryland, Massachusetts, Michigan, Minnesota, Mississippi, Missouri, Montana, Nebraska, Nevada, New Hampshire, New Jersey, New Mexico, New York, North Carolina, North Dakota, Ohio, Oklahoma, Oregon, Pennsylvania, Rhode Island, South Carolina, South Dakota, Tennessee, Texas, Utah, Vermont, Virginia, Washington, West Virginia, Wisconsin, Wyoming.