home >> Data Recovery >> Samsung Galaxy photo Video Recovery

Android photo recovery software for Samsung Galaxy photo video recovery

How to recover deleted photo video files from Samsung Galaxy S3, S2, S4, S5, Note2, Note3, Ace, Tab, Galaxy Nexus, Gear Fit android phone and tablet
I deleted all photos from my samsung galaxy S3, I wanted to delete one pictures, but I hit "deleted all" by mistake. Is there a way to recover deleted photos from samsung galaxy S3 mobile phone?

My Samsung galaxy Note 2 shows memory card error and I am not able to access all my photos and video files on the galaxy phone, how can I restore lost photos and videos from my galaxy notes 2?

I have deleted data on a samsung mtp derive. Is it possible to recover it? How to retrieve deleted videos off samsung tablet mtp and ptp?

Well, even if you have formatted the samsung galaxy mobile phone and tablet, you are able to recover lost, deleted, or formatted photos videos, and other media files from samsung galaxy mobile phone and samsung tablet.
This is because that when photos videos are deleted, or when memory card error happens and files are lost, or when you format the memory card in Samsung galaxy phone and tablet, all photo videos actual data remains there on Samsung galaxy smartphone and tablet. Only the files entries in file table, which works like a talbe of contents of a book, are deleted. This makes the space of deleted photos and videos availble for new files.
So it is important to not write any new files to the mobile phone or tablet after files are lost. You should stop using the Samsung galaxy phone/tablet immediately after files are deleted, this will prevent overwriting and increase the chance of Samsung galaxy photo video recovery.
Now you need to download a samsung galaxy photo recovery recovery tool, a good one is Asoftech Data Recovery which supports all samsung galaxy mobile phones including Samsung Galaxy S4, S3, S2, S5, Note 2, Galaxy Tab, Galaxy Ace, Note 3, Galaxy Nexus, Gear Fit, etc.

download samsung file recovery tool
How to recover deleted photos videos from Samsung galaxy mobile phones
Make sure you change the settings in android device: settings -> Wireless & Wifi -> USB Tools -> Connec USB mass storage to PC. You can then connect the samsung galaxy phone to computer with a usb cable, make sure that it shows as drive letter (e.g. E:) in Computer.
If not, you need to remove the SD card from Samsung galaxy phone and then connect the samsung galaxy phone to computer with usb card reader, or insert it to cart reader slot on computer.
Deleted files were saved on phone memory instead of memory card? Check out this method: how to enable android phone mass storage.
Step 1. Run Samsung data recovery software Asoftech data recovery, and then select the samsung galaxy phone memory card drive letter, and hit "Next" to scan for deleted photos and video files.
Step 2. When you see deleted photos and videos shown, select the ones you want to recover, and hit "Recover" to recover deleted files from Samsung galaxy phone.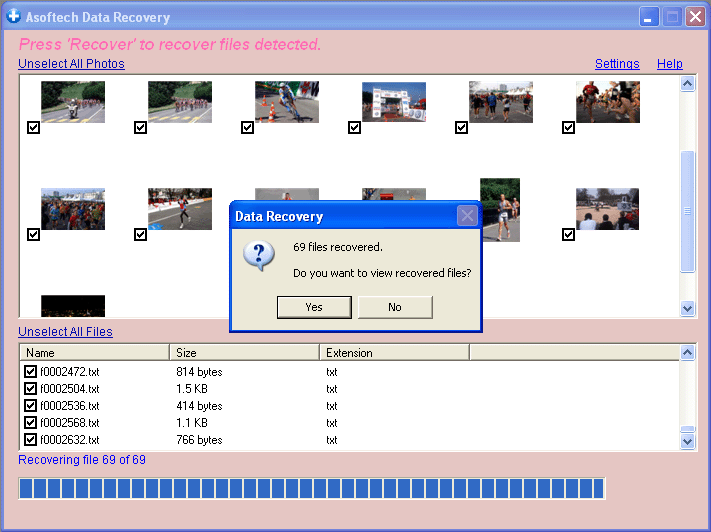 Easy? Download Samsung galaxy file recovery software to recover deleted photos videos from samsung galaxy cellphone now.