home >> Data Recovery >> Internal memory n memory card data recovery

Android internal memory data recovery software to restore lost files on android phone and tablet

Recover deleted photos video files from android phones and tablets internal memory and SD card (Samsung Galaxy, HTC, LG, Sony, etc)
I deleted some photos on my samsung galaxy S3 android phone internal memory. I tried many android photo recovery program, but the android phone does not recognize my samsung Galaxy S3 android phone. How to restore lost pictures?
Internal memory from android phone doesn't show as external drive when you connect it to computer. You need to do something special in order to recover data from android phone internal memory. You can download professional android data recovery program asoftech data recovery to retrieve back lost, deleted and formatted files from android phone internal memory and SD card.



The data recovery program support photo recovery, video recovery, and file recovery from not only android phone and tablet internal memory, but also android device memory card (SD Card, MicroSD Card, Compact Flash Card, xD Card etc). The devices supported including Samsung galaxy phones and tablets, Samsung Galaxy S4, SIII LTE (S3), S II 4G (S2), Galaxy Note 8.0, Note 3 10.1, Note 2, Galaxy Tab 3 8.0, Galay Tab 2 10.1, Galaxy Ace, Tab 2 7.0 P3100, galaxy mega 6.3, HTC One X, butterfly, EVO, Desire, Sensation, Google Nexus, LG Optimus G Pro, Sony Xperia Z, Xperia SP, etc.
How to recover deleted formatted files from android phones
To get back lost files from internal memory or media card of Andorid phones, you can follow steps below.
Step1. Connect android phone to computer. Then check whether android phone shows as a drive letter (for example, E: ) in computer.
If not, you need to take out the memory card from the mobile and connect the card to computer using a card reader (either a card reader slot on your computer or a usb card reader), you can then see memory card shows as a drive letter in Computer.
If you recover data from android phone internal memory, follow this guide: enable android phone mass storage
Step 2. Run the data recovery software, and select android phone drive letter in the software, then press "Next" to start scanning for lost files.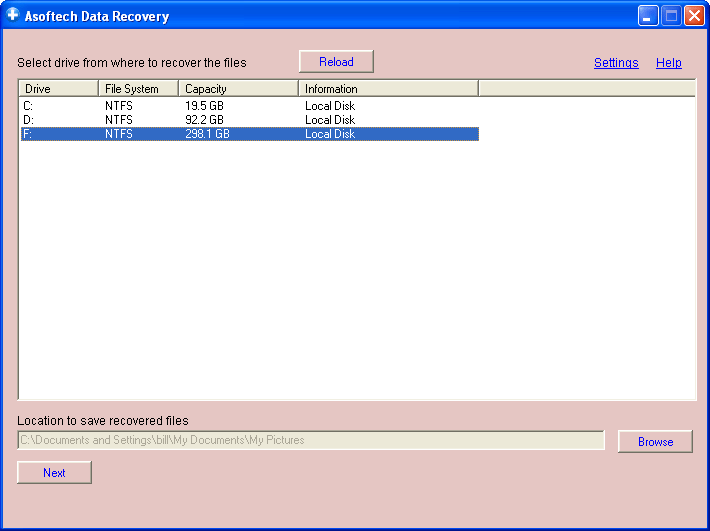 Step 3. You will see a list of deleted files shown in result page. Select files you want to recover and click "Recover" button to recover them.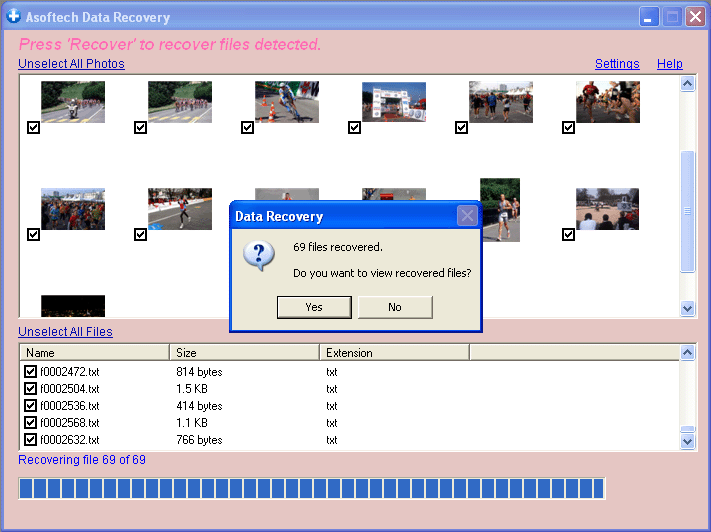 Download Android Data Recovery Software and recover deleted files from android phone internal memory and phone memory card now



Still have problem, try a more complicated method which requires root.

The Requirements
1. A rooted Android phone, (try to root with a non-destructive method as this appears to protect those who must root from wiping the device data a second time),
2. BusyBox installed on your device,
3. Cygwin installed to [c:\cygwin] with pv and util-linux from the repo. Make sure to open Cygwin once to make sure that the /bin folder is created. Also, I made a folder at [c:\cygwin\nexus] to put the exported .RAW file,
4. Netcat (download the ZIP file and extract nc.exe to [c:\cygwin\bin]),
5. ADB (make sure adb.exe is in your path),
6. USB Debugging enabled on your device,
7. VHD tool from the mighty M$. Put the VhdTool.exe file in [c:\cygwin\nexus]

The Work
1. Turn on your phone
2. Connect the phone in ADB mode
3. Unlock the screen.
4. Open a Cygwin terminal and enter (This assumes your BusyBox installation is at [/system/bin/busybox]. It may be at [/system/xbin/busybox]):
adb forward tcp:5555 tcp:5555
adb shell
su
/system/bin/busybox nc -l -p 5555 -e /system/bin/busybox dd if=/dev/block/mmcblk0p12
5. Open another Cygwin terminal and enter:
adb forward tcp:5555 tcp:5555
cd /nexus
nc 127.0.0.1 5555 | pv -i 0.5 > mmcblk0p12.raw
6. Run around the house a few times. For 32GB internal memory this is going to take 3+ hours. That's a lot of running. When it's done...
7. We need to convert the .RAW file to a virtual hard drive. VhdTool.exe basically just puts a VHD footer on the end of the .RAW file. Open a Windows command prompt, go to [c:\cygwin\nexus], and type:
VhdTool.exe /convert mmcblk0p12.raw
8. Now we need to mount the VHD in Windows. Select the Start button-->right-click Computer-->select Manage.
9. Select Storage-->Disk Management.
10. In the menu select Action-->Attach VHD.
11. For Location enter [c:\cygwin\nexus\mmcblk0p12.raw] and select the OK button.
12. Right-click on the name (e.g. "Disk 1") to the left of the Unallocated space and select Initialize Disk.
13. Select the GPT (GUID Partition Table) radio button and select the OK button.
14. Right-click on the Unallocated space and select New Simple Volume...
15. In the Wizard select Next>, leave the default for the volume size, select Next>, select a drive letter (e.g. K), select Next>, MAKE SURE to select the 'Do not format this volume' radio button, select Next>, select Finish.
16. A box will pop up asking you to format the drive. You DO NOT want to format the drive at this time.
17. Right-click on the RAW space and select Format... MAKE SURE to change the File system to FAT32. Set the Allocation unit size dropdown to 'Default.' MAKE SURE that the Perform a quick format checkbox is CHECKED. You do not want to overwrite the entire new drive with all zeroes (0's) and destroy your data. Quick Format means that it will only attempt to destroy the index for the drive by establishing a new index. Without this box checked the Windows operating system will write zeroes (0's) across the entire volume, potentially destroying your data. Select the OK button.
18. A box will pop up saying that Formatting this volume will erase all data on it. That would be doubly true if you actually didn't check the 'Perform a quick format' checkbox. Double check that you actually did check the box and select the OK button. (Don't worry. This essentially leaves the volume in the exact same state that your phone's internal memory is living in right now: there is data on the drive...)
19. Open Asoftech Data Recovery application and select android phone drive letter, and then press Next button.
You can perform android data recovery from android phone/tablet running android 7.0 Nougat, 6.0 Marshmallow, android 5.0 Lollipop, 4.4 Kitkat, 4.1 Jelly Bean, 4.0 Ice Cream Sandwich, 3.0 Honeycomb, 2.3 Gingerbread, both rooted and none rooted cellphones are supported.
The Android data recovery software and photo recovery software can recover deleted contacts, text messages, photos, videos, call logs, audio, whatsapp history, and documents from all android smartphones and tablets shipped by top telecom companies internationally, including AT&T, T-Mobile, Sprint, Verizon Wireless, Vodafone, America Movil, Telefonica, STC, Idea Cellular, Reliance, TIM, MTS, BSNL, Aircel, Smart, Megafone, Maxis, Inmarsat, Globalstar, Iridium, ACeS, Telstra, Australia Belgacom , Belgium Oi , Brazil BCE , Canada China Telecom , China TDC , Denmark Orange , France Deutsche Telekom , Germany Bharti Airtel , India Telekom Indonesia , Indonesia Telecom Italia , Italy Nippon Telegraph & Tel , Japan Zain , Kuwait Altice , Luxembourg Axiata Group , Malaysia América Móvil, Mexico VimpelCom , Netherlands Telenor , Norway PLDT , Philippines Ooredoo Telecom , Qatar MegaFon , Russia Saudi Telecom , Saudi Arabia SingTel , Singapore MTN Group , South Africa SK Telecom , South Korea Telefónica, Spain Teliasonera , Sweden Swisscom , Switzerland Chunghwa Telecom , Taiwan Advanced Info Service , Thailand Turkcell , Turkey Etisalat , United Arab Emirates Vodafone , United Kingdom Verizon Communications VZ, United States Cantv , Venezuela.
You can recover your deleted files worldwild as you can do it by yourself on your computer. So you do not need to go to data recovery centres, looking for data recovery services from specialists. You can performa data recovery and photo recovery worldwide, including countries Japan, USA, UK, Canada, Australia, New Zealand, India, Pakistan, Nigeria, Philippines, Germany, Bangladesh, Egypt, France, Italy, Thailand, Netherlands, Nepal, South Africa, Poland, Turkey, Iraq, Spain, Sweden, Kenya, Cameroon, Malaysia, Russia, Belgium, Israel, Austria, long island, Romania, Zimbabwe, Greece, Sierra Leone, Mexico, Denmark, Switzerland, Morocco, Norway, Ireland, Singapore, Ghana, Tanzania, Finland, Portugal, Liberia, Jordan, Algeria, Jamaica, Guinea, Uganda, Hong Kong, Czech Republic, Argentina, Yemen, Croatia, in cities such as chennai, bangalore, toronto, mississauga, delhi, kolkata, mumbai, pune, dubai, london, nottingham, hyderabad, Sheffield, Croydon, Barking, Bristol, Manchester, Watford, Luton, Dartford, Gatwick, Reading, Norwich, Chelmsford, Newhaven, Northampton, Southampton, Nottingham, Derby, Abingdon, Gloucester, Bury St Edmunds, Exeter, Los Angeles, Melbourne, Chicago, Houston, Perth, Philadelphia, Phoenix, San Francisco, Detroit, San Jose, Dallas, kenya, birmingham, finchley, vancouver, canada, montreal, ottawa, calgary, winnipeg, Australia, sydney, melboune, brisbane, auckland, hamilton, waikato, Atlanta, Boston, Riverside, Seattle, Minneapolis, Tampa, St. Louis, Baltimore, San Antonio, Delaware, Denver, Charlotte, Pittsburgh, Portland, West Midlands, Greater Bristol, Cardiff, Greater Glasgow, West Yorkshire, Bradford, Leeds, Liverpool, Greater Manchester, Nottingham-Derby, Portsmouth-Southampton, South Yorkshire (Sheffield), Newcastle-Sunderland, Paris, Randstad, Istanbul, Moscow, Saint Petersburg, Berlin, Madrid, Rome, Kiev, Bucharest, Minsk, Vienna, Hamburg, Budapest, Warsaw, Barcelona, Kharkiv, Munich, Milan, and states Alabama, Alaska, Arizona, Arkansas, California, Colorado, Connecticut, San Diego, Miami, Florida, Georgia, Hawaii, Idaho, Illinois, Indiana, Iowa, Kansas, Kentucky, Louisiana, Maine, Maryland, Massachusetts, Michigan, Minnesota, Mississippi, Missouri, Montana, Nebraska, Nevada, New Hampshire, New Jersey, New Mexico, New York, North Carolina, North Dakota, Ohio, Oklahoma, Oregon, Pennsylvania, Rhode Island, South Carolina, South Dakota, Tennessee, Texas, Utah, Vermont, Virginia, Washington, West Virginia, Wisconsin, Wyoming.