home >> Data Recovery >> LG data recovery


LG Data Recovery Software to recover deleted files from LG mobile phones

How can I recover deleted files from LG android smartphone
Deleted photos, videos, music and other media files from LG android phone internal storage or SD card, how to recover deleted files from LG android phones, such as LG G4, Flex 2, LG Optimus L4 II E440, F60 L90 D390N? Well, dont worry, you can retore lost deleted formatted files from LG android phones with LG data recovery software.
This is because that when files are deleted from LG android phones, the raw data of deleted files is not wiped. Android system only deletes those files' entries in file table (which records address of each file). The space of those deleted files are can be used for new files. When new files are saved, they could overwrite the space of deleted files and make them unrecoverable. So it is very important to prevent new files to be written to LG android phone. Once files are deleted or LG phone memory card is formatted, do not use the phone untile deleted files are recovered.
To perform LG Photo Recovery and Video Recovery, a professional LG data recovery software is needed. You may use Asoftech Data Recovery which is specially designed for LG cellphones. The data recovery program supports all LG android phones, includes LG G Flex 2, G4, G2, G3, LG Optimus L4 II E440, F60 L90 D390N, LG F60 L90 D390N, LG Optimus Vu II, Optimus Vu, LG G Flex, G Pro 2, LG Optimus G Pro, Optimus G, G Pad 8.3, LG L Bello, L Fino, L90, L80, L70, L65, L60, L50, L40, L35, L30, L20, LG Optimus F7, F6, F5, F3, LG Optimus L9 II, L7 II, L5 II, L4 II, L3 II, L2 II, L1 II, L9(MS769), L7 P705, L9, L5 E612, L3 E400, F5. The LG data recovery software recovers deleted photos videos and other media files, but also restores lost files after LG android phone memory card such as SD, SDHC, microSD, SDXC, SD mini, CF card, xD, MMC card, flash card reformat.
You can download LG data recovery software for free from link below:


LG android data recovery software is able to undelete photos such as JPG, JPEG, PNG, GIF, BMP, TIF, TIFF, RAW image data, videos include MP4, AVI, 3GP, AVCHD, H264, MPG, MPEG, MOV, WMV, ASF, VOB, M2TS, and music files MP3, AAC, WAV, WMA, and other media data from LG android smartphone internal storage and memory card on Windows 8.1, 8, 7, Vista, XP and 2K computer.
How to recover deleted formatted files from LG andorid phone
Step 1. Plug LG android phone to computer with USB transfer mode (not Kies or MTP). You can set it in settings on the android phone. You should see the phone memory shows as a drive letter in Windows Explorer (e.g. E:).

If not, you need to take out memory card from the smartphone and connect the memory card to computer with a card reader (either USB card reader or card reader slot on computer).
Deleted files were saved on phone memory instead of memory card? Check out this method: how to enable android phone mass storage.
Step 2. Run LG data recovery software Asoftech data recovery, and then select LG phone drive letter, and then press "Next" to scan the phone for lost photos, videos, and other files.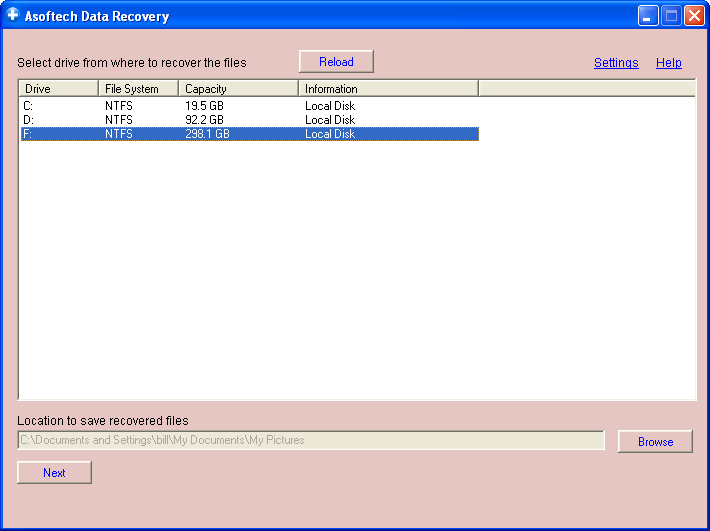 Step 3. You will see deleted files shown in the program. Select those files you want to restore, and click "Recover" to recover them.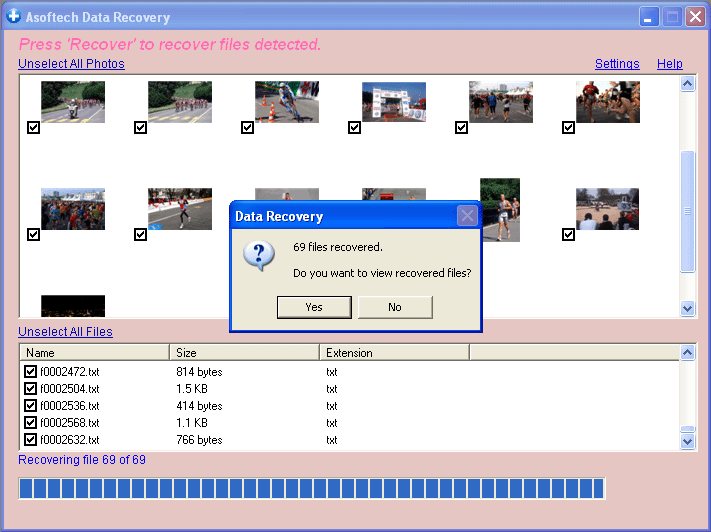 Download LG data recovery software and recover deleted files from LG mobile phone now before it's too late.
Related data recovery tutorial:

SD card data recovery

Recover deleted Android phone files

External hard drive file recovery