home >> Video converter >> Sony Handycam videos to Windows movie maker

Transfer videos from Sony Handycam to Windows movie maker

how to transfer video from sony handycam to windows movie maker
Sony Handycam HD camcorder records videos in file formats are AVCHD and MP4. Sony Cybershot, Handycam, Bloggie and alpha cameras use these formats to store recorded video. Sony camcorders records AVCHD videos in Blu-ray Disc™ and AVCHD1 media.
High resolution video quality for watching on an HDTV.
.m2ts (file extension saved with the Picture Motion Browser (PMB) software)

The MP4 video can easily upload to websites and move and copy files.
Saved as a single movie file.
Edit video using third-party software.
.mp4 (file extension saved with the PMB software)

However, when you try to add those videos recorded in Sony camcorder to Windows movie maker, you may get files not supported error. This is because that Windows support wmv format. So you need to convert those videos from Sony camera to wmv format.
The best way to convert videos recorded in Sony Handycam to wmv format is to use a video converter freeware. You can download video converter for free from

Sony Handycam to Movie Maker Video Converter Software
The video converter software is able to convert video from all Sony cameras, including Sony AXP55 4K Handycam, PJ675 Handycam, AX1E 4K Professional Handycam, AX33 4K Handycam, PJ410 Handycam, CX405 Handycam, AX100 4K camcorder, CX900E Handycam, Sony PJ410 Handycam, Sony HDR-PJ240 camcorder, Sony HDR-PJ380E camcorder, Sony HDR-AZ1, Sony HDR-AZ1VW recorder, HDR-ZA1VR recorder, Sony AXP55 4K Handycam, Sony HDR-CX900, Sony FDR-AX33, Sony FDR-AXP35, Sony CX900E Handycam, etc. You can also convert Sony Handycam videos to other formats such as AVI, MOV, MKV, WMV, 3GP, MPEG, SWF, FLV, MPG, asf, mpeg-4, mp3, 3gp. The video conversion program works on Windows 10, 8.1, 8, Windows 7, Windows Vista, Windows XP.
How to convert video from Sony Handycam to Windows Movie Maker
Step 1. Download and install video converter software on your Windows computer

Step 2: Add video files from Sony Handycam to Asoftech video converter software

Click "Add files" on the top tool bar, or simply drag and drop to import the videos. Then set up "Output folder" at the bottom of the program window by browsing, make sure there are enough free space at your designated path.

Step 3: Select Output Profile

Click on the output format selector on the lower part. There are many built-in profiles for popular devices. Select Common Video->wmv video.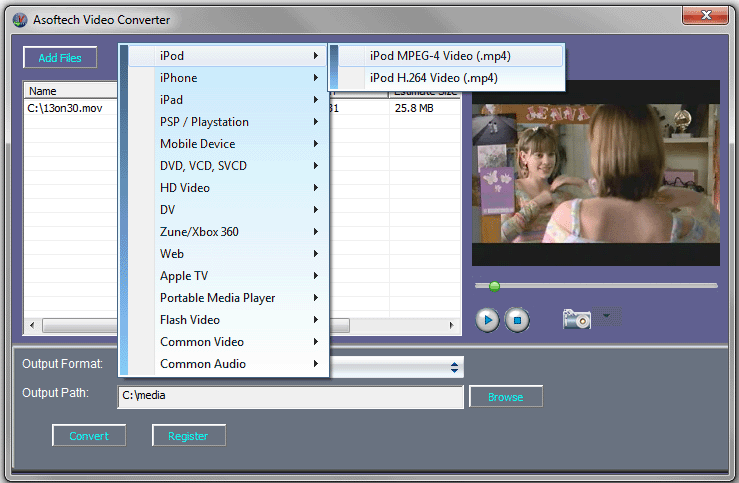 Step 4. Convert Video to wmv Format

Click to select the video audio you want to convert, and click "Convert". You will see the converting process will be started.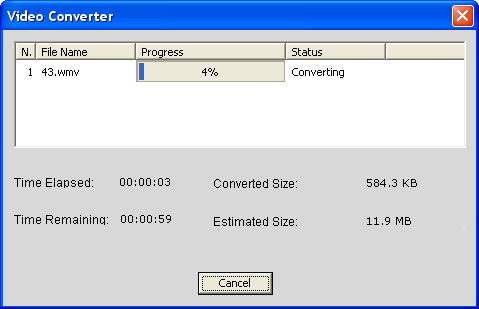 Step 5: Add converted wmv video to Windows movie maker.

Now, you can use your videos from Sony Handycam on Windows movie maker.
Download video converter software to convert videos from Sony Handycam to Windows Movie Maker.

Other useful video conversion tutorial

How to convert video for iPod

Convert video between different formats

Convert video to xbox supported format