home >> Video converter >> Convert video files to PSP/PS

Add unsupported videos audios to PSP/PS

Convert audio video files for Sony PS/PSP
Sony PSP, also known as PlayStation Portable, is portable version of Sony PlayStation PS. Sony PSP is not only a game console, but also a media player to play videos, music files. PSP support video format MP4 AVI, audio AAC. Videos and audio files may not be supported for reasons like different file format, varient encording format, so how to fix unsupported video files or songs for Sony PSP and PlayStation PS? How to convert video music files for Sony PSP/PS?
You can use PSP video converter freeware to convert videos and songs to PS/PSP supported formats. Download PSP video converter software for free from:

Download PSP Video Converter
The PSP/PS video converter tool works on Windows 10/8.1/8/7/Vista/XP/2000 computers and you can converted videos and music files to Sony Playstation PS 4, PS 3, PS vita, PS 2, PSP-E1000, PSP Go, PSP-N1000, PSP-3000, PSP-2000, PSP-1000. The Sony PSP/PS video converter pro can also convert video audio between all media formats including MP4, AVI, MP3, MOV, MPEG, FLV, WMV, 3GP, SWF and more.
Easy steps to convert videos to PS/PSP supported formats
Step 1: Import videos to Blackberry video converter software

In PSP/PS video converter software, press "Add files" on top tool bar, or simply drag and drop to import movies, TV series, or downloaded videos or audio media into the video converter program. Then set up "Output folder" at the bottom of the program main window, make sure there are enough free space at your designated path.
Step 2: Select PSP file format as output profile

After adding media files, go to the output format box. There are many built-in profiles for popular devices. Select PSP/Playstation as output format.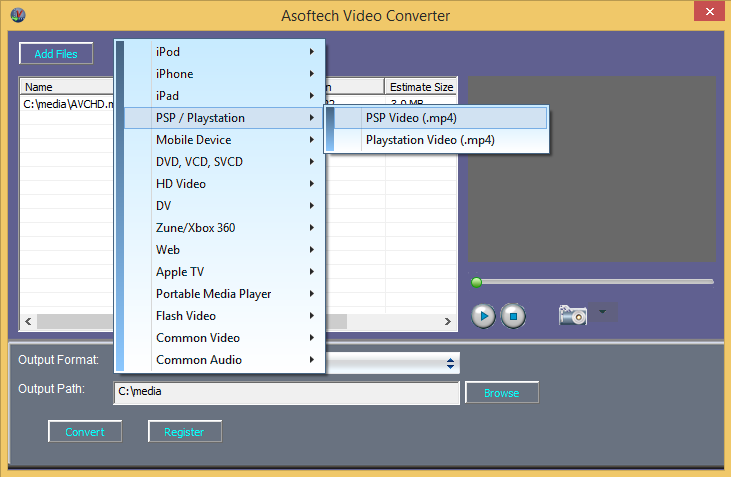 Step 3. Convert video to PSP supported formats

Click to select the video or audio files to be converted, and click "Convert" button to start converting. You will see the converting progress dialog.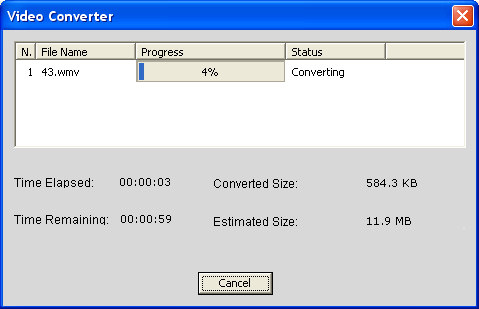 Step 4: Import converted media to Sony PSP/Playstation.

After the conversion is completed. You can add the output media to Sony PSP/PS and enjoy the video or music.
Download PSP/PS video converter tool to convert media files so that you can watch or listen them on Sony PSP/PS.



Other video conversion solution

Convert video between different formats

Add unsupported files to iPhone

Android video converter