home >> Video converter >> GoPro video to mov

how to convert gopro videos to mov

convert gopro video to mov
GoPro HERO cameras record videos in mp4 format. However, when you try to play those videos, or try to edit videos in Movie maker, iMovie, you may experience problems like file unsupported, jerky playing, etc. This is because that video player or editor program may fail to decode the video, or video decoding is so heavy that your computer may not be able to handle it. The best way to to fix this problem is to use a GoPro Video Converter software to convert your GoPro videos to video format such as mov so that you can play/edit the video in VLC, Windows Media Player, QuickTime, iMovie, Final Cut Pro, Premiere, AVID, Vegas, etc.
Download video converter software for free from

download GoPro Video Converter Software
The video converter software is able to convert videos from all Gopro cameras, including GoPro Hero5 Black, GoPro Hero5 session, GoPro Hero Session + Hero4 Session, GoPro Hero4 Black, Hero4 Silver, Hero+ LCD, Hero+, Hero, Hero3+ Black Edition, Hero3+ Silver Edition, Hero3 Black Edition, Hero3 Silver Edition, Hero3 White Edition, HD Hero3, HD Hero, HD Hero, HD Hero 960, etc. You can also convert GoPro Hero videos to other formats such as AVI, MP4, MKV, WMV, 3GP, MPEG, SWF, FLV, MPG, asf, mpeg-4, mp3, 3gp. The video conversion program works on Windows 10, 8.1, 8, Windows 7, Windows Vista, Windows XP, Windows 2000.
How to convert video from GoPro Hero to mov format
Step 1. Download and install video converter software on your Windows computer

Step 2: Add video files from GoPro camera to Asoftech video converter software

Click "Add files" on the top tool bar, or simply drag and drop to import the videos. Then set up "Output folder" at the bottom of the program window by browsing, make sure there are enough free space at your designated path.

Step 3: Select Output Profile

Click on the output format selector. There are many built-in profiles for popular devices. Select Common Video->mov video.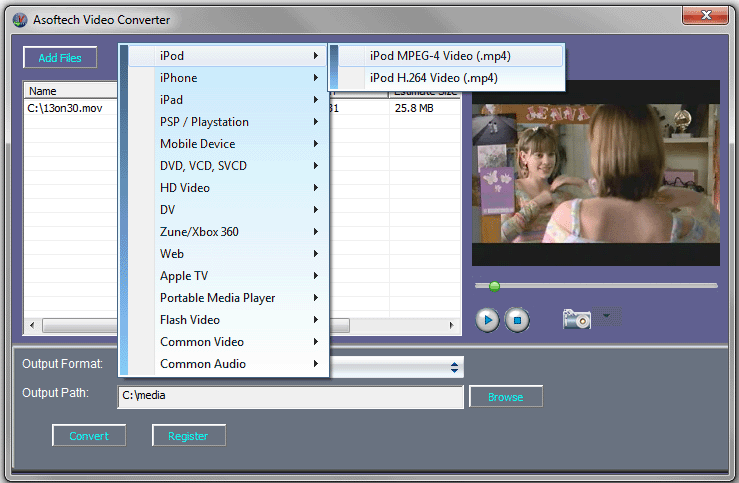 Step 4. Convert Video to mov Format

Click to select the video audio you want to convert, and click "Convert". You will see the converting process will be started.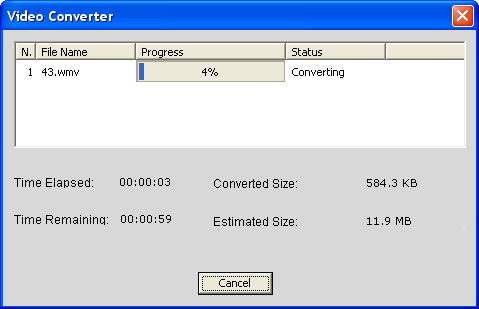 Download video converter software to convert GoPro videos to mov format.

Other useful video conversion tutorial

How to convert video for iPod

Convert video between different formats

Convert video to xbox supported format