home >> Photo Recovery >> Restore pictures from Samsung camera


Samsung camera photo recovery

how to recover photos from samsung camera
There are many reasons which may cause photos to be deleted on Samsung digital cameras: - User pressed delete-all button and deleted all photos on Samsung digital camera;
- Accidentally reformat Samsung camera SD card and lost all photos on the camera;
- Memory card error happens, or SD card in Samsung camera is corrupted, and not able to access any photos on Samsung digital camera;
- Samsung camera memory card turns into RAW format and all photos are lost;
- Samsung camera is infected by virus and pictures are lost;
Is it possible to recover lost photos on Samsung digital camera? The answer is definitely YES. To increase the chance of Samsung digital camera photo recovery, you'd better stop using Samsung digital camera. Do not take more photos with the camera. Take out SD card from the Samsung camera, and keep it at a safe place so that later you can recover deleted photos from Samsung camera.
You will also need a Samsung photo recovery software, download it for free from link below.

Download Samsung Photo Recovery Software
The Samsung photo recovery program can recover deleted pictures from all Samsung digital cameras, NX cameras, Galaxy cameras, DSLR cameras, compact cameras, including Samsung NX3300, NX500, NX EK-GN120, NX1, NX300M, NX3000, NX Mini, NX30 Smart Camera, EX2F, NX20, WB850F, DV300F, NX200, MV800, WB35F, WB1100, WB50F, WB350F, WB2200F, WB35F, EX2F, WB2200F, Samsung Galaxy Camera 2 EK-GC200, Galaxy S4 zoom with LTE SM-C105, Galaxy Camera EK-GC100, NX2000, NX1000, WB150F, WB1100F, WB50F, NX10, EX1 (TL500), PL150(TL210), ST1000, Galaxy Kzoom, Galaxy NX, Galaxy camera2, Samsung Smart Camera WB800F, DV150F Dual-View Smart Camera, WB250F, Samsung Galaxy Camera Version 4G LTE, NX210, MV900F, SMX-F70, SMX-F50, SMX-K45, HMX-S16, H106, HMX-H300, HMX-T10, HMX-M20, W200, HMX-F80, HMX-QF20, HMX-Q10, HMX-F90, ES90, ES80, ES75, PL120, PL210, PL90, PL170, PL200, PL20, ST550, ST500, ST80, ST100, ST600, ST95, ST65, ST6500, ST30, ST700, ST93, ST96, ST77, ST66, ST200F, ST150F, WB2000, WB210, WB700, WB750, WB150, WB850F, WB800F, WB 30F, DV900F, DV150F, NX11, CES10, CES11, CES12, CES13, IFA09, IFA11, IFA12 PMA09, PMA10, Photokina2010, SAMSUNG 16 MEGAPIXELS GALAXY CAMERAEK-GC200ZWAXSP, WB350FDPRSG, EC-WB350FDPUSG, EK-GN120ZKAXSP, EK-GC200ZKAXSP, etc. Samsung photo recovery software can also restore deleted photos including RAW digital images: CRW, CR2, RAW, TIFF, TIF NEF, PEF, X3F and other RAW images.
You can also undo reformat of Samsung digital camera and camcorder memory card, such as Sandisk/kingston/Sony memory stick Pro, Duo, Pro Duo, Pro-HG, Micro(M2), XC, SD card, MicroSD, SDHC, SDXC, MicroSDHC, MicroSDXC, SD mini, compact flash CF card, MMC flash memory card, and recover formatted files from Samsung camera.
How to recover deleted/formatted photos from Samsung digital camera.
Step 1: Take out the memory card from Samsung digital camera, and put it to a card reader either on the computer or use an external USB card reader. Then in "My Computer", note the drive letter assigned to digital camera's memory card (usually G: or H:).

Step 2: Downlod and install Asoftech Photo Recovery. Then in photo recovery software, select camera memory card. click "Start" button. Now scanning process will start to search for lost photos.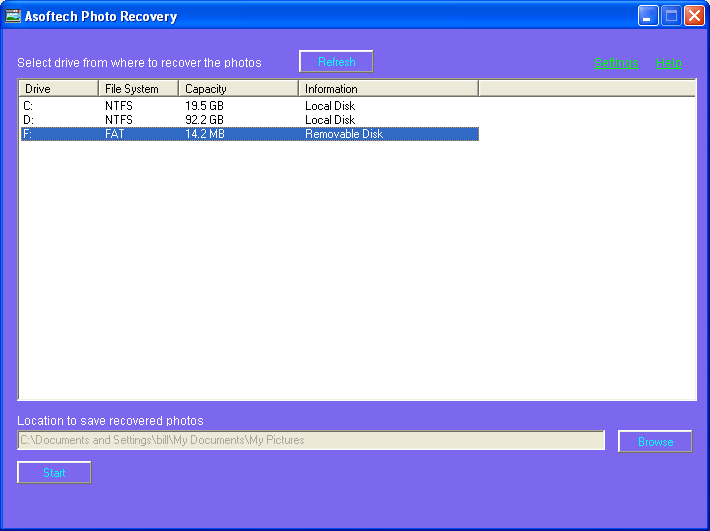 Step 3: You will see recoverable photos, and press "Recover" to save recovered photos.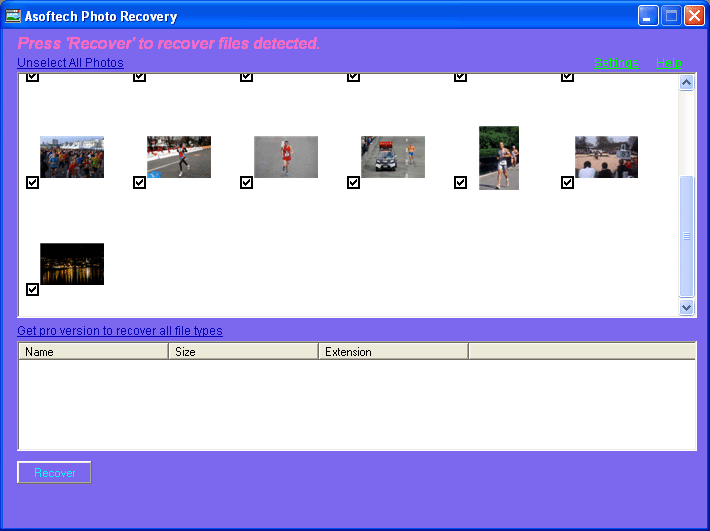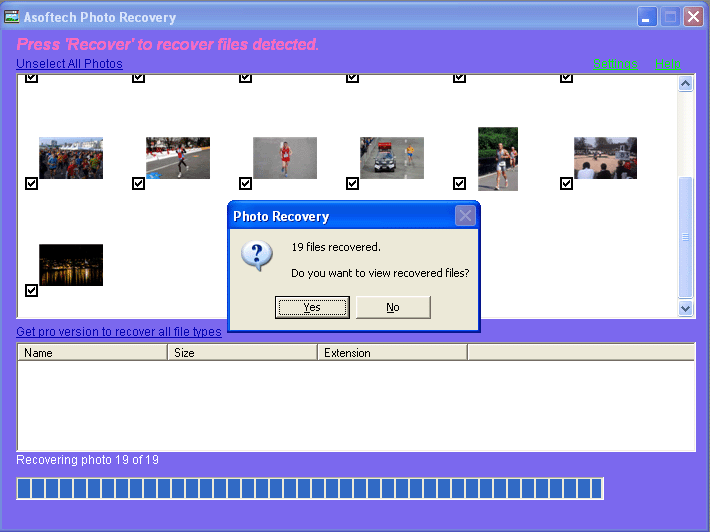 Download Samsung Digital Camera Photo Recovery Software and recover erased photos from Samsung digital camera.


Other data recovery tutorial:

How to recover photos from digital camera

SD card file recovery

Recover lost data from computer hard disk
You can recover your deleted files worldwild as you can do it by yourself on your computer. So you do not need to go to data recovery centres, looking for data recovery services from specialists. You can performa data recovery and photo recovery worldwide, including countries Japan, USA, UK, Canada, Australia, New Zealand, India, Pakistan, Nigeria, Philippines, Germany, Bangladesh, Egypt, France, Italy, Thailand, Netherlands, Nepal, South Africa, Poland, Turkey, Iraq, Spain, Sweden, Kenya, Cameroon, Malaysia, Russia, Belgium, Israel, Austria, long island, Romania, Zimbabwe, Greece, Sierra Leone, Mexico, Denmark, Switzerland, Morocco, Norway, Ireland, Singapore, Ghana, Tanzania, Finland, Portugal, Liberia, Jordan, Algeria, Jamaica, Guinea, Uganda, Hong Kong, Czech Republic, Argentina, Yemen, Croatia, in cities such as chennai, bangalore, toronto, mississauga, delhi, kolkata, mumbai, pune, dubai, london, nottingham, hyderabad, Sheffield, Croydon, Barking, Bristol, Manchester, Watford, Luton, Dartford, Gatwick, Reading, Norwich, Chelmsford, Newhaven, Northampton, Southampton, Nottingham, Derby, Abingdon, Gloucester, Bury St Edmunds, Exeter, Los Angeles, Melbourne, Chicago, Houston, Perth, Philadelphia, Phoenix, San Francisco, Detroit, San Jose, Dallas, kenya, birmingham, finchley, vancouver, canada, montreal, ottawa, calgary, winnipeg, Australia, sydney, melboune, brisbane, auckland, hamilton, waikato, Atlanta, Boston, Riverside, Seattle, Minneapolis, Tampa, St. Louis, Baltimore, San Antonio, Delaware, Denver, Charlotte, Pittsburgh, Portland, West Midlands, Greater Bristol, Cardiff, Greater Glasgow, West Yorkshire, Bradford, Leeds, Liverpool, Greater Manchester, Nottingham-Derby, Portsmouth-Southampton, South Yorkshire (Sheffield), Newcastle-Sunderland, Paris, Randstad, Istanbul, Moscow, Saint Petersburg, Berlin, Madrid, Rome, Kiev, Bucharest, Minsk, Vienna, Hamburg, Budapest, Warsaw, Barcelona, Kharkiv, Munich, Milan, and states Alabama, Alaska, Arizona, Arkansas, California, Colorado, Connecticut, San Diego, Miami, Florida, Georgia, Hawaii, Idaho, Illinois, Indiana, Iowa, Kansas, Kentucky, Louisiana, Maine, Maryland, Massachusetts, Michigan, Minnesota, Mississippi, Missouri, Montana, Nebraska, Nevada, New Hampshire, New Jersey, New Mexico, New York, North Carolina, North Dakota, Ohio, Oklahoma, Oregon, Pennsylvania, Rhode Island, South Carolina, South Dakota, Tennessee, Texas, Utah, Vermont, Virginia, Washington, West Virginia, Wisconsin, Wyoming.