home >> Data Recovery >> NAS File Recovery

how to recover deleted files from NAS drive

NAS data recovery software to restore deleted files from NAS storage
Network Attached Storage NAS allows multiple users to store and share files such as photos videos songs document data in a centralised location. NAS storage is hard drives that is wirelessly connected to all the computers in the business. However, users may delete files from NAS drive, or NAS device may be formatted by mistake. Is it possible to recover deleted formatted pics videos and other files from NAS drive?
The best way to recover lost files from nas hard drive is to use a NAS data recovery freeware. Download nas data recovery software for free from:

nas data recovery
The nas data recovery software supports nas photo recovery, nas video recovery, nas document recovery, and nas media recovery from all nas devices on windows 10/8.1/8/7/Vista/XP computer. NAS data recovery program can undelete pictures jpg jpeg png gif tif tiff bmp raw image data, videos RMVB AVI MOV WMV FLV 3GP ASF MKV MPEG mpeg4 mp4 HD videos files, music files wav mp3 ac3 wma, document data Microsoft office Word 2003, 2007, 2010, 2013 doc docx files, Excel files, pdf files, Powerpoint presentation PPT files, and other files and folders from all nas drives such as Synology ds212j, ds213, DS115j, RS18016xs+, RC18015xs+, RS10613xs+, DS713+, RS3614xs+, RS3614xs/RS3614RPxs, DS3615xs, DS2015xs, RS2414+/RS2414RP+, RS815/RS815RP+, DS2415+, DS1815+, DS1515+, DS415+, DS215+, DS214+, RS815, RS214, DS1515, DS715, DS415play, DS414, DS214, DS214play, DS115, DS414j, DS414slim, DS215j, DS214se, DS115j, EDS14, VS360HD, VS240HD, RX1216sas, RXD1215sas, RX1214/RX1214RP, RX1213sas, RX415, DX1215, DX513, DX213, QNAP NAS drive Enterprise SS-EC2479U-SAS-RP, SS-EC1879U-SAS-RP, SS-EC1279U-SAS-RP, TS-EC1679U-SAS-RP, TS-EC1279U-SAS-RP, TVS-EC1080+, TVS-EC1080, TVS-EC880, TS-EC2480U-RP, TS-EC1680U-RP, TS-EC1280U-RP, TS-EC880U-RP, TS-EC1080 Pro, TS-EC880 Pro, Expansion Units UX-1200U-RP, UX-800U-RP, REXP-1600U-RP, REXP-1200U-RP, REXP-1000 Pro, UX-800P, UX-500P, SMB High-end TVS-1271U-RP, TVS-871U-RP, TVS-471U-RP, TVS-471U, TVS-871, TVS-671, TVS-471, Mid-range TS-1253U-RP, TS-1253U, TS-853U-RP, TS-853U, TS-453U-RP, TS-453U, TVS-863+, TVS-863, TVS-663, TVS-463, TS-563, TS-853 Pro, TS-653 Pro, TS-453 Pro, TS-253 Pro, TS-853S Pro (formerly the SS-853 Pro), TS-453S Pro (formerly the SS-453 Pro), TS-453mini, Entry-level TS-451U, TS-431U, Home & SOHO Work Group / SOHO / Home (High-end) TS-851, TS-651, TS-451, TS-251, TS-451S, HS-251, TS-251C, Work Group / SOHO / Home (Middle-end) TS-431+, TS-231+, TS-431, TS-231, TS-131, HS-210, SOHO / Home (Entry-level) TS-212P, TS-112P, Mobile NAS QG-103N, WD My Cloud EX2100, EX2, Asustor AS-604T, Zxyel NSA325, LaCie 5big NAS Pro.
NAS data recvoery software can recover not only deleted photos videos songs document data, files and folders, but also formatted files after NAS drive reformat.
Steps to recover deleted files from NAS drive
Step 1. Connect NAS drive to computer. Then in Computer, you should see NAS drive shown as a drive letter (for example, E: ).
Step 2. Run NAS data recovery software asoftech data recovery and then in Asoftech Data Recovery, select qnap drive, then press "Next" to start scanning NAS drive for lost files.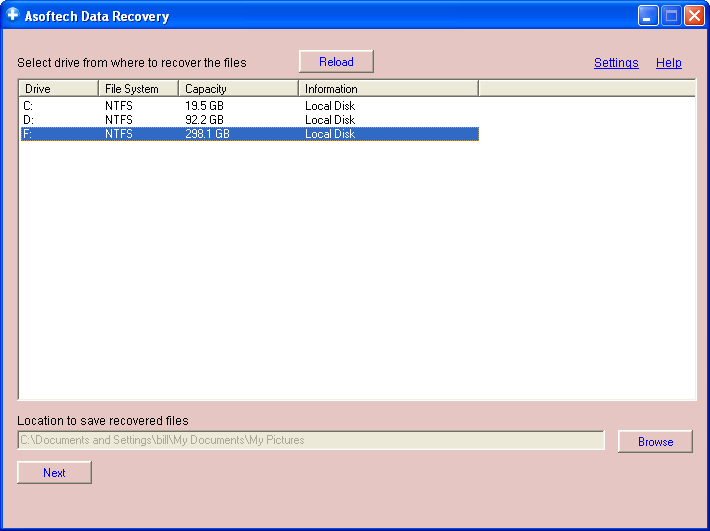 Step 3. Recoverable files will be shown in result page. Select those you want to recover, and press "Recover" button to save the files.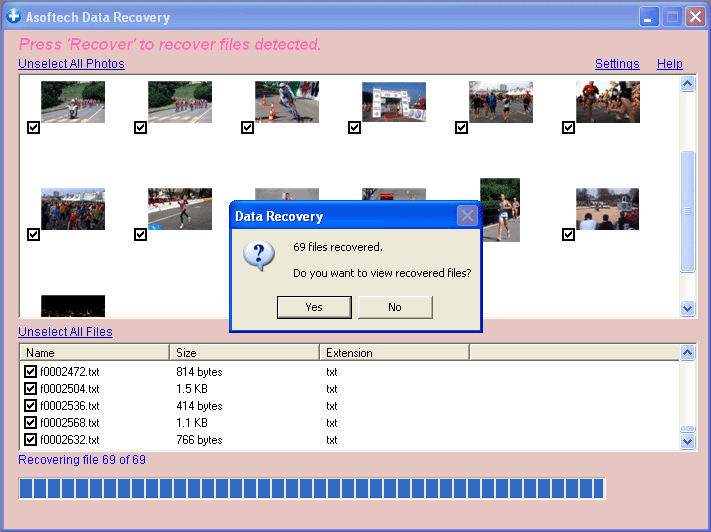 Download now NAS drive data recovery software and recover deleted photos, videos, documents, and other files



Other popular data recovery tutorials:

Recover lost files from hard disk

External hard drive recovery solution

Recycle bin deleted files recovery
You can recover your deleted files worldwild as you can do it by yourself on your computer. So you do not need to go to data recovery centres, looking for data recovery services from specialists. You can performa data recovery and photo recovery worldwide, including countries Japan, USA, UK, Canada, Australia, New Zealand, India, Pakistan, Nigeria, Philippines, Germany, Bangladesh, Egypt, France, Italy, Thailand, Netherlands, Nepal, South Africa, Poland, Turkey, Iraq, Spain, Sweden, Kenya, Cameroon, Malaysia, Russia, Belgium, Israel, Austria, long island, Romania, Zimbabwe, Greece, Sierra Leone, Mexico, Denmark, Switzerland, Morocco, Norway, Ireland, Singapore, Ghana, Tanzania, Finland, Portugal, Liberia, Jordan, Algeria, Jamaica, Guinea, Uganda, Hong Kong, Czech Republic, Argentina, Yemen, Croatia, in cities such as chennai, bangalore, toronto, mississauga, delhi, kolkata, mumbai, pune, dubai, london, nottingham, hyderabad, Sheffield, Croydon, Barking, Bristol, Manchester, Watford, Luton, Dartford, Gatwick, Reading, Norwich, Chelmsford, Newhaven, Northampton, Southampton, Nottingham, Derby, Abingdon, Gloucester, Bury St Edmunds, Exeter, Los Angeles, Melbourne, Chicago, Houston, Perth, Philadelphia, Phoenix, San Francisco, Detroit, San Jose, Dallas, kenya, birmingham, finchley, vancouver, canada, montreal, ottawa, calgary, winnipeg, Australia, sydney, melboune, brisbane, auckland, hamilton, waikato, Atlanta, Boston, Riverside, Seattle, Minneapolis, Tampa, St. Louis, Baltimore, San Antonio, Delaware, Denver, Charlotte, Pittsburgh, Portland, West Midlands, Greater Bristol, Cardiff, Greater Glasgow, West Yorkshire, Bradford, Leeds, Liverpool, Greater Manchester, Nottingham-Derby, Portsmouth-Southampton, South Yorkshire (Sheffield), Newcastle-Sunderland, Paris, Randstad, Istanbul, Moscow, Saint Petersburg, Berlin, Madrid, Rome, Kiev, Bucharest, Minsk, Vienna, Hamburg, Budapest, Warsaw, Barcelona, Kharkiv, Munich, Milan, and states Alabama, Alaska, Arizona, Arkansas, California, Colorado, Connecticut, San Diego, Miami, Florida, Georgia, Hawaii, Idaho, Illinois, Indiana, Iowa, Kansas, Kentucky, Louisiana, Maine, Maryland, Massachusetts, Michigan, Minnesota, Mississippi, Missouri, Montana, Nebraska, Nevada, New Hampshire, New Jersey, New Mexico, New York, North Carolina, North Dakota, Ohio, Oklahoma, Oregon, Pennsylvania, Rhode Island, South Carolina, South Dakota, Tennessee, Texas, Utah, Vermont, Virginia, Washington, West Virginia, Wisconsin, Wyoming.