home >> Data Recovery >> How can I Recover deleted or formatted photos from cellphone

How can you Recover deleted or formatted photos from cellphone

handphone photo recovery software to recover deleted photos from mobile phone
Most modern cell phones enables photo taking and video shooting. Without carrying a digital camera, we can use our handphone to record what is happening outside and shoot nice images. However, most of the time, we do not frequently backup those photos and videos from handphone. When mistakes like accidentally format the smartphone and lost photos on the phone, or memory card error happens, photos and videos on the handphone will be deleted.
Questions like below are asked again and again on Internet.

I deleted photos on my mobile phone, how to recover deleted photos?

My handphone SD card turns into RAW format, how can I restore photos on the cellphone memory card?

The good news is that those deleted pictures can be possibly recovered from mobile phone if you follow the correct steps. Read on for how to recover lost photos from handphone.
Why handphone photo recovery is possible
when photos are deleted from mobile phone, the image data for picture files is still kep on the mobile phone. The mobile system only goes to file table and delete those picture file entries.
So a good mobile phone photo recovery software is able to scan the handphone and look for those data and collect them and form them into photo files. Asoftech photo recovery is such a handphone photo recovery tool which provides an easy to follow user interface so handphone photo recovery turns into an easy job.

Download mobile photo recovery software
How can I recover deleted photos from mobile phone
First of all, stop using the cell phone when you realized that your photos are deleted. This will ensure that no new data will be written to handphone and hence increase the chance of cellphone photo recovery.
Next, connect the mobile phone to computer. You should enable USB mass storage mode. Then in computer, make sure that the handphone shows as a drive letter (e.g. E:). If not, you will need to remove the memory card (SD card, xD card, CF card, etc) from handphone and then connect the memory card to computer with a card reader either on your computer, or an external USB card reader.
To recover files from android phone (samsung galaxy, LG Optimus G, HTC one, etc) internal memory, you may follow this guide: android phone internal memory data recovery

If you have iPhone, you may follow this guide: recover photos from iPhone
Lastly, run mobile recovery tool Asoftech photo recovery software and then select mobile phone memory card drive letter, and then press 'Start' button to scan the mobile phone and recover lost mobile photos.
Now, get a data recovery program. I did some google search and got Asoftech Data Recovery. It is a powerful mobile data recovery software which can be used to recover lost, deleted, corrupted or formatted data including pictures, videos, documents, music and other files.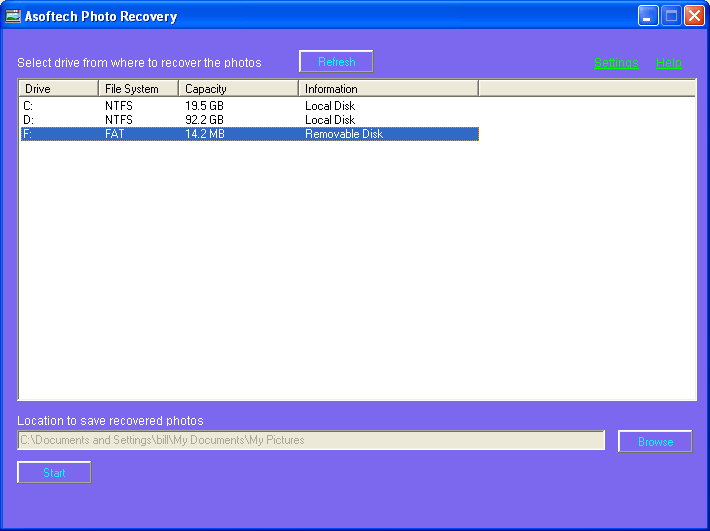 Download Mobile Phone Photo Recovery Tool Asoftech Photo Recovery and recover lost photos from handphone