home >> daten wiederherstellen >> Wiederherstellen von Dateien nach dem externen Formatieren der Festplatte

Wiederherstellen von Daten von formatierten externen Festplatten

Wiederherstellen gelöschter Dateien von einer formatierten externen Festplatte
Verlorene Dateien nach der Neuformatierung der Festplatte? Ich habe meine USB-Festplatte schnell formatiert und alle Dateien auf dem USB-Stick gelöscht. Benötigen Sie eine Wiederherstellungssoftware, um gelöschte Dateien von einer externen Festplatte wiederherzustellen?
Nun, der beste Weg, um gelöschte Dateien nach der Neuformatierung wiederherzustellen, ist die Verwendung einer Freeware zur Wiederherstellung von Formaten. Download-Format-Recovery-Software kostenlos von

Datenwiederherstellung nach Neuformatierung
Die Formatwiederherstellungssoftware unterstützt alle externen Festplatten, Speicherkarten, Speichersticks Pro, Duo, Pro Duo, Pro-HG, Micro (M2). Sie können Daten von allen Seagate-, Western Digital WD-, Samsung-, Hitachi-, Lenovo-, Toshiba-, Transcend-, Duronic-, Apple-, LaCie-, Kingston-, Sandisk-, Duronic-externen Festplatten wie LaCie Little Big Disk Thunderbolt 2 und Apricorn Aegis Padlock DT wiederherstellen FIPS (4 TB), LaCie Fuel, Seagate Backup Plus Desktoplaufwerk (5 TB), Apricorn Aegis Vorhängeschloss SSD (480 GB), G-Technologie G-Speed Studio (24 TB), Monster Digital Overdrive Thunderbolt (1 TB), SanDisk Connect Wireless Media Drive (32 GB), Seagate Backup Plus Slim (2 TB), Western Digital My Passport Pro.
Das Format Recovery-Software kann alle gelöschten Bilder wiederherstellen jpg jpeg png gif tiff bmp rohe Bilddaten, Videos RMVB AVI MOV WMV FLV 3GP ASF MKV MPEG mpeg4 mp4 HD Videos Dateien, Musikdateien wav mp3 ac3 wma, Dokumentdaten Microsoft Office Word 2003, 2007, 2010, 2013 doc docx-Dateien, Excel-Dateien, PDF-Dateien, Powerpoint-Präsentation PPT-Dateien und andere Dateien und Ordner von der USB-Festplatte.
Schritte zum Wiederherstellen von formatierten Dateien von der externen Festplatte



Als erstes muss sichergestellt werden, dass keine neuen Dateien auf die formatierte externe Festplatte geschrieben werden. Denn sobald neue Daten den Speicherplatz gelöschter Dateien überschreiben, ist eine Wiederherstellung des externen Festplattenformats nicht möglich.

Schritt 1. Laden Sie die Format Recovery Software herunter und installieren Sie sie.

Die Datenrettungssoftware ist in der Lage, alle formatierten Dateien von USB-Laufwerk wiederherzustellen.
Schritt 2. Schließen Sie die USB-Festplatte an den Computer an. Starten Sie das Formatwiederherstellungsprogramm und wählen Sie das Wechseldatenträger aus, der formatiert ist. Drücken Sie "Weiter", um nach wiederherstellbaren Dateien zu suchen.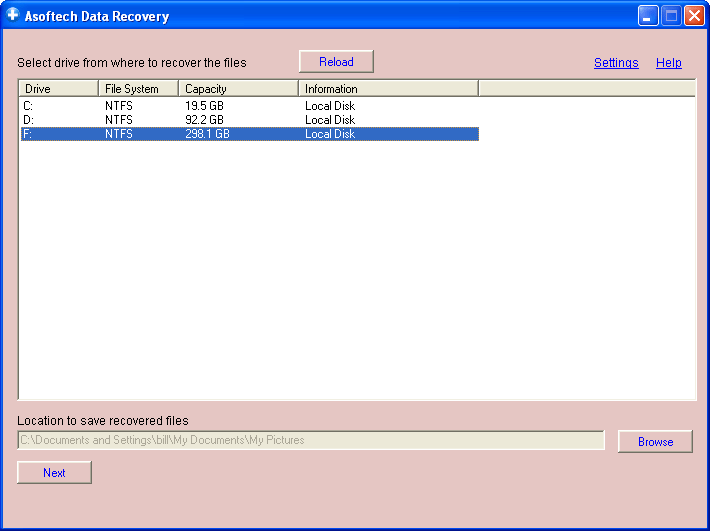 Schritt 3. Wählen Sie nach dem Scannen die Dateien aus, die wiederhergestellt werden sollen, und klicken Sie auf die Schaltfläche "Wiederherstellen", um die Dateien zu speichern.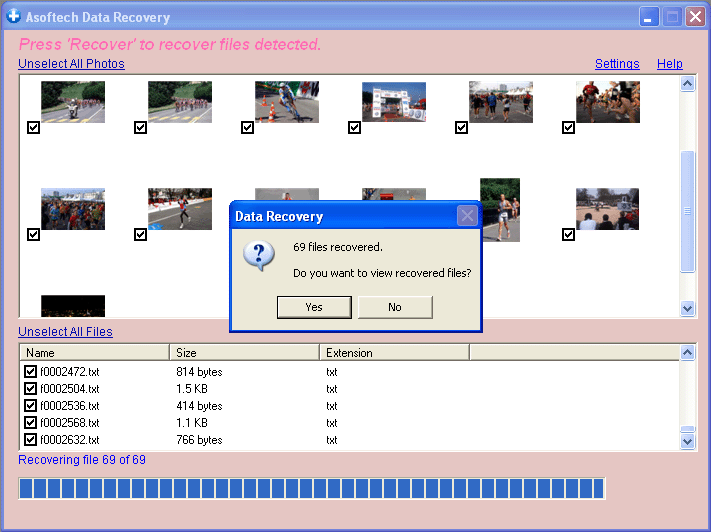 Laden Sie die Formatierungswiederherstellungssoftware für externe Festplatten herunter und rufen Sie formatierte Dateien von einer externen Festplatte ab:


You can recover your deleted files worldwild as you can do it by yourself on your computer. So you do not need to go to data recovery centres, looking for data recovery services from specialists. You can performa data recovery and photo recovery worldwide, including countries Japan, USA, UK, Canada, Australia, New Zealand, India, Pakistan, Nigeria, Philippines, Germany, Bangladesh, Egypt, France, Italy, Thailand, Netherlands, Nepal, South Africa, Poland, Turkey, Iraq, Spain, Sweden, Kenya, Cameroon, Malaysia, Russia, Belgium, Israel, Austria, long island, Romania, Zimbabwe, Greece, Sierra Leone, Mexico, Denmark, Switzerland, Morocco, Norway, Ireland, Singapore, Ghana, Tanzania, Finland, Portugal, Liberia, Jordan, Algeria, Jamaica, Guinea, Uganda, Hong Kong, Czech Republic, Argentina, Yemen, Croatia, in cities such as chennai, bangalore, toronto, mississauga, delhi, kolkata, mumbai, pune, dubai, london, nottingham, hyderabad, Sheffield, Croydon, Barking, Bristol, Manchester, Watford, Luton, Dartford, Gatwick, Reading, Norwich, Chelmsford, Newhaven, Northampton, Southampton, Nottingham, Derby, Abingdon, Gloucester, Bury St Edmunds, Exeter, Los Angeles, Melbourne, Chicago, Houston, Perth, Philadelphia, Phoenix, San Francisco, Detroit, San Jose, Dallas, kenya, birmingham, finchley, vancouver, canada, montreal, ottawa, calgary, winnipeg, Australia, sydney, melboune, brisbane, auckland, hamilton, waikato, Atlanta, Boston, Riverside, Seattle, Minneapolis, Tampa, St. Louis, Baltimore, San Antonio, Delaware, Denver, Charlotte, Pittsburgh, Portland, West Midlands, Greater Bristol, Cardiff, Greater Glasgow, West Yorkshire, Bradford, Leeds, Liverpool, Greater Manchester, Nottingham-Derby, Portsmouth-Southampton, South Yorkshire (Sheffield), Newcastle-Sunderland, Paris, Randstad, Istanbul, Moscow, Saint Petersburg, Berlin, Madrid, Rome, Kiev, Bucharest, Minsk, Vienna, Hamburg, Budapest, Warsaw, Barcelona, Kharkiv, Munich, Milan, and states Alabama, Alaska, Arizona, Arkansas, California, Colorado, Connecticut, San Diego, Miami, Florida, Georgia, Hawaii, Idaho, Illinois, Indiana, Iowa, Kansas, Kentucky, Louisiana, Maine, Maryland, Massachusetts, Michigan, Minnesota, Mississippi, Missouri, Montana, Nebraska, Nevada, New Hampshire, New Jersey, New Mexico, New York, North Carolina, North Dakota, Ohio, Oklahoma, Oregon, Pennsylvania, Rhode Island, South Carolina, South Dakota, Tennessee, Texas, Utah, Vermont, Virginia, Washington, West Virginia, Wisconsin, Wyoming.