Move mouse and click mouse automatically
Auto Mouse Mover and clicker Software to move mouse automatically and repeat mouse clicks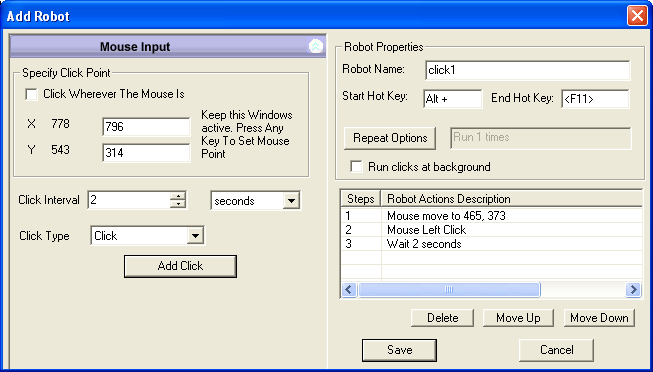 Asoftech Auto Clicker moves mouse automatically and clicks Left Mouse Button with Keyboard Shortcut. The auto mouse mover utility can be used to move cursor automatically so that you can prevent computer from logging off, going to standby, or hibernate.
Auto Mouse mover software can be sheduled to move your mouse at certain time that will keep your desktop or laptop screen active all the time without logging off the computer. No need to install/buy any other hardware device to provide continuous mouse input to your computer. Asoftech Auto clicker moves your mouse on all Windows system, including Windows 10, Windows 8, Windows 7, Windows Vista, Windows XP, Windows 2000.
Download Free Auto Mouse Mover and let the program to move mouse automatically.
Download Link 1 | Download Link 2
---
Key Features
Moves mouse among sever screen postions, or have relative moves, to keep desktop screen active
Various click types supported: left click, right click, double click, click-hold, mouse up
Full control of delay or interval between mouse moves, clicks
Drag and drop are supported*
Schedule mouse move and click to start at a pre-defined time.
Multiple clicks and moves enabled
*For drag, or drag and drop, first add 'click-hold' at drag point, then add 'release' at target, or drop point.

Awards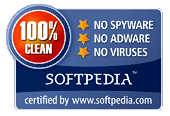 Get Auto Clicker Asoftech With Only $14.95 Now

Auto Clicker Asoftech's usual price is $29.95, now it is selling at a promotion price of $14.95. Grab your piece before this offer ends.
Your subscription includes:
Full version of Auto Clicker Asoftech

1 year free tech support

30 day money back guarantee




Buy Now and Automate Mouse moves and Clicks

Limited Offer !
Usual Price $29.95
Special Promotion Price
$14.95
Save 50% Today!


How to use Auto Clicker Asoftech
Download and install Auto Clicker Asoftech
Launch Auto Clicker with Shortcut on Desktop or from Programs Menu.
Auto Clicker main window shows a list of robots (a robot is one click or series of clicks).
Click 'Add Robot' to add a mouver move, click, or a series of moves and clicks
In 'Add Robot' dialog, you can specify the position, interval and type of clicks, start and stop keyboard shotcuts.
Click 'Save' to save robot. Now you can press start keyboard shotcuts to start the clicks.

more help