home >> Photo Recovery >> Recover photos from Sony memory stick


Sony Memory Stick Photo Recovery

Retrieve deleted pictures from sony memory stick
Deleted photos from Sony memory stick Pro, Duo, Pro Duo, Pro-HG, Micro(M2), XC, MMC flash memory card, usb flash drive, pen drive, and other usb removable device? Do not worry, you can recover deleted photos from Sony memory stick with Sony memory stick photo recovery software. How to get back lost photos after Sony memory stick reformat?
There are many reasons which may cause photos to be deleted from Sony memory stick:
- Sony memory stick is corrupted, damaged, and photos were lost.
- Sony memory stick is not detected by digital camera/camcorder/mobile phone/computer desktop/laptop computer.
- Sony memory stick shows not formatted error and inaccessible.
You can download Sony photo recovery tool to recover lost deleted formatted pics, support jpeg recovery, png recovery, gif recovery, bmp recovery, tiff recovery, and raw photo recovery from Sony memory card and memory stick in windows 10/8/7/vista/XP/2000.
Sony memory stick photo recovery program supports all Sony Memory Stick™ selection – the Memory Stick PRO-HG Duo™, Memory Stick PRO Duo™, Memory Stick Duo™ and Memory Stick Micro™ in Cyber-shot cameras, VAIO laptops, PSP, or Sony Ericsson mobile phones. Storage supported: Memory Stick PRO-HG Duo™ MS-HX32B MS-HX16B MS-HX8B, Memory Stick PRO Duo™ MS-MT4G MS-MT2G, Memory Stick Micro™ (Mark2) MS-M16 MS-M8 MS-M4, SDHC Memory Card UHS-I SF-16UY SF-8UY SF-32UY, SD/SDHC Memory Card Class 4 SF-32N4 SF-16N4 SF-8N4 SF-4N4 SF-2N1, microSD/microSDHC Memory Card SR-16A4 SR-8A4 SR-8N4 SR-4A4 SR-4N4 SR-2N1, microSD/microSDHC Memory Card UHS I Class 10 SR-32UYA SR-16UYA SR-8UYA, QD-H32, QD-H16, MS-HX32A, MS-HX16A, MS-HX8A, MS-HX32G, MS-HX16G, MS-HX8G, MS-MT32G, MS-MT16G, MS-MT8G, MSX-M8GS, MSX-M4GS, MSX-M2GS, MSX-M1GST, MSX-M512S, MS-A16GU2, MS-A8GN, MS-A4GN, MS-A2GN, MS-A2GW, MS-A2GU, MS-A1GN, MS-A1GW, MS-A512W, MS-A256W, SF-32NX, SF-16NX, SF-8NX, SR-8A4, SR-4A4, SR-2A1, USB storage media USM32SA1/B USM16SA1/B USM8SA1/B USM-32W/B USM-16W/B USM-8W/B USM128GQX/B USM64GQX/B USM32GQX/B USM16GQX/B USM8GQX/B USM128GU/B USM64GU/B USM32GU/B USM16GU/P USM8GU/L USM32GM/W USM16GM/G USM8GM/P USM4GM/B USM64GR/B USM32GR/B USM16GR/B USM8GR/B USM4GR/B USM64GQ/S USM32GQ/S USM16GQ/S USM8GQ/S USM64GP/B USM32GP/B USM16GP/B USM8GP/L USM4GP/L USM32GL USM16GL USM8GL USM4GL USM16GLX USM8GLX USM4GLX USM4GH USM2GH USM1GH USM4GJX USM2GJX USM1GJX USM4GN USM8GN USM16GN USM8GJ USM4GJ USM2GJ USM1GJ, Personal Content Station LLS-201, Portable Wireless Server WG-C20 WG-C10, external hard drive HD-SG5/B HD-E2/L HD-E1/B HD-EG5/B. Support all storage size from 1GB, 2GB, 4GB, 16GB, 32GB, 64GB, 128GB, 256GB, 500GB, 1TB, 2TB.
When photos are erased or formatted from memory stick, one important tip is to not use the memory stick so that no new files will be saved to the memory stic. This will increase the chances of Sony memory stick photo recovery.
How to restore lost/deleted/formatted photos on Sony memory stick
Step 1. Connect Sony memory stick to computer. Then in Computer, check the drive letter (e.g. drive E: ) assigned to Sony memory stick.
Step 2. Run Sony memory stick photo recovery software, and then in the photo recovery program, select the drive letter of Sony memory stick, then press "Start" to start scanning for lost photos.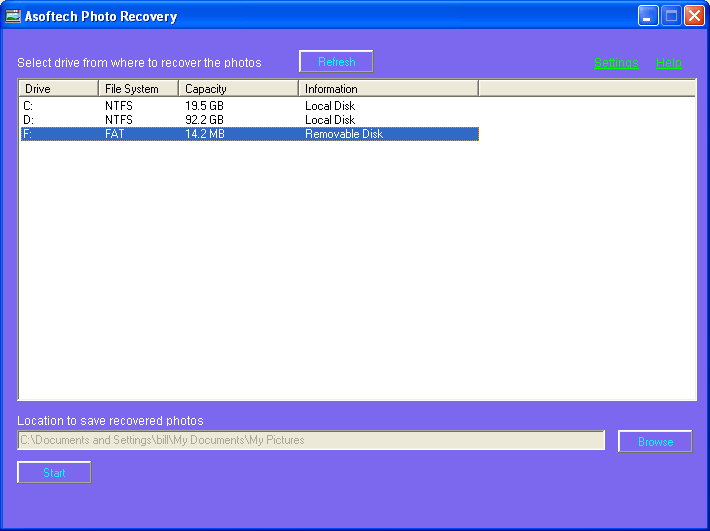 Step 3. You will see a list of deleted photos. Select those you want to recover and press "Recover" button to save them.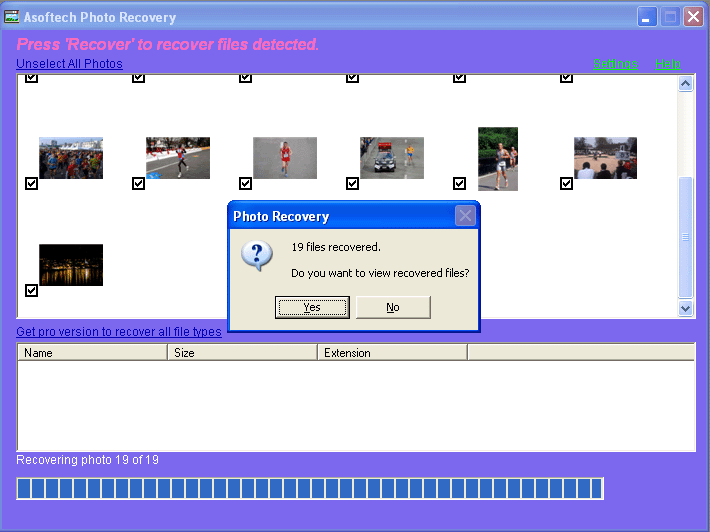 Download Sony Memory Stick Photo Recovery and recover deleted photos from Sony usb flash drive.



You can recover your deleted files worldwild as you can do it by yourself on your computer. So you do not need to go to data recovery centres, looking for data recovery services from specialists. You can performa data recovery and photo recovery worldwide, including countries Japan, USA, UK, Canada, Australia, New Zealand, India, Pakistan, Nigeria, Philippines, Germany, Bangladesh, Egypt, France, Italy, Thailand, Netherlands, Nepal, South Africa, Poland, Turkey, Iraq, Spain, Sweden, Kenya, Cameroon, Malaysia, Russia, Belgium, Israel, Austria, long island, Romania, Zimbabwe, Greece, Sierra Leone, Mexico, Denmark, Switzerland, Morocco, Norway, Ireland, Singapore, Ghana, Tanzania, Finland, Portugal, Liberia, Jordan, Algeria, Jamaica, Guinea, Uganda, Hong Kong, Czech Republic, Argentina, Yemen, Croatia, in cities such as chennai, bangalore, toronto, mississauga, delhi, kolkata, mumbai, pune, dubai, london, nottingham, hyderabad, Sheffield, Croydon, Barking, Bristol, Manchester, Watford, Luton, Dartford, Gatwick, Reading, Norwich, Chelmsford, Newhaven, Northampton, Southampton, Nottingham, Derby, Abingdon, Gloucester, Bury St Edmunds, Exeter, Los Angeles, Melbourne, Chicago, Houston, Perth, Philadelphia, Phoenix, San Francisco, Detroit, San Jose, Dallas, kenya, birmingham, finchley, vancouver, canada, montreal, ottawa, calgary, winnipeg, Australia, sydney, melboune, brisbane, auckland, hamilton, waikato, Atlanta, Boston, Riverside, Seattle, Minneapolis, Tampa, St. Louis, Baltimore, San Antonio, Delaware, Denver, Charlotte, Pittsburgh, Portland, West Midlands, Greater Bristol, Cardiff, Greater Glasgow, West Yorkshire, Bradford, Leeds, Liverpool, Greater Manchester, Nottingham-Derby, Portsmouth-Southampton, South Yorkshire (Sheffield), Newcastle-Sunderland, Paris, Randstad, Istanbul, Moscow, Saint Petersburg, Berlin, Madrid, Rome, Kiev, Bucharest, Minsk, Vienna, Hamburg, Budapest, Warsaw, Barcelona, Kharkiv, Munich, Milan, and states Alabama, Alaska, Arizona, Arkansas, California, Colorado, Connecticut, San Diego, Miami, Florida, Georgia, Hawaii, Idaho, Illinois, Indiana, Iowa, Kansas, Kentucky, Louisiana, Maine, Maryland, Massachusetts, Michigan, Minnesota, Mississippi, Missouri, Montana, Nebraska, Nevada, New Hampshire, New Jersey, New Mexico, New York, North Carolina, North Dakota, Ohio, Oklahoma, Oregon, Pennsylvania, Rhode Island, South Carolina, South Dakota, Tennessee, Texas, Utah, Vermont, Virginia, Washington, West Virginia, Wisconsin, Wyoming.