home >> Data Recovery >> Shift Delete File Recovery


Restore shift deleted files and folders from computer hard drive, pen drive, memory card, usb flash drive

How to recover shift deleted photos video files n folders - File Recovery after Shift Delete
A good way to recover deleted files and folders without going to recycle bin is to use shift-delete. However, you may regret immediately after shift delete. How can I recover photos videos music files, office documents such as Microsoft Word docx files, Powerpoint Presentation ppt files, Microsoft Excel files, pdf, and folders, that I deleted using Shift Deleted from windows desktop computer, pen drive, usb flash memory, external hard drive and memory card.
When files are deleted with "Shift + Delete" keys, the files are not moved to recycle bin, so you are not able to restore them from recycle bin. So how to retrieve back shift deleted photos videos and other files? You will need to download a shift delete file recovery software. Download this data recovery program from



The shift delete recovery program supports photo recovery, video recovery, and other file recovery from windows 8, windows 7, windows Vista, Windows XP.
Data Recovery and Folder Recovery after Shift Delete
To increaset the chance of file recovery after shift delete, you need to stop using the storage where files were saved before delete. If you recover shift deleted files from windows PC hard disk, then stop using the computer. Likewise for memory stick, pen drive, external hard drive, etc, do not save more data to the external storage before you get back lost data.
This is because that new data may use the space of deleted files, which will make them unrecoverable.
If you recover files from computer hard drive, you'd better use another computer to download the data recovery program, and then use a flash drive (or any other external drive) to transfer the installer file adr.exe to the computer. Install the Data Recovery program.
If you recover shift deleted data from external device like memory card, pen drive, flash card, usb drive, you can download and install the data recovery program to computer, and then connect the device to compuer.
Step 1. Run the data recovery program, and then select the device where files were saved before delete (e.g. computer hard drive or external device), then hit "Next" to scan for lost files.
Step 2. Lost files will be shown in result page. Select files you want to recover and hit "Recover" to save recovered files.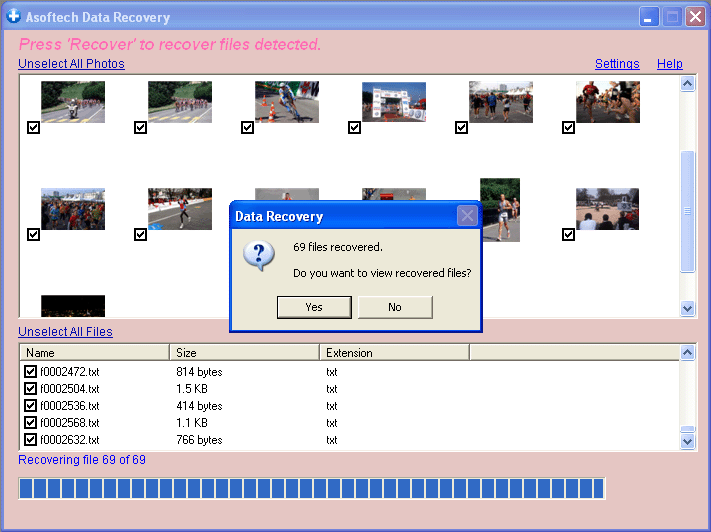 Download Data Recovery software and recover lost files after system restore now