home >> Data Recovery Software >> SanDisk Data Recovery and Photo Recovery

SanDisk Data Recovery and Photo Recovery Software to recover deleted formatted files

How to recover deleted photos videos from SanDisk Memory Card
As a leader in SD memory card market, SanDisk memory cards have been widely used in USB pen drive, digital cameras, mobile phones, camcorders. However, problems like data loss and requests to peform SanDisk photo video recovery appears often on Internet.
How to perform SanDisk photo recovery on my SanDisk Ultra SDHC Memory Cards? I accidentally deleted photos on my SanDisk Micro SDHC 32GB memory card, how to restore deleted photos on my SanDisk SD card? I formatted my SanDisk Cruzer USB Flash Drive and lost all photos and videos, Microsoft Word docx files, Powerpoint Presentation ppt files, Microsoft Excel files, pdf, document files and folders on the SanDisk Compact Flash card, is there any way to unformat the SanDisk CF card and get back deleted photos from my SanDisk CF card? My SanDisk Sansa clip shows memory card error and asks me to format the SD card when I connect the Sd card to computer, but I do not want to lose music and video files on the SD card, is there any way to perform SandDisk Data Recovery before I format the SanDisk memory card? I need to retrieve photos from my SanDisk Ultra CompactFlash Memory Card. The list goes on and on...
So in this article, we will talk about how to retrieve deleted formatted photos videos from SandDisk memory card.
Can I recover lost photos video files from SandDisk memory cards?
The first question is: is it possible to recover deleted files from SanDisk SDHC memory cards?
Let's look at how files are stored on SandDisk memory card first. When a file is saved to SanDisk memory card, file physical data will be recorded to SanDisk Card (same for SD card, xD Card, CF card, or SDHC card, etc), at the same time, an entry will be added to file table which records entry address of each file.
When a file be photo or video is deleted, or when a SanDisk MicroSDHC card is formatted, or memory card error happens, does the physical data of the file been erased? The answer is No. Only the file table is modified. Since file's physical data is still there, it is possible to recover the deleted files from SanDisk memory card.
But, take note that system may reuse the space of deleted files for new files. Once deleted file's space is used to write another file, the data is destroied. This make it very important to not use the SanDisk Micro SDHC card after files are deleted, or reformat, or card error happens.
How to Recover Deleted photo video Files on SanDisk SDHC memory Card
As we are not able to read binary data bit by bit, we need some profession SanDisk Data Recovery Software. You can use Asoftech Data Recovery Software, it is compatible with Windows 10/8/7/Vista/XP and is specially designed to recover deleted formatted files on SanDisk memory cards. It supports SanDisk microSDHC, microSDXC Memory Cards UHS-I, SanDisk Ultra SDXC Cards, SanDisk Ultra SDHC Card.,SanDisk Ultra Memory Stick PRO-HG Duo, SanDisk Extreme, SDHC Cards, SanDisk Standard Memory Stick PRO Duo, SanDisk Extreme HD Video SDHC Cards, SanDisk microSDHC Memory Cards, Sandisk Memory Stick Micro (M2) Memory Cards, SanDisk Mobile Ultra microSDHC, Ultra Dual USB drive, SanDisk microSD Memory Cards, SanDisk Netbook SDHC Memory Card, SanDisk Memory Stick Micro M2, SanDisk Extreme Pro CompactFlash Card, SanDisk Extreme CompactFlash Card, SanDisk Solid State Drive, SanDisk Ultra Backup USB Flash Drive, SanDisk Cruzer Blade USB flash drive, SanDisk Sansa Fuze+ MP3 Player, SanDisk Sansa Clip+ MP3 Players, SanDisk Sansa Fuze MP3 Player, Ultra Fit, Cruzer U, Curzer Force, Orbit, Pop, Facet, Switch, Edge, Blade, Glide etc. Support both USB 2.0 and USB 3.0 flash drive memory cards in XBOX One, 360, android phones, digital cameras, mobile smartphone, portable device, etc.

Download SanDisk Data Recover Program
If you only need to recover deleted formatted photos from SanDisk memory card, you can download SanDisk Photo Recovery Software from link below

Download SanDisk Photo Recovery Program
Step by Step guide to perform deleted SanDisk files recovery
Step1. Connect SanDisk memory card to computer. Then in Computer, check the drive letter (e.g. drive E: ) assigned to the SanDisk SD Card.
Step 2. Run SanDisk data recovery software or SanDisk photo recovery software, and then in the SanDisk Recovery Software, select the drive letter represent the SanDisk Card, then press "Next" to start scanning for deleted photo video files.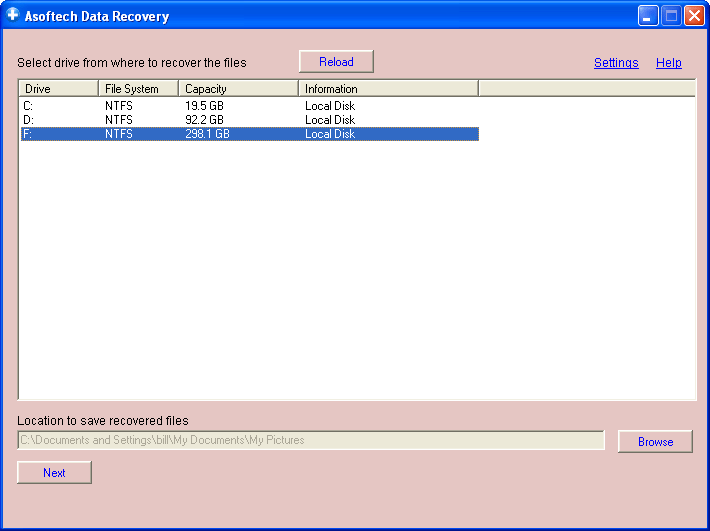 Step 3. You will see a list of photo video files. Select those you want to recover and press "Recover" button to save files on computer.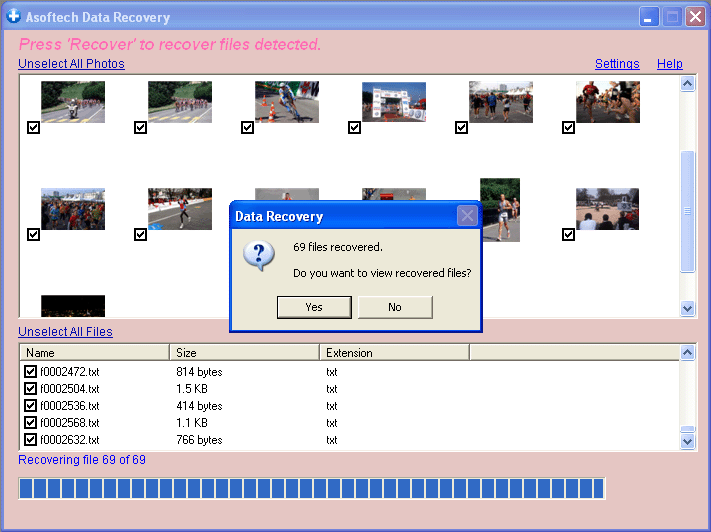 Download SanDisk Memory Card Recovery software and recover deleted photos videos music files and documents now



You can recover your deleted files worldwild as you can do it by yourself on your computer. So you do not need to go to data recovery centres, looking for data recovery services from specialists. You can performa data recovery and photo recovery worldwide, including countries Japan, USA, UK, Canada, Australia, New Zealand, India, Pakistan, Nigeria, Philippines, Germany, Bangladesh, Egypt, France, Italy, Thailand, Netherlands, Nepal, South Africa, Poland, Turkey, Iraq, Spain, Sweden, Kenya, Cameroon, Malaysia, Russia, Belgium, Israel, Austria, long island, Romania, Zimbabwe, Greece, Sierra Leone, Mexico, Denmark, Switzerland, Morocco, Norway, Ireland, Singapore, Ghana, Tanzania, Finland, Portugal, Liberia, Jordan, Algeria, Jamaica, Guinea, Uganda, Hong Kong, Czech Republic, Argentina, Yemen, Croatia, in cities such as chennai, bangalore, toronto, mississauga, delhi, kolkata, mumbai, pune, dubai, london, nottingham, hyderabad, Sheffield, Croydon, Barking, Bristol, Manchester, Watford, Luton, Dartford, Gatwick, Reading, Norwich, Chelmsford, Newhaven, Northampton, Southampton, Nottingham, Derby, Abingdon, Gloucester, Bury St Edmunds, Exeter, Los Angeles, Melbourne, Chicago, Houston, Perth, Philadelphia, Phoenix, San Francisco, Detroit, San Jose, Dallas, kenya, birmingham, finchley, vancouver, canada, montreal, ottawa, calgary, winnipeg, Australia, sydney, melboune, brisbane, auckland, hamilton, waikato, Atlanta, Boston, Riverside, Seattle, Minneapolis, Tampa, St. Louis, Baltimore, San Antonio, Delaware, Denver, Charlotte, Pittsburgh, Portland, West Midlands, Greater Bristol, Cardiff, Greater Glasgow, West Yorkshire, Bradford, Leeds, Liverpool, Greater Manchester, Nottingham-Derby, Portsmouth-Southampton, South Yorkshire (Sheffield), Newcastle-Sunderland, Paris, Randstad, Istanbul, Moscow, Saint Petersburg, Berlin, Madrid, Rome, Kiev, Bucharest, Minsk, Vienna, Hamburg, Budapest, Warsaw, Barcelona, Kharkiv, Munich, Milan, and states Alabama, Alaska, Arizona, Arkansas, California, Colorado, Connecticut, San Diego, Miami, Florida, Georgia, Hawaii, Idaho, Illinois, Indiana, Iowa, Kansas, Kentucky, Louisiana, Maine, Maryland, Massachusetts, Michigan, Minnesota, Mississippi, Missouri, Montana, Nebraska, Nevada, New Hampshire, New Jersey, New Mexico, New York, North Carolina, North Dakota, Ohio, Oklahoma, Oregon, Pennsylvania, Rhode Island, South Carolina, South Dakota, Tennessee, Texas, Utah, Vermont, Virginia, Washington, West Virginia, Wisconsin, Wyoming.