home >> Data Recovery >> Digital Camera Photo Recovery Software to Recover Deleted photos from Canon Camera

Digital Camera Photo Recovery Software to Recover Deleted photos from Canon Camera

How to Recover deleted formatted Photos from Canon EOS and Powershot Digital Camera
Canon digital cameras are very popular among photographers as well as normal digital camera home users like you and me. Their popular Canon Powershot series and Canon EOS series digital cameras has been the most popular cameras in the market.
If you own a canon digital camera and took a lot of photos with the digital camera, you must have experience the situation where you deleted the wrong photos by mistake and want to recover deleted photos from canon digital camera, or you may format the canon camera memory card which lost all the photos, and look for canon photo recovery solution, or memory card error happens before you transfer photos from digital camera to computer. So how to retrieve deleted photos from canon digital camera?
Canon camera photo recovery software
When you deleted photos from canon digital camera, first thing you need to remember is to stop using the canon camera immediately. Take out the memory card from canon camera and put it at a safe place so that later you can use the memory card to recover delelted photos.
You will then need a canon digital camera photo recovery software which can be used to recover deleted, formatted photos from canon digital cameras including Canon PowerShot SX120 IS and PowerShot SX200 IS. Asoftech Photo Recovery has been the best Canon camera photo recovery tool which can recover lost, deleted or formatted canon photos. It supports different photo formats and works well for all canon digital cameras including latest Canon IXUS 140, Canon IXUS 132, as well as popular Canon PowerShot D10, PowerShot G1/SX30/SX150/A1200, EOS 50D/60D/5D/7D/Rebel T3/Rebel T3i, IXUS 220/230/1100.
Download digital camera photo recovery software



So a good mobile phone photo recovery software is able to scan the handphone and look for those data and collect them and form them into photo files. Asoftech photo recovery is such a handphone photo recovery tool which provides an easy to follow user interface so handphone photo recovery turns into an easy job.

Download mobile photo recovery software
How to recover deleted photos from canon digital camera
Step 1. Connect Canon digital camera memory card to computer with a card reader, and then check the drive letter (e.g. E:) assigned to Canon camera in Computer.
Step 2. Run Asoftech Photo Recovery software, and then select Canon camera drive letter in Asoftech Photo Recovery, and then press "Start" to start scan the camera memory card.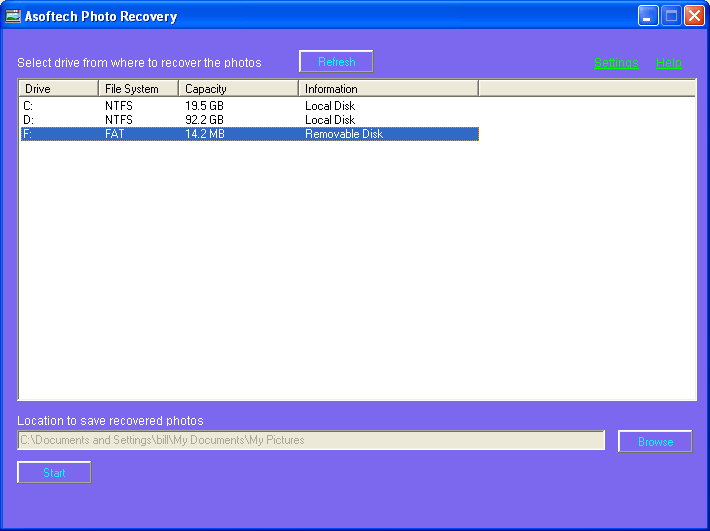 Step 3. You will see lost photos shown in result page. Select those you want to recover, and click "Recover" to save them.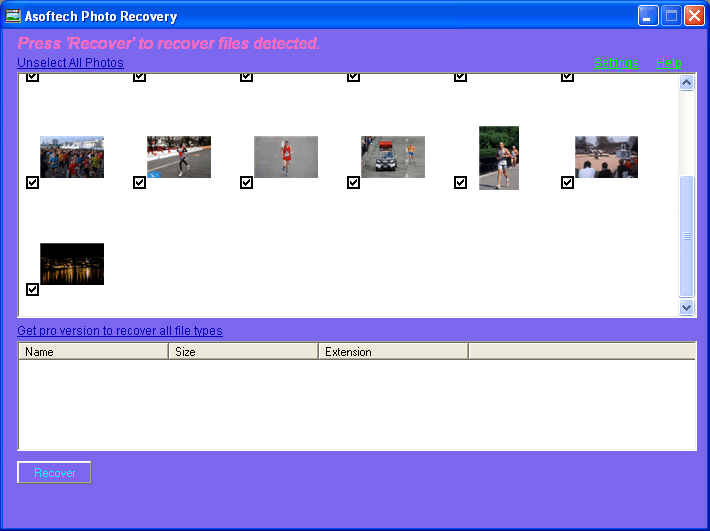 Download Asoftech photo recovery and recover deleted photos from Canon digital camera before it's too late.