home >> Data Recovery >> Canon Camera Data Recovery

Digital Camera Photo Recovery Software to Recover Deleted photos from Canon Camera

How to Recover deleted formatted Photos video files from Canon EOS and Powershot Digital Camera
Canon digital cameras are very popular among photographers as well as normal digital camera home users like you and me. Their popular Canon Powershot series and Canon EOS series digital cameras has been the most popular cameras in the market.
If you own a canon digital camera and took a lot of photos with the digital camera, you must have experience the situation where you deleted the wrong photos by mistake and want to recover deleted photos from canon digital camera, or you may format the canon camera Sandisk/Kingston/Toshiba/Samsung memory card which lost all the photos, and look for canon photo recovery solution, or memory card error happens before you transfer photos from digital camera to computer. So how to retrieve deleted photos from canon digital camera? How to undelete lost photos videos from canon digital camera memory card (SD Card, xD Card, CompactFlash CF Card, memory stick, MicroSD card, SDHC, MMC)? Well, you can restore deleted files from canon camera with canon data recovery software.
Canon camera photo recovery software
When you deleted photos from canon digital camera, first thing you need to remember is to stop using the canon camera immediately. Take out the memory card from canon camera and put it at a safe place so that later you can use the memory card to recover delelted photos.
You will then need a canon digital camera data recovery freeware which can be used to recover deleted formatted photos video media data from canon digital cameras including Canon PowerShot G7X, SX120 IS and PowerShot SX200 IS, A540. Asoftech Photo Recovery and data recovery program are best Canon camera recovery tool which support Canon Camera Photo Recovery, Video Recovery, and Media Recovery. The canon recovery software free can recover lost, deleted or formatted canon photos videos and other media files on all canon digital cameras including latest Canon EOS 1200D Kit,EOS M3 Kit, Canon IXUS 140, Canon IXUS 132, as well as popular PowerShot D10, PowerShot D30/N100/N2/G1/SX30/SX150/A1200, SX400/SX410 IS, SX520/SX530/SX600 HS, EOS 50D/60D/5D/7D/Rebel T3/Rebel T3i, IXUS 145/155/160/170/220/230/1100, 265 HS, 275 HS.
You can download and install free Canon card recovery software to scan Canon digital camera (both compact digital camera and DSLR camera) memory card SD Card, XD Card, CF card, SDHC, MicroSD card, SD mini, SDXC, to see whether lost photo video files are recoverable or lost forever. The Canon camera recovery tool can undelete pictures jpg jpeg png gif tif tiff bmp raw image data, videos RMVB AVI MOV WMV FLV 3GP ASF MKV MPEG mpeg4 mp4 HD videos files from Canon camera internal storage and memory card.
Canon digital camera photo recovery software Free Download



Canon Video file recovery software
Accidentally deleted video files from canon camera sd card? Or need to recover not only images, but also video and other media files from canon digital camera after format or deletion? You can use Canon data recovery software.

Download from: Canon File Recovery Software
Both Canon card recovery software support all Windows including Windows 8.1, Windows 10, Windows 8, Windows 7, Windows Vista, Windows XP, Windows 2000, etc. You can continue reading to find out how to perform Canon photo recovery, video recovery, raw recovery, format recovery.
How to recover deleted photos video files from canon digital camera
Step 1. Connect Canon digital camera memory card to computer with a card reader, and then check the drive letter (e.g. E:) assigned to Canon camera in Computer.
Step 2. Run Asoftech Photo Recovery software, and then select Canon camera drive letter in Asoftech Photo Recovery, and then press "Start" to start scan the camera memory card.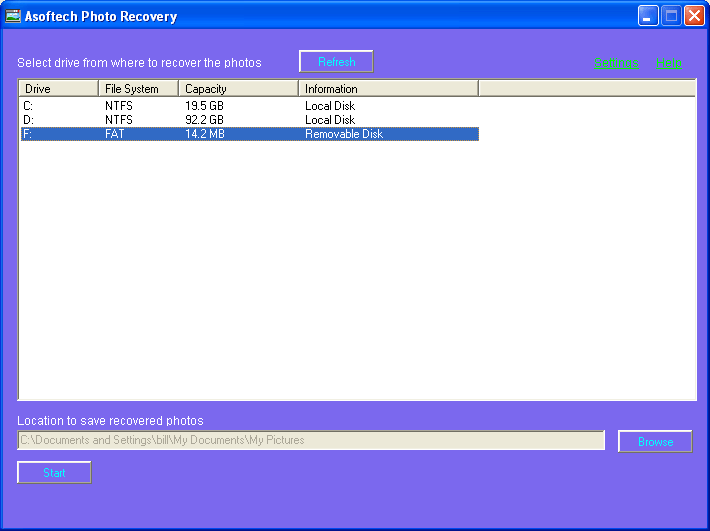 Step 3. You will see lost photos shown in result page. Select those you want to recover, and click "Recover" to save them.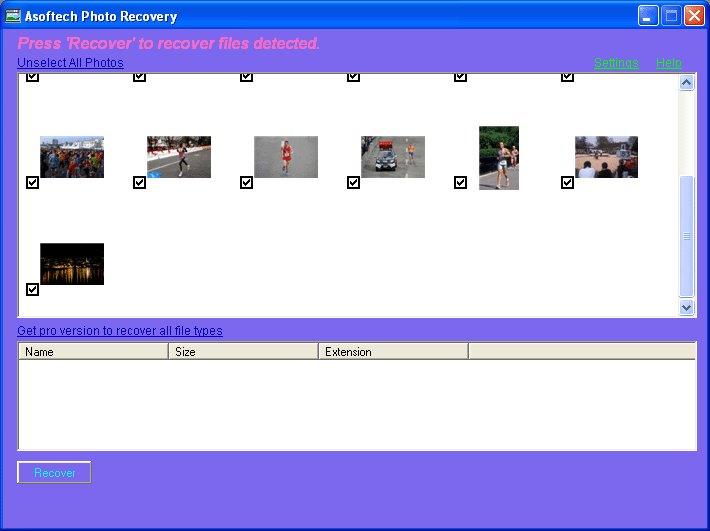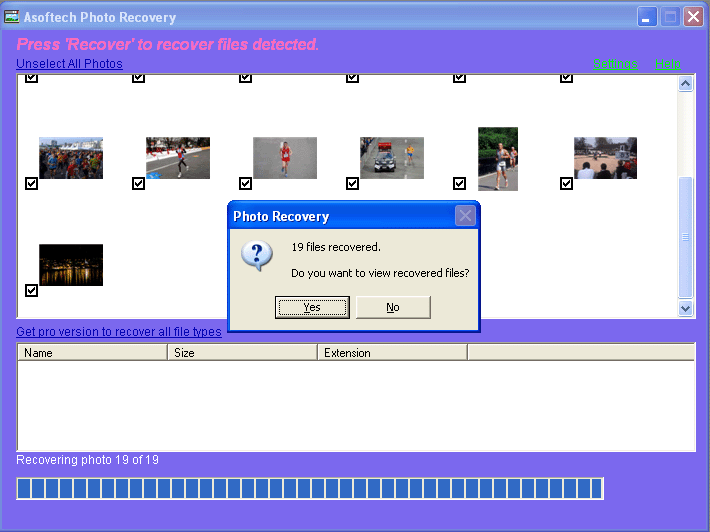 Download Asoftech photo recovery and recover deleted photos from Canon digital camera before it's too late.
Canon Photo Recovery Software and Canon File Recovery Software have been tested on following canon digital compact cameras, DSLR cameras, and digital camcorders:

EOS 1200D Kit (EF S18-55 IS II)
EOS 100D
EOS 100D Kit (EF S18-55 IS STM)
Canon EOS M3 Kit (EF-M18-55 IS STM)
Canon EOS M3 Kit II (EF-M18-55 IS STM & EF-M55-200 IS STM)
Canon Digital IXUS 132
Canon Digital IXUS 135
Canon Digital IXUS 140
Canon Digital IXUS 255 HS
Canon Digital IXUS 265 HS
Canon Digital IXUS 275 HS
Canon Digital IXUS 145
Canon Digital IXUS 155
Canon Digital IXUS 160
Canon Digital IXUS 170
Canon Powershot D30
Canon Powershot N100
Canon Powershot N2
Canon Powershot SX400 IS
Canon Powershot SX410 IS
Canon Powershot SX520 HS
Canon Powershot SX530 HS
Canon Powershot SX600 HS
Canon Powershot SX610 HS
Canon Powershot SX700 HS
Canon Powershot SX710 HS
Canon Powershot SX60 HS
Canon Powershot A2500
Canon Powershot A2600
Canon Powershot D20
Canon Powershot N
Canon Powershot SX160 IS
Canon Powershot SX170 IS
Canon Powershot SX240 HS
Canon Powershot SX260 HS
Canon Powershot SX270 HS
Canon Powershot SX280 HS
Canon Powershot SX500 IS
Canon Powershot SX510 HS
Canon Powershot SX50 HS
Canon Powershot S110
Canon Powershot S120
Canon Powershot S200
Canon Powershot G15
Canon Powershot G16
Canon Powershot G1 X
PowerShot G7 X
PowerShot G1X Mark II
PowerShot G16
Canon EOS 1100D Kit (EF S18-55 IS II)
Canon EOS 100D (Body)
EOS 100D Kit (EF S18-55 IS STM)
EOS 600D (Body)
EOS 600D Kit I (EF S18-55 IS II)
EOS 600D Kit II (EF S18-135IS)
EOS 600D Kit III (EF S18-55 IS II & EF S55-250 IS II)
EOS 650D (Body)
EOS 650D Kit (EF S18-55 IS II)
EOS 650D Kit II (EF S18-135 IS STM)
EOS 700D (Body)
EOS 700D Kit (EF S18-55 IS STM)
EOS 700D Kit II (EF S18-135 IS STM)
EOS M Kit (EF M18-55)
EOS M Kit II (EF M22 & adapter)
EOS M Kit III (EF M18-55, M22 & 90EX)
EOS 60D (Body)
EOS 60D Kit (EF S18-55 IS)
EOS 60D Kit II (EF S18-135 IS)
EOS 60D Kit III (EF S18-200 IS)
EOS 7D (Body)
EOS 70D (Body)
EOS 70D Kit (EF-S18-55 IS STM)
EOS 70D Kit II (EF-S18-135 IS STM)
EOS 70D Kit III (EF-S18-200 IS)
EOS 7D Kit I (EF S15-85IS)
EOS 7D Kit II (EF S18-135IS)
EOS 6D (Body)
EOS 6D Kit (EF 24-105mm f/4L IS USM)
EOS 6D Kit II (EF 24-70 f4L IS USM)
EOS 5D Mark III (Body)
EOS 5D Mark III Kit (EF 24-105 F4L IS USM)
EOS 5D Mark III Kit II (EF 24-70 f/4L IS USM)
EOS-1D X (Body)
Canon Digital camcorder LEGRIA HF R36
Canon Digital camcorder LEGRIA HF G25
Canon Digital camcorder LEGRIA HF G30
Canon Digital camcorder LEGRIA Mini
Canon EOS C100
Canon EOS C300
Canon EOS C500
Canon EOS-1D C
Canon Digital camcorder XA10
Canon Digital camcorder XA20
Canon Digital camcorder XA25
Canon Digital camcorder XF 100
Canon Digital camcorder XF 105
Canon Digital camcorder XH A1S
Canon Digital camcorder XL2
Canon Digital camcorder XL H1A
Canon Digital camcorder XF 200
Canon Digital camcorder XH G1S
Canon Digital camcorder XF 305
Canon Digital camcorder XL H1S
Canon EOS Digital Rebel XTi SLR
CANON EOS XTI 400D
canon legria hf200
Canon ixus 75
Canon powershot s5Is