home >> Data Recovery >> Recover data after System Restore

Windows data recovery software recovers lost files after system restore

How to recover data after Windows computer system restore
My Windows 7 laptop wont turn on so I pressed F11 and did a system recovery, now I can turn on my computer however all my pictures, movies, office documents and music files are gone. Anyone knows how to retrieve my files after system restore?
It's very often that computer problem happens and we have to reset our computer to factory settings, or did system restore and lost all files. So are we able to get back files after system restoer? If yes, what is the best way to recover data after computer factory reset.
Data Recovery after System Restore
When system restore to factory settings, it resets all programs and files to be facotry state. So your personal data saved later in programs may be erased. But don't worry, a good data recovery tool can scan the system and find out the deleted files during system restore. Recommended Asoftech data recovery as it is easy to use, and specially designed to work for data lost during system restore. Asofteh data recovery software uses read only operation so it will not causes any damage to Windows system while recovering lost files. The data recovery software supports latest Windows 8, and Windows 7, vista, XP. It works well for desktop computer and laptop computers.
Once you realized that you need to recover lost files incuding photos, videos, songs, documents such as Microsoft Word docx files, Powerpoint Presentation ppt files, Microsoft Excel files, pdf, and folders, try not use computer. Do not use the computer to browse Internet, do not install or uninstall any program on computer, do not open or close any program on computer. This is to prevent new files to be written to computer which may cause data overwritten, which will lower the chance of data recovery after system restore.
Now use another computer to download Asoftech data recovery software from link below

Download Data Recover Software
Steps to recover data after system restore
Use a flash drive (or any other external drive) to transfer the installer apr.exe file you downloaded above, to the computer which lost data after system restore. Install Asoftech Data Recovery program there, select external drive when you install the program.
If the computer is dead, you will have to take out the hard drive and connect the hard drive to another computer as an external hard drive. Then you can follow this external hard drive data recovery tutorial.
Step 1. Run asoftech data recovery program, and then select computer system hard drive, then hit "Next" to scan for lost files.
Step 2. List of lost files will be shown in result page. Select files you want to recover and hit "Recover" to recover those files.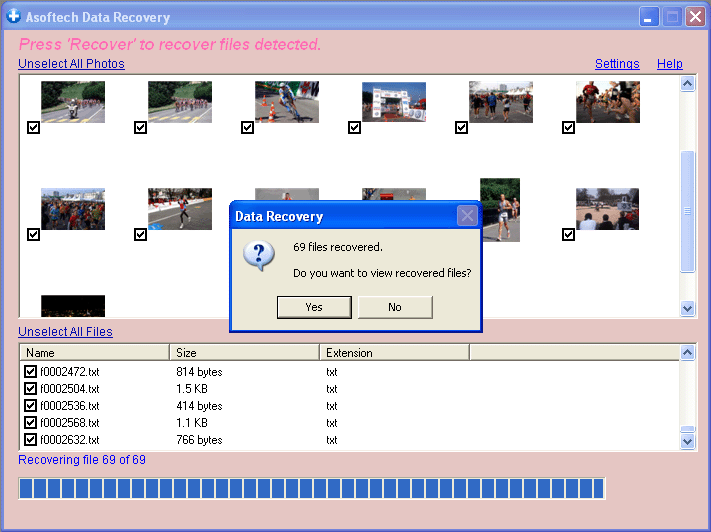 Download Data Recovery software and recover lost files after system restore now