home >> Data Recovery >> Recover deleted music files

Music Recovery for Windows computer/usb drive

Music recovery software free download
If you accidentally deleted music files WAV MP3 AMR WMA from Windows laptop/desktop computer, Windows 8.1/8/7/Vista/XP/10 recycle bin, removable drive and external storage such as memory card, sd card, microsd card, sdhc, sdxc, sd mini, microsdhc, microsdxc, pen drive, memory stick, usb flash drive, external hard disk, thumb drive, keychain, usb key, hard disk, SSD, android phones/tablet devices, Windows phones, mobile phones, PSP, XBox, GoPro, do not worry, because it is possible to recover deleted songs and audio files with music recovery software.
Deleted or formatted musics are not erased from hard drive and removable storage. They are still recoverable if no new files overwrite the space of deleted files. The best way to retrieve back missing audio files on Windows computer, usb flash drive, computer hard drive memory card, and other removable drive, is to use a audio recovery freeware.
Download music recovery software for free from link below:

Deleted music recovery software
The song recovery software can not only undelete erased music files, but also lost song data after hard disk and usb drive reformat, virus infection, memory corruption, etc. The music recovery tool can recover wiped songs from PC hard disk, usb 2.0/3.0 devices and other usb drive. The music recovery program can recover deleted files from all memory storage include computer internal hard disk, external hard drive, usb key, memory card, SD card, MicroSD card, xD card, compact flash CF card, memory stick Pro, Duo, Pro Duo, Pro-HG, Micro(M2), XC, SD card, MicroSD, SDHC, SDXC, MicroSDHC, MicroSDXC, compact flash CF card, MMC flash memory card,SanDisk, Kingston, KingMax, Sony, Lexar, PNY, PQI, Toshiba, Panasonic FujiFilm, Samsung, Canon, Qmemory, Transcend, Apacer, PRETEC, HITACHI Olympus, SimpleTech, Viking, OCZ Flash Media, ATP, Delkin Devices, A-Data, seagate samsung Hitachi Western Digital WD hard drive and external hard disk, android phones and tablets, including those permanently deleted music files after shift delete, or recycle bin empty.
Steps to recover deleted songs with music recovery software
Step 1. Connect usb drive or memory card to computer. Then in Computer, you should see flash card shown as a drive letter (for example, E: ).
Step 2. Run music recovery software asoftech data recovery and then in Asoftech Data Recovery, select drive where files are deleted, then press "Next" to start scanning drive for lost music files.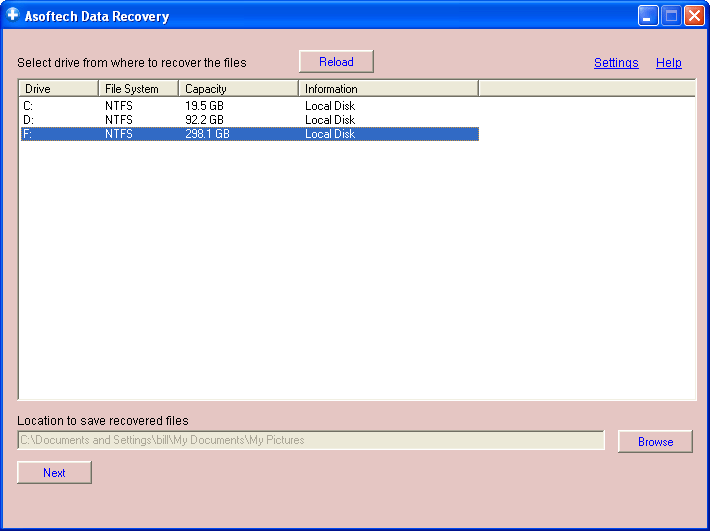 Step 3. Recoverable music files will be shown in result page.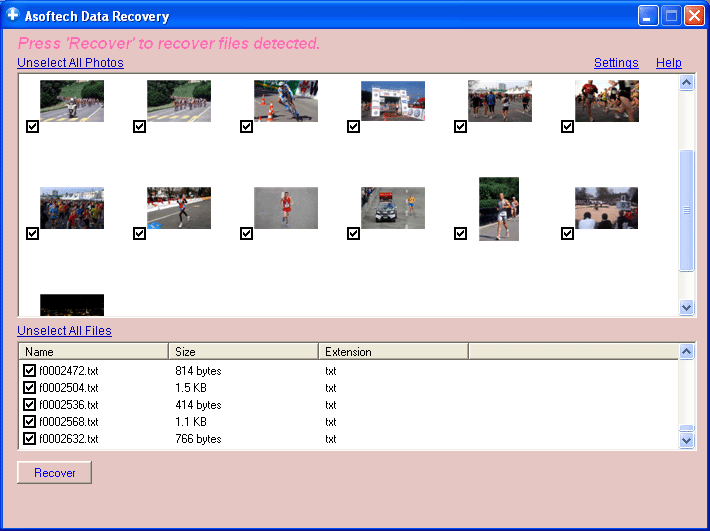 Select those you want to recover, and press "Recover" button to save music files.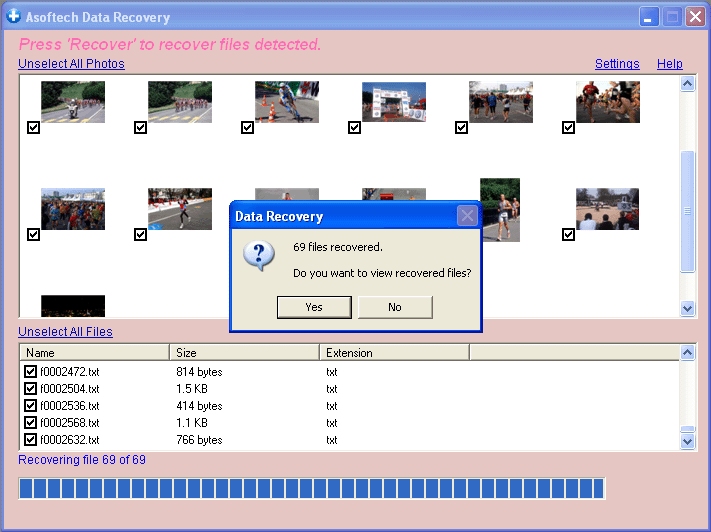 Download now music recovery software and recover deleted audio files.



Other useful data recovery solution:

Photo recovery tutorial

Recover deleted files

How to recover deleted documents
Here's list of devices we have tested for data recovery software free:

SanDisk Extreme, SanDisk Cruzer, SDCZ36-032G-AFFP, SDCZ36-016G-AFFP, SDCZ36-064G-AFFP, Cruzer Fit CZ33, SDCZ33-032G-B35, SanDisk Connect 32GB Wireless SDWS2-032G-E57, G3, Micro, Kingston DataTraveler G2 DT101G2/16GBZET, DT101G2/8GBZET, SE9 DTSE9H/8GBZ, DT101G2/32GBZET, DTSE9H/16GBZET, HyperX Predator, R500, Locker+, Ultimate 3.0, Kingston Digital Wi-Drive, Corsair Flash Survivor, Patriot Tab, Supersonic Magnum, Verbatim TUFF-'N'-TINY USB Drive, Corsair Flash Voyager, Verbatim Store 'n' Go Pro USB Flash Drive, Lexar Jumpdrive P10, S33, S23, Patriot Supersonic Rage XT, LaCie XtremKey, LaCie Rugged Key, Super Talent Express RC8, ADATA N005 Pro, ADATA Superior Series S102 Pro, Mushkin Ventura Pro, Transcend JetFlash 760, Winten USB 3.0 Flash Drive, HP 16GB HP v165w P-FD16GHP165-GE, ASICMiner Block Erupter Sapphire Miner, Transcend JetFlash, Edge DiskGO, Imation Swivel, Sony Micro Vault, PNY Attache, Sony/Sandisk Memory Stick PRO Duo, Memory Stick Micro M2, Memory Stick XC, Memory Stick PRO-HG Duo HX, Sony Micro Valut Tiny, Click, Metal Body, Sandisk Cruzer Blade, Fit, Edge, Switch, Force, Sandisk Ultra USB flash drive, Toshiba Hayabusa.

Android phones and tablet devices:
T-Mobile/Verizon Samsung Galaxy S6 Edge AT&T/Verizon Samsung Galaxy S6 AT&T/Verizon HTC One (M9) Moto E 2015 Sony Xperia Z4 Tablet LG G Flex 2 Nexus 9 Verizon Motorola Droid Turbo Nexus 6 AT&T/Verizon/T-Mobile/Sprint Samsung Galaxy Note 4 Moto G (2014) Moto X (2014) Moto 360 LG G3 OnePlus One AT&T HTC One (M8) Verizon HTC One (M8) HTC One (M8) Sony Xperia Z3 Sony Xperia Z3 Compact Samsung Galaxy Note 4 Samsung Galaxy S6 SM-G920 Samsung Galaxy J1 SM-J100H Samsung Galaxy A7 SM-A700F Samsung Galaxy A5 SM-A500F Samsung Galaxy A3 SM-A300F November Samsung Galaxy Note Edge SM-N915G October Samsung Galaxy Note 4 SM-N910G Samsung Galaxy Young 2 SM-G130H September Samsung Galaxy Alpha SM-G850 Samsung Galaxy Grand Prime SM-G530H Samsung Galaxy Pocket 2 SM-G110B Samsung Galaxy Mega 2 SM-G7508 August Samsung Galaxy Ace 4 SM-G313F (LTE) Samsung Galaxy S Duos 3 July Samsung Galaxy Core 2 Samsung Galaxy S5 Mini SM-G800H SM-G800F June Samsung Galaxy Core SM-G386F (LTE) May Samsung Galaxy K Zoom SM-C115 Samsung Galaxy Ace Style April Samsung Galaxy S5 SM-G900H SM-G900F SM-G900FD (dual-SIM/LTE) SM-G900R4 SM-G900V January Samsung Galaxy Note 3 Neo SM-N7500 (3G Model/Samsung Exynos Chip/International) SM-N7502 (dual-SIM) SM-N7505 (4G/LTE Model/Qualcomm Snapdragon Chip/Selected Countries) Samsung Galaxy Grand Neo (GT-I9060) Samsung Galaxy Grand Lite 2013 December Samsung Galaxy Win Pro (SM-G3812) Samsung Galaxy J (SGH-N075) Samsung Galaxy S Duos 2 (GT-S7582) Samsung Galaxy Trend Plus (GT-S7580) November Samsung Galaxy Grand 2 (SM-G7100) SM-G7102 (dual-SIM) October Samsung Galaxy Star Pro (GT-S7260) GT-S7262 (dual-SIM) Samsung Galaxy Express 2 (SM-G3815) Samsung Galaxy Round (SM-G9105) Samsung Galaxy Trend Lite (GT-S7390) GT-S7392 (dual-SIM) Samsung Galaxy Fame Lite (GT-S6790) Samsung Galaxy Light (SGH-T399) Samsung Galaxy Core Plus (SM-G3500) SM-G3502 (dual-SIM) September Samsung Galaxy Note 3 SM-N9000 (3G Model/Samsung Exynos Chip/International) SM-N9002 (dual-SIM) SM-N9005 (4G/LTE Model/Qualcomm Snapdragon Chip/Selected Countries) Samsung Galaxy Gear SM-V700 July Samsung Galaxy S4 Mini (GT-I9190) Galaxy S4 Mini (I9195, LTE) Galaxy S4 Mini (I9192, dual-SIM) June Samsung Galaxy S4 Active (GT-I9295) Samsung Galaxy S4 Zoom (SM-C1010) Samsung Galaxy Ace 3 (GT-S7270) GT-S7272 (dual-SIM) GT-S7275 (LTE) Samsung Galaxy Pocket Neo (GT-S5310) GT-S5312 (dual-SIM) May Samsung Galaxy Star (GT-S5280) GT-S5282 (dual-SIM) GT-S5283 (triple-SIM) Samsung Galaxy Core (GT-S8262) GT-i8262D Samsung Galaxy Y Plus (GT-S5303) Samsung Galaxy Win (GT-I8550) Galaxy Grand Quattro (GT-I8552, dual-SIM) April Samsung Galaxy Mega GT-I9150 (5.8") GT-I9152 (5.8", dual-SIM) GT-I9200 (6.3") GT-I9205 (6,3", LTE) Samsung Galaxy Fame (GT-S6810) GT-S6810P (NFC) Samsung Galaxy S4 (GT-I9500) GT-I9505 (LTE) GT-I9506 (LTE+) March Samsung Galaxy Xcover 2 (GT-S7710) Samsung Galaxy Young (GT-S6310) GT-S6312 (dual-SIM) January Samsung Galaxy Grand (GT-I9080) GT-I9082 (dual-SIM) Samsung Galaxy S II Plus (GT-I9105) Samsung Galaxy Pocket Plus (GT-S5301) 2012 November Samsung Galaxy S III Mini (GT-I8190) October Samsung Galaxy Rugby Pro (SGH-I547) Samsung Galaxy Rugby LTE (SGH-i547C, Canadian market) Samsung Galaxy Express SGH-I437 September Samsung Galaxy Rush Samsung Galaxy S Relay 4G Samsung Galaxy Note II Samsung Galaxy Reverb Samsung Galaxy Victory 4G LTE (SPH-L300) Samsung Galaxy Pocket Duos (GT-S5302) August Samsung Galaxy S Duos (GT-S7562) Galaxy S Duos (GT-S7568, China Mobile TD-SCDMA) Galaxy Trend (S7560M, single-SIM) Galaxy Trend II Duos (GT-S7572, different camera, 1.2 GHz dual-core CPU, Chinese Market) July Samsung Galaxy Stellar (SCH-I200) May Samsung Galaxy Ch@t (GT-B5330) Samsung Galaxy Appeal (SGH-I827) Samsung Galaxy S III (GT-I9300) Galaxy S III (I9305, LTE) April Samsung Galaxy S Advance Galaxy S II Lite Samsung Galaxy Rugby (GT-S5690M) March Samsung Galaxy Pocket (GT-S5300) Samsung Galaxy Rugby Smart (SGH-i847) February Samsung Galaxy Beam (i8530) Samsung Galaxy Y DUOS (GT-S6102) Samsung Galaxy Mini 2 (GT-S6500) Samsung Galaxy Ace 2 (GT-I8160) Samsung Galaxy Ace 2 x (GT-S7560M) January Samsung Galaxy Ace Plus (GT-S7500[L/T/W]) Samsung Galaxy Y Pro Duos (GT-B5510) GT-B5512(B) 2011 November Samsung Galaxy Nexus (i9250) October Samsung Galaxy Note Samsung Stratosphere[Note 1] August Samsung Galaxy Xcover (S5690) Samsung Galaxy Precedent Samsung Galaxy Y (GT-S5360)[Note 1] Samsung Galaxy M [Note 1] Samsung Galaxy W (I8150)[Note 1] Samsung Exhibit II 4G (SGH-T679) Samsung Galaxy R (I9103)[Note 1] Samsung Galaxy S Plus (GT-i9001)[Note 1] June Samsung Galaxy Z Samsung Exhibit 4G (SGH-T759) May Samsung Galaxy S II (GT-I9100) Samsung Galaxy S II Skyrocket Samsung Captivate Glide April Samsung Galaxy Neo Samsung Galaxy Pro Samsung Galaxy Prevail (SPH-M820) March Samsung Galaxy Mini (GT-S5570) Samsung Galaxy Next (in Italy) Samsung Galaxy Pop (in India) Samsung Galaxy Gio (GT-S5660) February Samsung Galaxy SL (GT-I9003) Samsung Galaxy Fit (S5670) Samsung Galaxy Ace (GT-S5830, GT-S5830i) Samsung Galaxy Cooper (GT-S5830, in Thailand) 2010 October Samsung Galaxy 551[Note 1] August Samsung Galaxy U Samsung Galaxy 5 Samsung Galaxy Europa Samsung Galaxy 550 July Samsung Galaxy 3 Samsung Galaxy Apollo June Samsung Galaxy S (GT-I9000) Samsung Captivate Samsung Vibrant Samsung Fascinate Samsung Epic 4G Samsung Mesmerize 2009 November Samsung Galaxy Spica GT-I5700 Samsung Galaxy Portal June Samsung Galaxy GT-I7500 Notes Samsung Galaxy Tab 7.0 Samsung Galaxy Tab 7.0 Plus Samsung Galaxy Tab 7.7 Samsung Galaxy Tab 8.9 Samsung Galaxy Tab 10.1 Samsung Galaxy Tab 2 7.0 Samsung Galaxy Tab 2 10.1 Samsung Galaxy Tab 3 7.0 July 2013 - SM-T210 (WiFi), SM-T211 (3G) Samsung Galaxy Tab 3 8.0 July 2013 - SM-T310 (WiFi), SM-T311 (3G), SM-T315 (4G/LTE) Samsung Galaxy Tab 3 10.1 July 2013 - SM-T510 (Wifi), SM-T511 (3G), SM-T515 (4G/LTE) Samsung Galaxy Tab 3 Lite 7.0 January 2014 - SM-T110 (Wifi), SM-T111 (3G) Samsung Galaxy Tab 4 7.0 Samsung Galaxy Tab 4 8.0 Samsung Galaxy Tab 4 10.1 Samsung Galaxy Tab A 8.0 April 2015 Samsung Galaxy Tab A 9.7 April 2015 Samsung Galaxy Tab Pro 8.4 January 2014 - SM-T320 (WiFi), SM-T321 (3G), SM-T325 (4G/LTE) Samsung Galaxy Tab Pro 10.1 January 2014 - SM-T520 (Wifi), SM-T525 (3G & 4G/LTE) Samsung Galaxy Tab Pro 12.2 January 2014 - SM-T900 (Wifi), SM-T905 (3G & 4G/LTE) Samsung Galaxy Tab S 10.5 Samsung Galaxy Tab S 8.4 Samsung Galaxy Note 8.0 Samsung Galaxy Note 10.1 Samsung Galaxy Note 10.1 2014 Edition Autumn 2013 - SM-P600 (Wifi), SM-P601 (3G & Wifi), SM-P605 (LTE, 3G & Wifi) Samsung Galaxy Note Pro 12.2 February 2014 - SM-P900 (Wifi), SM-P905 (LTE, 3G & Wifi) Samsung Galaxy Camera Samsung Galaxy S4 zoom Samsung Galaxy NX Samsung Galaxy Camera 2 Samsung Galaxy K Zoom Samsung Galaxy Gear Samsung Gear Live (Android Wear) LG G4 Sony Xperia Z4/Z3+ Moto G Google Nexus 5 Samsung Galaxy Note 3 Nexus 7 (2013) Samsung Galaxy S 4 i9500, i9505, i9505G, i9506 HTC One (M7) Google Nexus 4 Sony Xperia E4g ASUS ZenFone 2 ZE550ML Lenovo K800 K900 A820 Vibe X Vibe X2 Vibe Z2 Vibe Z Vibe Z2 Pro Vibe Shot Lenovo A7000 ZTE blade s6 zte zmax zte blade vec 4g zte nubia z7 xiaomi mi4 xiaomi redmi huawei ascend mate 7 huawei honor 6 Huawei Ascend II Huawei Ascend D Quad Huawei Ascend D Quad XL Huawei Ascend D1 Huawei Ascend D1 Quad Huawei Ascend D2 Huawei Ascend D3 Huawei Ascend G300 Huawei Ascend G312 Huawei Ascend G330 Huawei Ascend G510 Huawei Ascend G525 Huawei Ascend G526 Huawei Ascend G600 Huawei Ascend G610 Huawei Ascend G615 Huawei Ascend G620s Huawei Ascend G630 Huawei Ascend G7 Huawei Ascend G700[2] Huawei Ascend G740 Huawei Ascend Mate Huawei Ascend Mate2 Huawei Ascend Mate7[3] Huawei Ascend P1 Huawei Ascend P1 LTE Huawei Ascend P1 S Huawei Ascend P1 XL Huawei Ascend P2 Huawei Ascend P6 Huawei Ascend P7 Huawei Ascend P7 mini Huawei Ascend Q Huawei Ascend W1 Huawei Ascend W2 Huawei Ascend X Huawei Ascend Y Huawei Ascend Y100 Huawei Ascend Y200 Huawei Ascend Y201 Huawei Ascend Y201 Pro Huawei Ascend Y210D Huawei Ascend Y300 Huawei Ascend Y321 Huawei Ascend Y330 Huawei Ascend Y511 Huawei Ascend Y530 Huawei Ascend Y550
You can recover your deleted files worldwild as you can do it by yourself on your computer. So you do not need to go to data recovery centres, looking for data recovery services from specialists. You can performa data recovery and photo recovery worldwide, including countries Japan, USA, UK, Canada, Australia, New Zealand, India, Pakistan, Nigeria, Philippines, Germany, Bangladesh, Egypt, France, Italy, Thailand, Netherlands, Nepal, South Africa, Poland, Turkey, Iraq, Spain, Sweden, Kenya, Cameroon, Malaysia, Russia, Belgium, Israel, Austria, long island, Romania, Zimbabwe, Greece, Sierra Leone, Mexico, Denmark, Switzerland, Morocco, Norway, Ireland, Singapore, Ghana, Tanzania, Finland, Portugal, Liberia, Jordan, Algeria, Jamaica, Guinea, Uganda, Hong Kong, Czech Republic, Argentina, Yemen, Croatia, in cities such as chennai, bangalore, toronto, mississauga, delhi, kolkata, mumbai, pune, dubai, london, nottingham, hyderabad, Sheffield, Croydon, Barking, Bristol, Manchester, Watford, Luton, Dartford, Gatwick, Reading, Norwich, Chelmsford, Newhaven, Northampton, Southampton, Nottingham, Derby, Abingdon, Gloucester, Bury St Edmunds, Exeter, Los Angeles, Melbourne, Chicago, Houston, Perth, Philadelphia, Phoenix, San Francisco, Detroit, San Jose, Dallas, kenya, birmingham, finchley, vancouver, canada, montreal, ottawa, calgary, winnipeg, Australia, sydney, melboune, brisbane, auckland, hamilton, waikato, Atlanta, Boston, Riverside, Seattle, Minneapolis, Tampa, St. Louis, Baltimore, San Antonio, Delaware, Denver, Charlotte, Pittsburgh, Portland, West Midlands, Greater Bristol, Cardiff, Greater Glasgow, West Yorkshire, Bradford, Leeds, Liverpool, Greater Manchester, Nottingham-Derby, Portsmouth-Southampton, South Yorkshire (Sheffield), Newcastle-Sunderland, Paris, Randstad, Istanbul, Moscow, Saint Petersburg, Berlin, Madrid, Rome, Kiev, Bucharest, Minsk, Vienna, Hamburg, Budapest, Warsaw, Barcelona, Kharkiv, Munich, Milan, and states Alabama, Alaska, Arizona, Arkansas, California, Colorado, Connecticut, San Diego, Miami, Florida, Georgia, Hawaii, Idaho, Illinois, Indiana, Iowa, Kansas, Kentucky, Louisiana, Maine, Maryland, Massachusetts, Michigan, Minnesota, Mississippi, Missouri, Montana, Nebraska, Nevada, New Hampshire, New Jersey, New Mexico, New York, North Carolina, North Dakota, Ohio, Oklahoma, Oregon, Pennsylvania, Rhode Island, South Carolina, South Dakota, Tennessee, Texas, Utah, Vermont, Virginia, Washington, West Virginia, Wisconsin, Wyoming.