home >> Data Recovery >> Hitachi hard drive data recovery


How to restore lost deleted formatted data from Hitachi hard drive

Hitachi data recovery: Recover deleted formatted photo video files from Hitachi SATA and SAS hard disk drive/hdd/external usb hard drive/SSD/sshd
Hitachi hard disk drives, SSD, SSHD are popular used as hdd storage of PC desktop, laptop (notebook) computers, portable MP3 players, cell phones, digital video recorders, external hard drive, USB portable disk, etc. However, imagine that you accidentally deleted important photo and video files on Hitachi removable drive HGST Ultrastarô 7K3000, you mus look for Hitachi data recovery solution or service everywhere to recover those deleted files. Similar things happening everyday and valuable data could be deleted

- Desktop/laptop Windows crashed, showed blue screen and files on computer hard drive becomes inaccessible.
- Accidentally formatted Hitachi external hard drive and lost all data on the USB drive. How to undelete photos videos document data such as Microsoft Word docx files, Powerpoint Presentation ppt files, Microsoft Excel files, pdf, and folders on Hitachi HDD.
- Deleted hard drive partition and lost all the files on the partition.
- Hard drive turns into RAW format, how to get back data on hard disk without format it to NTFS or FAT format?
- Virus infected and turns files and folders on hard drive to be shortcut.
- Hard drive damaged, dead, not detected by computer, how to repair hard drive and restore files on hard drive.
- Computer does not boot up, how to retrieve back files on th computer hard disk.
Well, to get back lost data like images, videos, documents, mp3 files from Hitachi HDD/SSD/SSHD/USB drive is to use a Hitachi data recovery tool. Download Hitachi data recovery software which supports file recovery and video recovery:



If you recover only image files, you can download this photo recovery software, the Hitachi photo recovery tool recovers lost deleted formatted pictures from Hitachi hard disk, including jpeg, png, gif, bmp, tiff, and raw photo files.
Hitachi file recovery program and photo recovery software support image recovery, video recovery, and data recovery for Windows 10/8/7 (Home Premium/Professional/Ultimate/Enterprise)/vista/XP/2000 Computer internal hard drive and and external usb drive. It supports all Hitachi hard drives, including enterprise hard drives SATA, SAS, and FC: HGST Ultrastar 7K4000 7K3000 C10K1200 C10K900 C10K600 C15K147 73GB 147GB 15K600 A7K2000 500GB 300GB 450GB 600GB 900GB 1TB 1.2TB 2TB 3TB 4TB; Mobile/Laptop Drives: Travelstar Z7K500 Z7K320 Z5K500 Z5K320 7K1000 7K750 5K1500 5K1000 5K750 5K500.B 120G 320GB 250GB 160GB 500GB 750G 1TB; Video/CE device: CinemaStar Z7K500 Z5K500 Z5K320 C5K1000 C5K750 C5K500 160GB 250GB 320GB 500GB 640GB 750GB 1TB; Desktop Drives: Deskstar 7K1000.C 500GB & 1TB; Auto/Industrial Drives: Endurastar J4K320 J4K100 J4K50 N4K100 N4K50 30GB 40GB 50GB 80GB 100GB 200GB 250GB 320GB; Enterprise SSD: Ultrastar SSD800MH SSD800MM SSD1000MR SSD400M SSD400S.B 400GB 200GB 100GB 1000GB 500GB 250GB 800GB.
To increase the chance of Hitachi hard drive data recovery, you'd better not use the Hitachi hard drive after files are deleted.
How to retrieve back deleted formatted photo video document files on Hitachi hard drive
Step 1. Connect Hitachi hard drive to computer. Then in Computer, check the drive letter (e.g. drive E: ) assigned to the Hitachi drive.
Step 2. Run Hitachi file recovery software, and then in the data recovery program, select the drive letter of Hitachi hard disk, then press "Next" to start scanning for deleted photos videos documents and other files.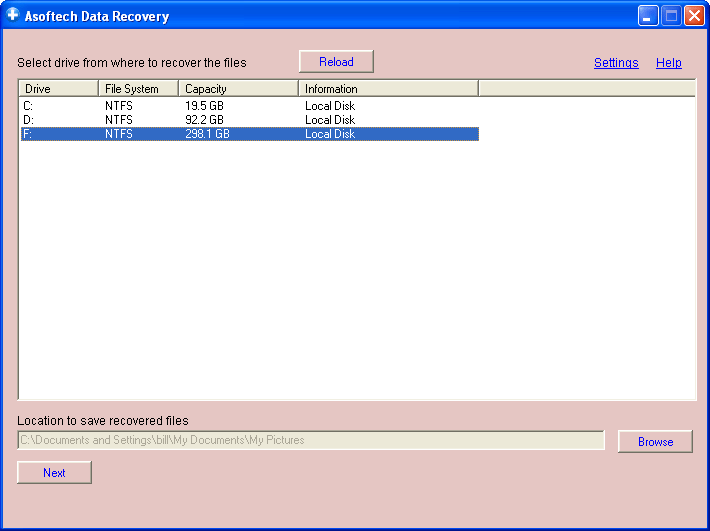 Step 3. You will see a list of recoverable files. Select those you want to recover and press "Recover" to save them.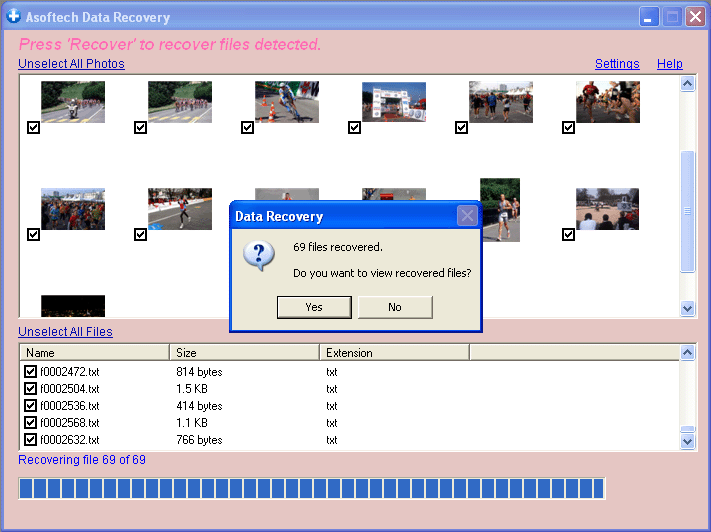 Download Hitachi Data Recovery Tool and recover data from Hitachi hard disk now



You can recover your deleted files worldwild as you can do it by yourself on your computer. So you do not need to go to data recovery centres, looking for data recovery services from specialists. You can performa data recovery and photo recovery worldwide, including countries Japan, USA, UK, Canada, Australia, New Zealand, India, Pakistan, Nigeria, Philippines, Germany, Bangladesh, Egypt, France, Italy, Thailand, Netherlands, Nepal, South Africa, Poland, Turkey, Iraq, Spain, Sweden, Kenya, Cameroon, Malaysia, Russia, Belgium, Israel, Austria, long island, Romania, Zimbabwe, Greece, Sierra Leone, Mexico, Denmark, Switzerland, Morocco, Norway, Ireland, Singapore, Ghana, Tanzania, Finland, Portugal, Liberia, Jordan, Algeria, Jamaica, Guinea, Uganda, Hong Kong, Czech Republic, Argentina, Yemen, Croatia, in cities such as chennai, bangalore, toronto, mississauga, delhi, kolkata, mumbai, pune, dubai, london, nottingham, hyderabad, Sheffield, Croydon, Barking, Bristol, Manchester, Watford, Luton, Dartford, Gatwick, Reading, Norwich, Chelmsford, Newhaven, Northampton, Southampton, Nottingham, Derby, Abingdon, Gloucester, Bury St Edmunds, Exeter, Los Angeles, Melbourne, Chicago, Houston, Perth, Philadelphia, Phoenix, San Francisco, Detroit, San Jose, Dallas, kenya, birmingham, finchley, vancouver, canada, montreal, ottawa, calgary, winnipeg, Australia, sydney, melboune, brisbane, auckland, hamilton, waikato, Atlanta, Boston, Riverside, Seattle, Minneapolis, Tampa, St. Louis, Baltimore, San Antonio, Delaware, Denver, Charlotte, Pittsburgh, Portland, West Midlands, Greater Bristol, Cardiff, Greater Glasgow, West Yorkshire, Bradford, Leeds, Liverpool, Greater Manchester, Nottingham-Derby, Portsmouth-Southampton, South Yorkshire (Sheffield), Newcastle-Sunderland, Paris, Randstad, Istanbul, Moscow, Saint Petersburg, Berlin, Madrid, Rome, Kiev, Bucharest, Minsk, Vienna, Hamburg, Budapest, Warsaw, Barcelona, Kharkiv, Munich, Milan, and states Alabama, Alaska, Arizona, Arkansas, California, Colorado, Connecticut, San Diego, Miami, Florida, Georgia, Hawaii, Idaho, Illinois, Indiana, Iowa, Kansas, Kentucky, Louisiana, Maine, Maryland, Massachusetts, Michigan, Minnesota, Mississippi, Missouri, Montana, Nebraska, Nevada, New Hampshire, New Jersey, New Mexico, New York, North Carolina, North Dakota, Ohio, Oklahoma, Oregon, Pennsylvania, Rhode Island, South Carolina, South Dakota, Tennessee, Texas, Utah, Vermont, Virginia, Washington, West Virginia, Wisconsin, Wyoming.