home >> Data Recovery >> Download Asoftech Data Recovery software and try it free

View recoverable files with free version of Data Recovery Software

Download data recovery software to view deleted files for free
100% Safe. 100% Secure
Accidentally deleted files and want to get the data back? Is it possible to recover deleted files? is my file deleted permanently? Well, you can use free download of data recovery program to scan and view all your recoverable files.
Asoftech Data Recovery is easy to download (only 4.3 MB) and easy to use. With few mouse clicks, it performs detail scan to look for all recoverable files on your computer. Restore deleted files will be as easy as a mouse click.
Yes, I want to get back deleted files. Download and search for recoverable files, absolutely free.
Easy way to recover lost files and data! Asoftech Data Recovery is an easy file recovery software - simply download the data recovery program for free, and select hard drive where lost data was deleted from, and scan to view deleted photos and documents.
You can then press 'recover' button to restore deleted pictures, files.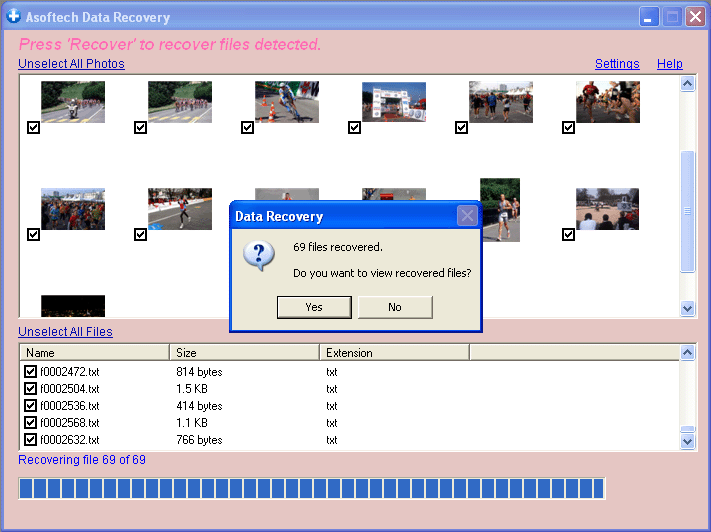 Asoftech Data Recovery will not only bring back lost files and data, but also recover files from accidentally formatted hard drive, include


files and data deleted from Recycle Bin
images and documents lost after hard drive been formatted
information after system restore and there is no backup
lost files after usb drive infected by virus
How does Asoftech Data Recovery work?
When files are deleted from a hard drive, memory card or USB memory device, the actual file data isn't removed, just the file system pointers that points to where the data located are deleted. The area where the deleted files were stored is now marked as free space, and it is available for any new files to be written. Asoftech Data Recovery will search the entire hard drive at low level and pick up all pieces and join them together to form an known file format. Once files are located, it will be easy to bring any lost file back to life.
Keep Asoftech Data Recovery in your system, so that when needed, you can recover lost files easily!
Data Recovery is not as difficult as you think, with Asoftech Data Recovery tool, you can get your files back fast.
Yes, I want to download free version of Asoftech Data Recovery now.
Simple steps to retrieve deleted files
(1.) If recover items from devices like camera or phone, remove the memory card and connect the card to computer using a usb card reader, or insert the card to card slot on computer.
Otherwise skip to step 2

2. Start Asoftech Data Recovery program, then select the drive letter from where you want recover files, and click 'Next' button.

3. Now scanning process will start to look for recoverable file.