home >> Data Recovery >> Fix File Folder becomes Shortcut


Removable media USB flash drive, memory card, external hard drive turned into shortcut

how to fix file folders become shortcuts & recover data in folders that turned into shortcuts
All the folder in my pendrive become shortcut due to virus, how can I fix it and restore data? All my files and folders on my flash drive changed to shortcuts, how to get my files back?
Sounds similar? It's a common problem for removable drive such as external hard disk, USB flash drive, memory stick, pen drive and memory card turns into shortcut and files on the drive are not accessiable.
So why this happens and how we can fix it? Most of the time it's because that the external media drive is infected by virus trojans or worms like AUTORUN, QWERT, BUOUFO. To fix it, you need to kill the virus first.
Method 1: The virus may hide the files and folders, so you got to unhide them.
Step 1. Run command

If you use Windows XP, yu can go to "Start" --> Run -->type 'cmd' and click OK button.

If you use Windows Vista, 7 or Windows 8, Windows 10, press and hold keyboard key "Win" and the R, you will see run dialog pops, then type "cmd" and click OK button.
Step 2. In command window, enter attrib -h -r -s /s /d H:\*.* Take note that we assume the removeable drive is H:, if it's other drive letter, please change accordingly. e.g. if it's G:, then the commend will be attrib -h -r -s /s /d G:\*.* Press "Return" keyboard key to run the commend.
If virus hides the files and folder, now you should be able to see them. If not, do not worry. You can kill the virus with some good antivirus tools.
Method 2: Kill virus with anti-virus program
Launch anti-virus program and do a full scan on the external drive. Kill the virus and trojans if found any. After virus cleaning, check again the files and folders in the external media again. Good if you are able to see them. If problem still exists, you will have to use special data recovery program.
Method 3: Recover files with data recovery program
Connect the external media to computer, and then download data recovery software.



Step 1. Install and launch data recovery software, and then select the external media drive, then hit "Next" to scan for lost files.
Step 2. List of lost files will be shown in result page. Select files you want to recover and click "Recover" to recover those files.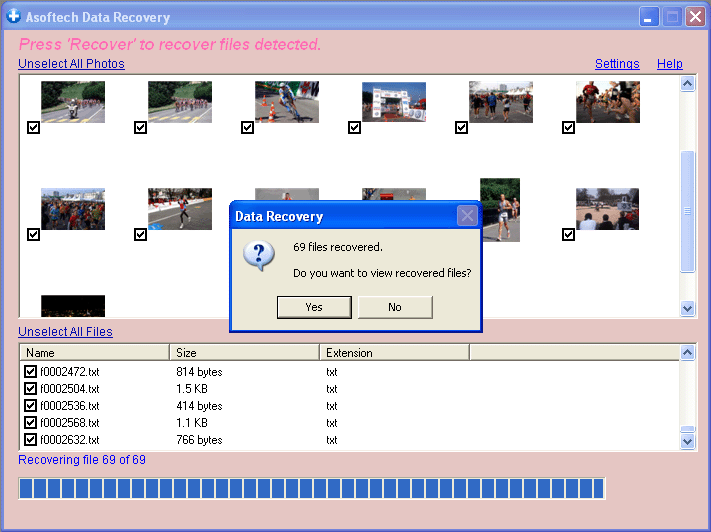 Step 3. Can not find lost files? Do not worry. In Computer explorer, right click the drive, and then choose "quick format" in popup menu. Then follow step 1 and 2 again to recover lost photos, videos, documents such as Microsoft Word docx files, Powerpoint Presentation ppt files, Microsoft Excel files, pdf, and folders, musc files.
Download Data Recovery software and recover lost files now before it's too late



You can recover your deleted files worldwild as you can do it by yourself on your computer. So you do not need to go to data recovery centres, looking for data recovery services from specialists. You can performa data recovery and photo recovery worldwide, including countries Japan, USA, UK, Canada, Australia, New Zealand, India, Pakistan, Nigeria, Philippines, Germany, Bangladesh, Egypt, France, Italy, Thailand, Netherlands, Nepal, South Africa, Poland, Turkey, Iraq, Spain, Sweden, Kenya, Cameroon, Malaysia, Russia, Belgium, Israel, Austria, long island, Romania, Zimbabwe, Greece, Sierra Leone, Mexico, Denmark, Switzerland, Morocco, Norway, Ireland, Singapore, Ghana, Tanzania, Finland, Portugal, Liberia, Jordan, Algeria, Jamaica, Guinea, Uganda, Hong Kong, Czech Republic, Argentina, Yemen, Croatia, in cities such as chennai, bangalore, toronto, mississauga, delhi, kolkata, mumbai, pune, dubai, london, nottingham, hyderabad, Sheffield, Croydon, Barking, Bristol, Manchester, Watford, Luton, Dartford, Gatwick, Reading, Norwich, Chelmsford, Newhaven, Northampton, Southampton, Nottingham, Derby, Abingdon, Gloucester, Bury St Edmunds, Exeter, Los Angeles, Melbourne, Chicago, Houston, Perth, Philadelphia, Phoenix, San Francisco, Detroit, San Jose, Dallas, kenya, birmingham, finchley, vancouver, canada, montreal, ottawa, calgary, winnipeg, Australia, sydney, melboune, brisbane, auckland, hamilton, waikato, Atlanta, Boston, Riverside, Seattle, Minneapolis, Tampa, St. Louis, Baltimore, San Antonio, Delaware, Denver, Charlotte, Pittsburgh, Portland, West Midlands, Greater Bristol, Cardiff, Greater Glasgow, West Yorkshire, Bradford, Leeds, Liverpool, Greater Manchester, Nottingham-Derby, Portsmouth-Southampton, South Yorkshire (Sheffield), Newcastle-Sunderland, Paris, Randstad, Istanbul, Moscow, Saint Petersburg, Berlin, Madrid, Rome, Kiev, Bucharest, Minsk, Vienna, Hamburg, Budapest, Warsaw, Barcelona, Kharkiv, Munich, Milan, and states Alabama, Alaska, Arizona, Arkansas, California, Colorado, Connecticut, San Diego, Miami, Florida, Georgia, Hawaii, Idaho, Illinois, Indiana, Iowa, Kansas, Kentucky, Louisiana, Maine, Maryland, Massachusetts, Michigan, Minnesota, Mississippi, Missouri, Montana, Nebraska, Nevada, New Hampshire, New Jersey, New Mexico, New York, North Carolina, North Dakota, Ohio, Oklahoma, Oregon, Pennsylvania, Rhode Island, South Carolina, South Dakota, Tennessee, Texas, Utah, Vermont, Virginia, Washington, West Virginia, Wisconsin, Wyoming.