home >> Data Recovery >> BlackBerry photo recovery

BlackBerry photo recovery software to recover deleted formatted BB photos

How to recover deleted photos from BlackBerry mobile phone memory card
BlackBerry has been a big success in mobile phone market, and BlackBerry has enabled camera feature which enables user to take photos with BlackBerry phone. This gives user a lot of convenience as now we do not need to bring extra cameras, just a BlackBerry we can call our friends, check emails, and take photos.
BlackBerry stores all photos taken on memory card, unlike Emails, pictures are stored only on local storage, not synced to server. When we accidentally delete photos on BlackBerry, the photos are gone.
Other mistakes like format BlackBerry memory card will also delete photos from BB. Even user does not do anything, sometimes BlackBerry memory card error may also happens. Corrupted memory card also means photos on BlackBerry are not accessible.
This gives user a lot of headache as we want to recover deleted photos. But how? We do not have them saved elsewhere. The good news is that it is possible to recover deleted or formatted photos from BlackBerry SD card. Read on to find out how to recover deleted formatted photos from BB.
BlackBerry Mobile Phone Photo Recovery Software
When files are deleted from BlackBerry mobile phone, the file data are not wiped from BlackBerry. So a good BlackBerry photo recovery tool can scan the BB memory card and collect all data and rebuild the deleted photos. One good BlackBerry mobile phone photo recovery tool is Asoftech Photo Recovery software, which is very easy to use, even novice user can use the tool. Asoftech Photo Recovery supports all BlackBerry mobile phones: BlackBerry Z10, Q10, 8830, Curve 9380, 9320, 8530,9330 smartphone, 9220, 8520, Porsche, Bold 3 9780, Storm 9530, Torch 9800, Pearl Flip 8230, Bold Touch 9900, PlayBook, etc.

download BalckBerry photo recovery software
How to recover deleted formatted photos from BackBerry cell phone
Frist of all, stop using the BlackBerry smart phone immediately when you realize that photos are lost. This will prevent data overwriting and increase the chance of BlackBerry photo recovery.
Step1. Take out the memory card from Blackberry device and connect it to computer with a usb card reader or insert it to a card reader slot if there's any on your computer. You should see the memory card shown as a drive letter (e.g. E:) in computer.
Step 2. Run Asoftech photo recovery, and then select Blackberry memory card drive letter (e.g. E:) in Asoftech, then press "Start" button to scan for recoverable photos.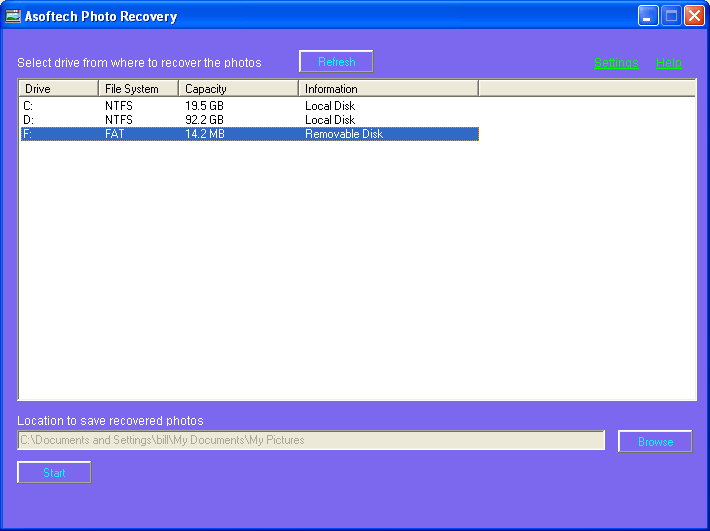 Step 3. List of recoverable photos will be shown. Select those you want to recover and press "Recover" button to recover deleted photos.
Download BlackBerry phone photo recovery software and recover lost, deleted, or formatted photos from Blackberry smart phone before it's too late.