Smart way to install/configure application on multiple computers
Use Asoftech Automation to configure application on multiple clients
We often have such problem where we need to install/configure application on a lot of computers. It is very unproductive to go to every computer and install/configure application there. If it takes 2 minutes to install/configure in one computer, 200 computers will take 400 minutes, which is more than 6.6 hours.
Another way is to create a document which shows details steps to install/configure the application, and then pass the document to users and let them follow the document to install/configure application. But most users are not techie, it may be hard for them to follow the document.
Why not automate the process? Make installation/configuration process an executable file, and then pass exe file to users, all they need to do is to double click the exe. Even have to do it by self on all computers, all need to do is to go to each computer and double click on the exe, which takes only few seconds.
In this article, we will show steps to use Asoftech Automation to install and configure application on multiple computers.
1. Open commonly used actions dialog
Press

in Asoftech Automation main screen. Add Macro dialog will show up.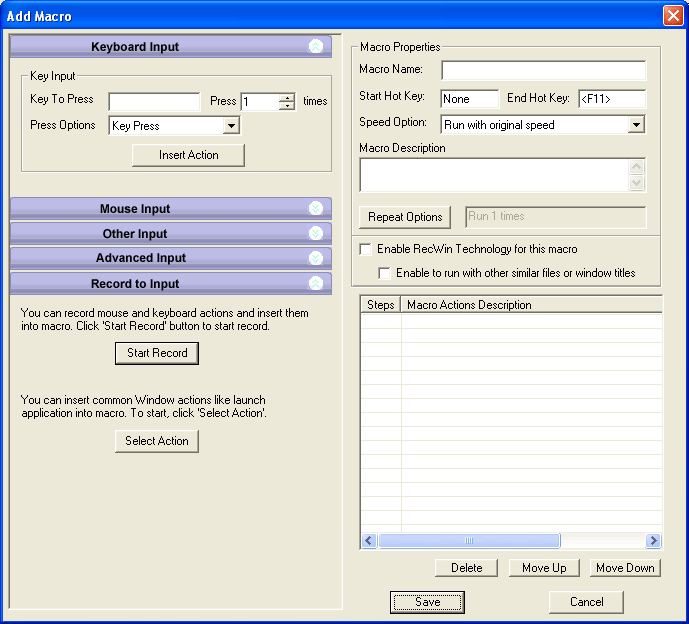 Then Press

in Asoftech Automation Add Macro screen. Now you will see Select Action dialog.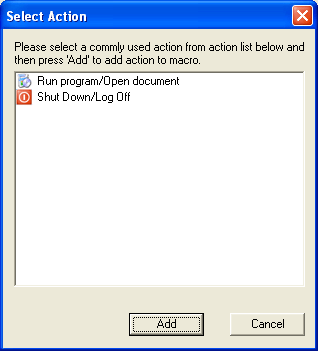 2. Select installer file
Select "Run program/Open document" in actions list and press "Add".
You will see "Run program/open document" dialog, where you can specify the installer exe.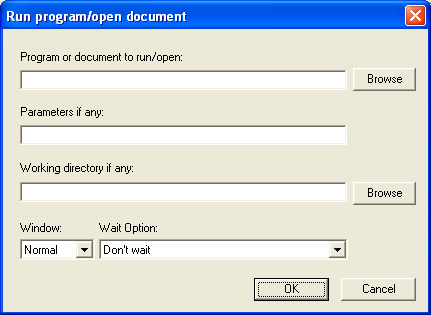 Program or document to run/open:
Press "Browse" and select the installer file.
Parameters if any:
Leave this box empty.
Working directory if any:
Leave this box empty.
Window:
Leave to default option: Normal.
Wait Option:
Choose Wait until the program is ready.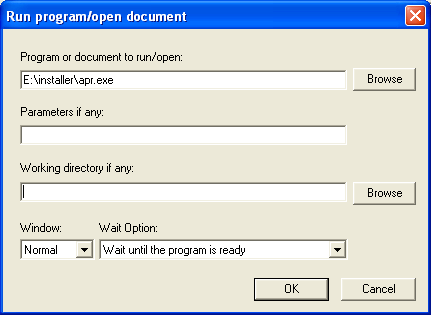 3. Record installation and configuration process and add it to macro.
Double click the installer which needs to be installed on lots of computers. Now you can record installation and configuration process.
Go back to Asoftech Automation Add Macro dialog, press "Start Record" button. Start recording and go back to installer dialog, and do installation and configuration as per normal.
Now you have all steps in macro actions, fill in other box like macro name, start hot key.
Save macro and you will see it in macro list.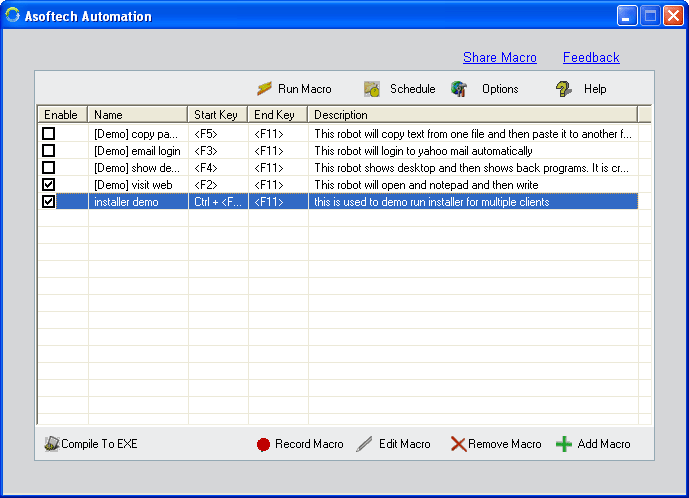 4. Compile macro into exe.
Select the new added macro, and press

.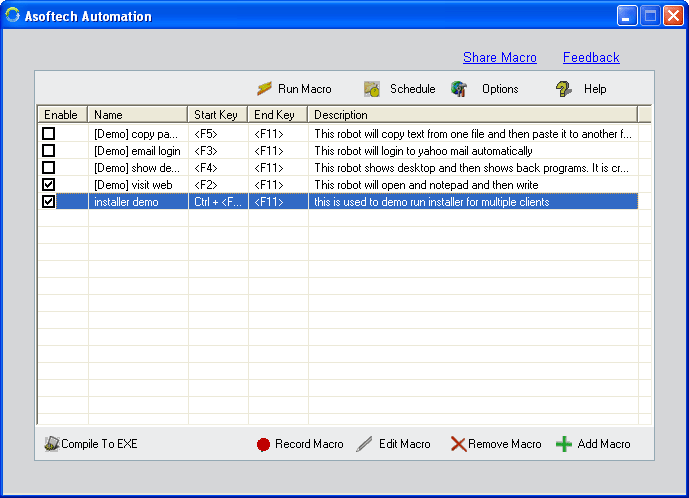 That's it. Now you can distribute generated exe file and your installer to every client computer, and double click the exe to run the installation process, automatically.
More Resources:
More info about Asoftech Automation:
http://www.asoftech.com/ata/index.html
Download Asoftech Automation:
http://www.asoftech.com/trial/ata.exe