How to Use Asoftech Speeder
Asoftech Speeder can be used to change the speed of games and applications, both faster and slower.
Using Asoftech Speeder is easy.
Launch programs that you want to change speed, and lauch Asoftech Speeder.



Select the application whose speed you want to change.
You may adjust all program's speed by selecting "Change speed of all programs".



Click to adjust application or game faster.
Click to adjust application or games slower.

Or drag slide bar to change the speed.

Or press the hot keys to change the speed.



Click to apply the changes.
Click to restore the original Speed.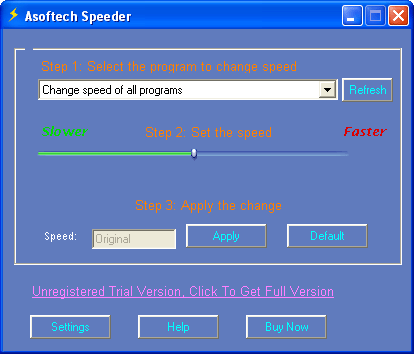 Adding more capabilities
You can modify the maximum speed in settings dialog.

Lower the maximum speed to adjust speed in smaller steps. This way you can tweak speed in micro level and find the speed most suitable.

Increase the maximum speed to adjust speed in larger steps. This allows you to tweak speed in macro level.

After you set the maximum speed for example 256, games' speed range will be from 1/256 slowest, to 256 times fastest, with default value to be original speed. So if you press speed up hot key on original speed, speed will be adjuste to 5.1 times faster (i.e. gun fires 1 time per second orignally, it will fire 5.1 times per second after speed up). Press speed up again will be 10.2 times faster.



Use hot keys to make speed change easier.

In settings dialog, you can assign hot key for showing Asoftech Speeder, speed up, speed down, or preset speed value. For example, you've set "F6" for speed up, when you'd need to move faster in the game, you can press F6. When you want to slow down, just press slow down hot key.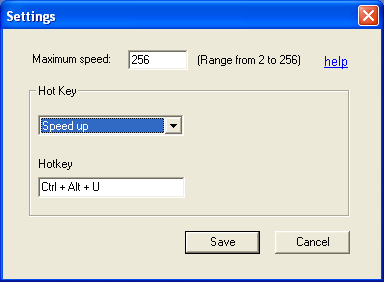 Should you still have problems using the program, please contact us.