Auto Home Movie
Make your Own Movie Easily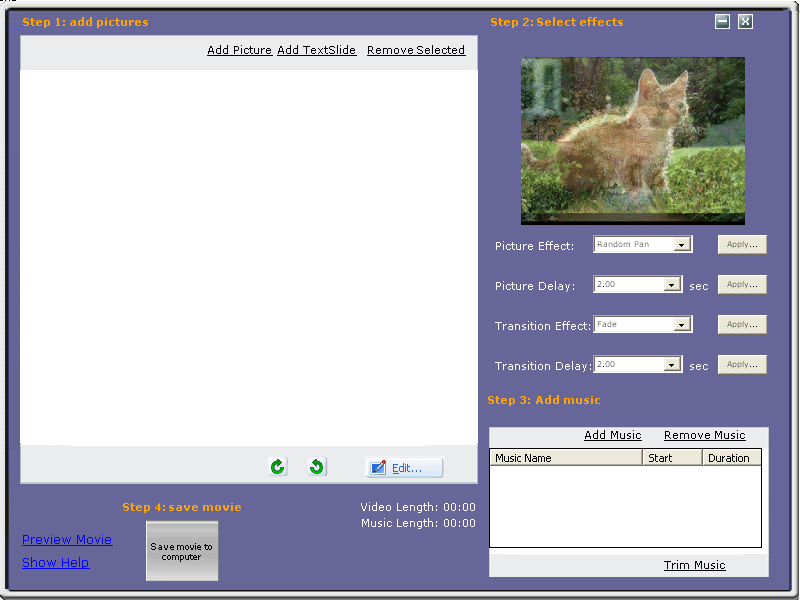 Auto Home Movie is an easy to use yet powerful movie creating software.

With Auto Home Movie, you can transfer your digital photos and videos into an entertaining movie, complete with picture's narration, and your favorite songs or musics as background. You can then save the movie, view it any time, and share them with your family and friends.

Using of Auto Home Movie is really easy, just a few mouse clicks and you can create your lovely movie. Its fast, easy. You do not need to be professional to create your professional movie.
---
Step 1. Add pictures & Videos
Simply click "Add" button to import your favorite pictures and videos from your PC.

Auto Home Movie allows you adding text caption to a picture or text slide to movie, where you can set title to your movie, and narrate your story in movie.
Step 2. Choose Your Slideshow Style
Add beautiful and elegant effects to your slideshows. All you need to do is to choose the style, preview it, like it or change it.
Step 3. Add movie background music
Again, simply click "Add" button to add your favorite music/song as movie background.

If you want to set some specific part of music to be background, you can do it with trim music feature, where you can select some portion as movie background music.
Step 4. Save movie & share it
Save movie to AVI, wmv format, and share it with your friends.
Get Auto Home Movie With Only 39.95 Now

Auto Home Movie's usual price is $79.95, at this holiday season, it is selling at the special price of $39.95. Secure your deal now because this offer may end anytime.
Your Auto Home Movie subscription include:
Full version of Auto Home Movie

Free technical support

30 day money back guarantee




Usual Price $79.95
Holiday Season
Special Price
$39.95
Save $50% Today!


System Requirements
256MB of RAM, 30MB of Free Disk Space.
Windows 98, 2000, NT, ME, XP, Vista, 7, 8, 10